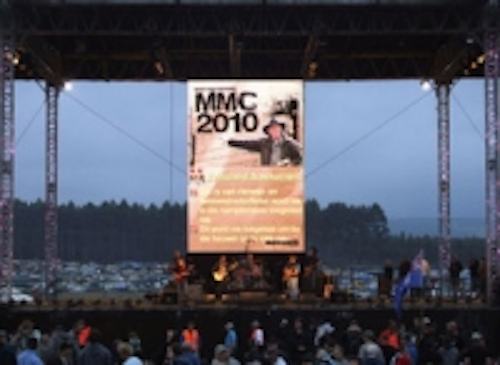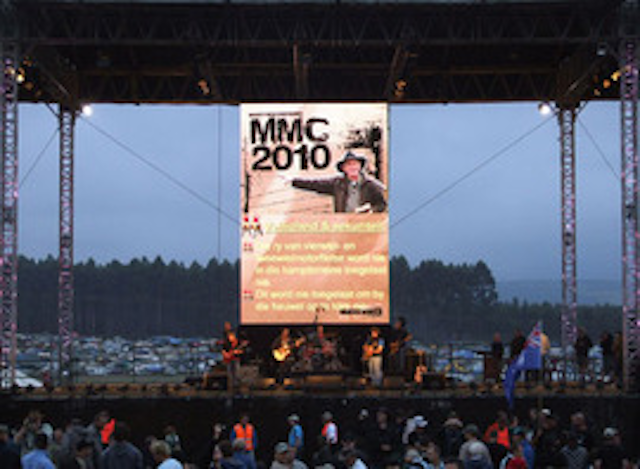 Date Announced: 06 May 2010
For the third year running, Gearhouse South Africa supplied full technical production, site infrastructure and a series of unique solutions to stage the 2010 Mighty Man Conference, at Greytown outside Durban.
Gearhouse was again working for The Shalom Trust, and in close collaboration with its technical co-ordinator, Nik Fairclough of Northwind Recording who also mixed the FOH sound.
Gearhouse's project manager was Eyal Yehezkely. He oversaw a crew of 28, spanning multiple technical disciplines – audio, AV and screens, power, lighting and staging. The project management included internal and on site logistics, surveying and GPS mapping of the site, detailed layouts, design of the crowd seating, positioning of delay towers and structures and producing comprehensive site plans.
The primary technical challenge - with an expected audience of up to 400,000 - was to ensure that all could clearly see and hear what was happening onstage from wherever they were sitting. The stage and site layout was completely different from last year, with an 'end on' stage and a wide amphitheatre created for the audience, radiating outwards at 170 degrees from the stage in a trapezoidal shape.
With the most distant crowd members potentially 470 metres from the stage and a 162 000 square metre audience area to cover, a comprehensive network of sound and daylight video screen delays was necessary.
Screens
Screens were provided by Gearhouse's screen specialist company, LEDVision, whose Allen Evans proposed using portrait format screens to fully maximise the available viewing space. This highly efficient IMAG concept worked perfectly for the IMAG relay of Angus Buchan's speeches that were the main focus of the 3 day event.
LEDVision provided a total 278 Lighthouse R16 LED panels that were configured onstage as three striking 5 x 10 panel surfaces, each measuring 5.08m x 7.62m (39m2).
Positioned symmetrically in the outfield - below 4 of the PA delay arrays - were four delay screens, each made up of 4 x 8 R16 panels, measuring 4.064m x 6.096m (25m2). All screens on site were in the same 4:3 aspect ratio, and provided the audience with a total of 217m2 of viewing surface clearly visible from all points of the arena.
Gearhouse AV supplied Barco ScreenPro II switcher, which was used to split the screens into 2 halves with camera feeds of the band on the bottom and lyrics on the top for the hymn singing sessions. A Panasonic MX70 mixer was operated by members of the Shalom Trust video team under Allen Evans' supervision. A number of laptops with different source material were hooked into the system, and the 9 cameras and the OB unit were supplied by God TV, which broadcast over their TV network.
The screen system utilized Lighthouse LIP processors, 2.2 kilometres of high grade data cabling and had a total combined weight of 21 tonnes.
LEDVision also provided a BARCO B10 mobile LED screen truck that was parked stage right and used to make English and Afrikaans signers visible to 300 deaf and hearing-impaired members of the audience. The completely self contained trailer has its own 18 KVA generator and weighs 3.5 tons. It carries a 10m2 S-lite XP10 BARCO LED screen.
Sound
While spoken words took precedence for the weekend, additional entertainment was from The Worship Band so the PA system was designed by L'Acoustics CVE Tom Gordon to meet multiple criteria:
Absolutely vital was getting complete vocal intelligibility site wide. The system also had to deliver volume and dynamics, impact and excitement for the praise-and-worship music sessions, plus smooth and even audio coverage across the entire 162,000 square metre audience area.
Gordon used L'Acoustics SOUNDVISION acoustic modeling software to calculate the optimum system needed to cover the arena, which he finds extremely accurate - provided the venue data is also spot on. He visited a month beforehand, identified a number of points around the farm that defined the fan-shaped audience arena and the location of the stage, then compared his GPS mapping with Google Earth. They matched to the foot, so he then pulled the data off Google Earth and fed it into SOUNDVISION to come up with a 3D simulation of the audience area.
A total of 120 L'Acoustics line-array cabinets and 36 subs were supplied by Gearhouse Audio. The main stage left and right hangs comprised 14 V-DOSC elements per side for the main system with a secondary hang of 9 L'Acoustics KUDOs per side for out fills. Four dV-DOSCs positioned along the lip of the stage acted as front fills.
The 9 delay towers were arranged in a continuous inner ring of 5 and a broken outer ring of 4. The inner ring was based around 2 main arrays of 10 V-DOSC; with a central array of 6 KUDOs, and far left and right arrays of 9 dV-DOSC completing the ring. The outer delays were all arrays of 6 dV-DOSC. [Seven of them featured between 6 and 9 dv-DOSC cabinets each, the central inner circle tower had 6 x KUDOs and the second from stage left inner was rigged with 10 V-DOSCs.]
All the arrays were 10 metres high at the top apart from the V-DOSC tower, which had a top elevation of 12 metres. This enabled the sound to be precisely focused to the outer reaches of the field.
The shape of the arena was slightly asymmetric, so the extra delay was added to cover the stage left side.
To add some terrestrial rumble, there were 16 x L'Acoustics SB28 subs per side ground stacked, and 4 x Dv SUBs underneath centre stage.
The main sub stacks were configured as two blocks of 8 x SB28s per side in cardioid mode. The outer stacks were delayed to the inner stacks, for two distinct reasons.
Firstly, the delayed outer stack resulted in a cancellation on stage at approximately 40Hz which, as the centre frequency of the sub band, was "probably the most energetic" explains Tom Gordon. He fine-tuned this by ear during setup enabling a significant reduction in sub frequencies spilling back onto the stage.
Secondly, the delayed outer stacks had the effect of steering the sub energy outwards, helping coverage across the very broad site and helping to reduce the 'power alley' effect, where LF cancellation zones occur on either side of the central axis due to the difference in path lengths from the listener to the left and right sub stacks.
The sub coverage was further smoothed by the addition of the understage cardioid dV-SUBs positioned in between the main sub stacks. As far as Gordon knows, there is no official dV-SUB cardioid preset, but he was able to achieve a cardioid pattern by processing the top and bottom boxes separately and adding a small amount of delay to the top front-facing box in relation to the rear-facing bottom one.
He credits the origins of this sub design to Dave Rat, who used a very similar system for the 2009 Coachella Festival in California. "He was kind enough to describe his setup in great detail on his 'Roadies in the Midst' blog, of which I am an avid follower" says Gordon, who, along with the client, was extremely happy with the results.
The system was driven by a total of 36 x L'Acoustics LA8 amplified controllers with onboard DSP, and 34 x L'Acoustics LA48a amplifiers with outboard XTA processing.
Approximately 1,750 metres of speaker cable was utilized in the set up.
Dolby Lake processors were at the heart of the audio control system. These were fed with separate main stereo and sub-bass signals from the FOH console and acted as a master EQ station as well as a matrix mixer/signal distribution unit for the main system.
Although time alignment of the system is well within the capabilities of the Lakes, which were in fact used to dial in approximate delay times to the inner and outer rings, in practice the fine-tuning of the delay time for each tower was controlled locally via the amplifier's onboard or external DSP. This kept the control system as simple as possible and minimized setup time.
The Gearhouse Audio crew of 8 included Adriaan van der Walt who crew chiefed and assisted Nik Fairclough, Tom Gordon who also monitor engineered as well as designing the system, Jako De Wit who was the PA system engineer and the techs were Nkwane Matlala, Nkosinathi Nthuli, Isaiah Malatji, Kashani Malatji, Jako de Wit and Pierre Slabbert.
FOH was mixed by Nik Fairclough on a Yamaha PM5DRHV2, his desk of choice, which he ran complete with a selection of analogue outboards. These were 4 channels of SPL Transient Designers used on the drum inserts, an SPL de-esser used on the vocals and an Avalon Vt-474sp used in line to drive the main V-DOSC left and right arrays. Gearhouse also supplied 4 channels of dbx 160SL compression and 2 channels of dbx 160A compression, 2 channels of Avalon 747 EQ.
Fairclough commented that the PA's tonal response was excellent, illustrating his point by varying the attack time on Buchan's mic from 5 to 8 milliseconds, resulting in a warmer vocal tone. Coming from a studio background, he was impressed to be able to notice such a small difference on an outdoor system …… proving that attention to detail in the design, preparation and fine tuning processes are well worth the time and effort.
Gordon mixed monitors on a Yamaha M7CLV2 console taking advantage of all the onboard processing. The band used Shure PSM700 IEM systems, and fine-tuned their own mixes using an Aviom system supplied by Nik Fairclough. Two pairs of Clair 12AM wedges were supplied for guest performers. The drummer had a dV-SUB for low-frequency reinforcement. A microphone package completed the audio picture with a combination of Shures and Sennheisers, along with Avalon and BSS DI boxes
Power
The Gearhouse Power team was led by Ronnie Malatji. They provided 2 x 300KVA synched generators for audio and LED screens, 2 x 100 KVA synched sets for lighting - a combination of PARs, 2K fresnels and i-Pix Satellites were used for a good white light TV ambience - and 2 x 60KVA generators for the far outer audio delays and LED screens.
The power distribution layout was designed by Antony Sackstein, Tom Gordon and Allen Evans, with particular attention paid to ensuring a stable voltage over the long cable runs.
Each supply to 3 delay points was split and run via its own MCB ( Main Circuit Breaker ) so one feed could be isolated in case of a problem . The cable size was upgraded from 70mm to 120mm to compensate for voltage drop and 100 metre long runs were used to reduce the amount joints in the cable. About 2,750 metres of power cable distributed power all around the arena, with additional cables used for the stage.
A further 60 KVA generator powered the backstage area and crew village.
Stage
It was down to the Gearhouse Structures crew of 5 led by Attie Van Staden to build the stage structure, which was constructed from a TFL (Total Fabrications) roofed stage, measuring 18 metres wide by 16 deep, with 15 metres of headroom. The stage deck was 2.5m high, and combined with wings of 6m x 6m each side for technical positions; this offered a total of 360 square metres of performance space.
The stage was designed to give the maximum visibility for all the viewing angles in the natural amphitheatre that was made up of the farm's fields and natural terrain. An open back was incorporated so the stunning scenic beauty of the hills behind became a natural backdrop.
All the structures on site weighed 99 tons in total and were delivered by 5 Super link trucks.
Gearhouse Rigging's crew chief, Vincent Khumalo used a total of 50 x 2 tons motors on site for flying the roof, LED screens and PA.
Concluding, Eyal Yehezkely says, "We used the same crew who had worked on last year's event and saw some amazing teamwork that made everything flow smoothly and efficiently. I think we all benefitted from the experience and knowledge gained from working on the site before and this, plus some rigorous preparation beforehand, helped us deliver even better results".
Contact
For more press information on Gearhouse South Africa, please call Louise Stickland on +44 (0)1865 202679/+44 (0)7831 329888/louise@loosplat.com. To contact Gearhouse direct, call Robyn D'Alessandro on +27 (0) 11 482 8981/ +27 (0)83 607 3010 robyn@gearhouse.co.za. or check www.gearhouse.co.za
E-mail:louise@loosplat.com
Web Site:www.gearhouse.co.za