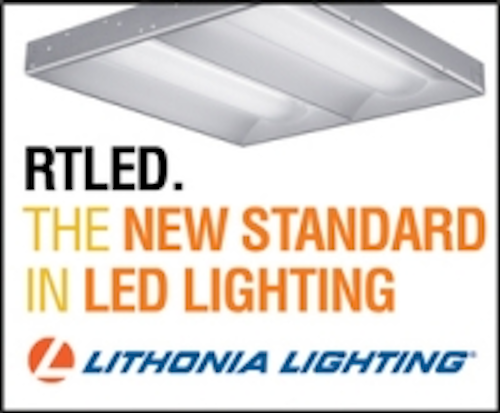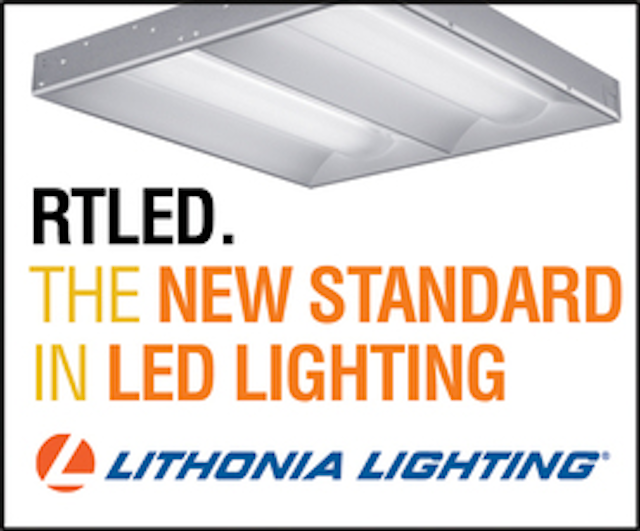 Date Announced: 12 May 2010
-- RTLED, Lithonia Lighting's new volumetric recessed lighting fixture, delivers high quality LED ambient lighting that reduces energy costs, maintenance costs and a building's environmental footprint.
ATLANTA –– Lithonia Lighting, the market leader in indoor commercial and architectural lighting, announced today it is fortifying its presence in the LED lighting market with the introduction of RTLED. RTLED is a high-quality, volumetric recessed luminaire that delivers ambient white light throughout an entire space while reducing energy costs, maintenance costs and a building's environmental footprint.
"RTLED is an innovative breakthrough for high-quality LED lighting solutions in commercial interior spaces," said Dave Ranieri, vice president of Lithonia Lighting Fluorescent/LED Business Unit. "In addition to maintaining high efficacy and excellent color over a 50,000 hour system life, RTLED creates an optimum balance of directional and diffuse illumination for exceptional visibility and comfort. Equally important to our commercial customer, Lithonia Lighting sets a new standard for digital lighting solutions by integrating the most advanced smart control components to further enhance energy performance."
The RTLED is powered by an advanced Samsung LED light engine to deliver superior lighting environment: high color rendering (80+ CRI), 3500K color temperature, and full range dimming with 0-10V DC control.
Another benefit of RTLED is it reduces maintenance costs by delivering 50,000 hours of light without having to replace lamps or ballasts, which reduces downtime and increases employee productivity. The luminaire adjusts itself to eliminate the waste of over lighting. RTLED tracks its own operating hours and provides a visual indicator when the luminaire has reached the end of its service life.
Additionally, RTLED allows building owners to meet sustainability goals in numerous ways, including: eliminating mercury and lead use; using recyclable components and materials; minimizing waste in the manufacturing and distribution process; using recycled steel; a small and compact design (only 3-1/8" deep) and maximizing component life while minimizing energy consumption.
"By providing high quality lighting and fully integrated controls, Lithonia Lighting expects to move LED commer­cial lighting into the mainstream very quickly," said Yaser Abdelsamed, director of innovation development at Acuity Brands Lighting. "The ability to control and adapt the lighting system, combined with comfortable illumination and high quality construction gives users unprecedented value. Over the next few years, I anticipate LED lighting will be­come the rule rather than the exception for new commercial construction."
RTLED is available now nationwide for new installations beginning June 1, 2010, through Lithonia Lighting agents. For more information visit www.lithonia.com/RTLED.
About Lithonia Lighting
Lithonia Lighting, an Acuity Brands Company (NYSE: AYI), is North America's largest manufacturer of lighting equipment for commercial, industrial, outdoor and residential applications.
Acuity Brands, Inc., the parent company of Acuity Brands Lighting, Inc. and other subsidiaries, is one of the world's leading providers of lighting fixtures and related products and services with fiscal year 2009 net sales of over $1.6 billion. The Company's brands include Lithonia Lighting®, Holophane®, Peerless®, Mark Architectural Lighting™, Hydrel®, American Electric Lighting®, Gotham®, Carandini®, RELOC®, MetalOptics®, Antique Street Lamps™, Tersen™, Syner­gy® Lighting Controls, Sensor Switch®, Lighting Control & Design™, and ROAM®. Headquartered in Atlanta, Georgia, Acuity Brands employs ap­proximately 6,000 associates and has operations throughout North America and in Europe and Asia.
About Samsung LED
Samsung LED Co. Ltd., established in April 2009 to foster LED as a new growth engine for the next gen­eration, is leading the global LED industry with cutting edge products based on the synergy of more than ten years of LED technology devel­opment and world class semiconductor tech­nology and manufacturing. Samsung LED is the leader in the Display BLU (LED backlight unit) mar­ket and plans to further expand research and develop­ment in Lighting and Automotive applications. Samsung LED's main operation is based in Suwon, Korea, and has core manufacturing bases in Korea and China. Global Sales offices are located in the U.S., Europe, Japan, China and Southeast Asia.
# # #
EDITOR'S NOTE: To download the entire RTLED press kit, visit http://www.lithonia.com/RTLED/pdfs/RTLED_PressKit.pdf. Contact Jennifer Manocchio at 910.772.1688 or jennifer@sweeneypr.com for product photography.
Contact
Contacts: Jennifer Manocchio jennifer@sweeneypr.com, 910.772.1688 Samantha McLarty samantha.mclarty@lithonia.com, 770.860.3917
E-mail:jennifer@sweeneypr.com
Web Site:www.lithonia.com/RTLED