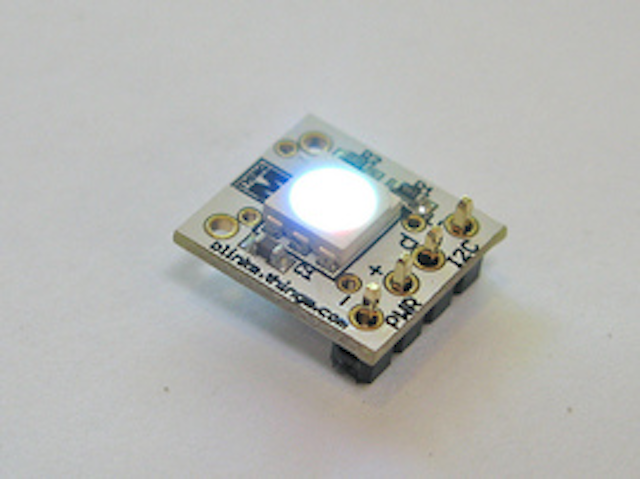 Date Announced: 23 May 2010
ThingM announced the immediate availability BlinkM MinM, it's latest smart LED, at Maker Faire in San Mateo, CA.
BlinkM MinM is an affordable RGB LED that's mounted on a tiny board with a driver that allows it to be programmed with a specific RGB color or sequence. Once programmed, it will play the pattern standalone whenever power is applied. It smoothly fades between colors automatically, and has variable fade times, so it requires very little programming to create smooth color transitions. It is programmed over the I2C serial bus and uses very little bandwidth to create sophisticated effects such as breathing, flashing or fading.
Its standalone capability makes it a great prototyping tool. "We believe that prototypers, tinkerers, roboticists, artists and designers deserve a great tool to put colored light anywhere," said Mike Kuniavsky, ThingM CEO, "and we wanted to make one that doesn't require an engineering degree to use. We made our whole LED system easy enough for someone with no knowledge of electronics to learn in under an hour."
When used with ThingM's LinkM USB programmer and Sequencer software, it's possible to program a BlinkM MinM and install it in a project half an hour after unpacking the components. ThingM also makes the BlinkM, a bright, wide-angle smart LED, and BlinkM MaxM, an ultra bright smart LED driver that can drive 2 watt RGB LEDs.
In addition to its easy programmability and control, the MinM features an easily removable programming header which, when removed, makes the device less than 0.5 cm on a side and 0.25 cm high, making it perfect for small spaces and for wearable technology applications.
BlinkM MinM is available immediately through fungizmos.com and sparkfun.com, and will be soon available through many other ThingM vendors.
For more information: http://thingm.com/products/blinkm-minm.html
About ThingM
ThingM Corporation is a ubiquitous computing research studio and manufacturer. Founded by Web pioneers Tod E. Kurt and Mike Kuniavsky in 2006, ThingM aims to revolutionize everyday life using user-centered design and the latest technology to reinvent everyday objects and make digital technology more accessible.
About Maker Faire
Maker Faire is the premier event for grassroots American innovation. The event started in San Mateo, California in 2006 and expanded to Austin, Texas in 2007. Held annually in each of these locations, the event may expand elsewhere in the future. Maker Faire is supported by Make Magazine and craftzine.com and O'Reilly Media the premier information source for leading-edge computer technologies. The company's books, conferences, and web sites bring to light the knowledge of technology innovators.
Media Contacts:
Kim Karlsrud
ThingM Corp.
Email: kim.karlsrud@thingm.com
###
Contact
Kim Karlsrud ThingM Corp. Email: kim.karlsrud@thingm.com
E-mail:kim.karlsrud@thingm.com
Web Site:thingm.com