Martin Maxedia drives LED chandelier at Vanity Nightclub, Las Vegas
May 11th, 2010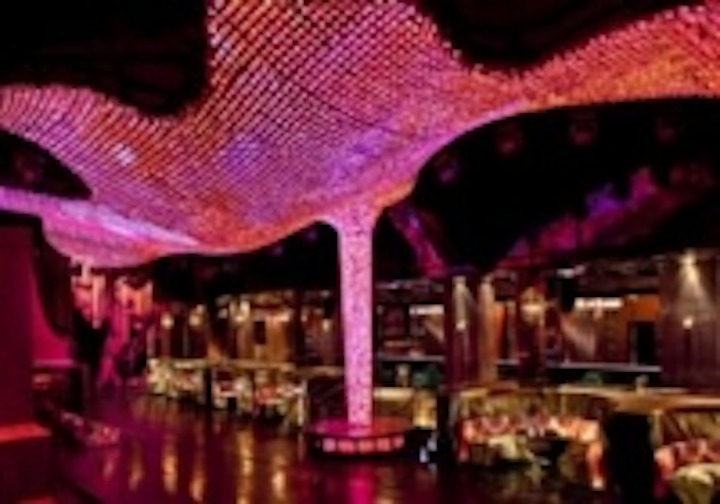 Date Announced: 11 May 2010
Vanity is a high profile nightclub at the Hard Rock Hotel & Casino in Las Vegas whose visual focal point is a stunning, custom-made chandelier made up of 20,000 LED points driven by a Martin Maxedia Compact™ media server.
[Photo courtesy of Hard Rock Hotel & Casino Las Vegas.]
The Maxedia media server drives 25 universes of pixelmapped Artnet output across the chandelier, creating highly unique floating graphic effects with a unique three-dimensional feel.
Besides complementary club and dance floor effects, the chandelier displays custom content for marketing purposes, VIP customization, or graphics and logos for corporate events such as a recent Sports Illustrated swimsuit edition launch and Microsoft event.
The one-of-a-kind chandelier is surrounded by 40 Martin MAC 250 Entour™ moving heads and Martin Atomic 3000™ strobes with Atomic Colors™ scrollers.
Lighting supplier is FBP Systems of Las Vegas with lighting design and programming by FBP's Matthew Paupst.
"Maxedia is a very user-friendly system and so far everyone has been very happy with it," Paupst comments. "It's been running strong with no lag in the system, no delay. It's a solid system that provides instant live access to accommodate an atmosphere that is constantly changing."
The entire lighting and control system is controlled by a 42 inch touchscreen located in the DJ booth, driven by an AMX TPI-PRO.
Opened on New Year's Eve with none other than P. Diddy, Vanity is described as an "eclectic jewel box" decorated in pearls, crystal, velvet and metallic gold. The 14,000 square foot venue features marble bars, a sunken dance floor, 60 intimate VIP booths, an outdoor terrace with cabanas and a women's lounge. Vanity is operated by The Nightlife Group.
Martin equipment:
41 x MAC 250 Entour™
14 x Atomic 3000™
14 x Atomic Colors™
1 x Maxedia Compact Rackmount™
2 x Jem K1 Hazer™
About Martin Professional
Founded in 1987 and headquartered in Aarhus, Denmark, Martin Professional is a world leader in the creation of dynamic lighting solutions for the entertainment, architectural, and commercial sectors. Martin lighting solutions are industry standard on top tours and events, grace prestigious theatres, energize nightclubs, and decorate major television studios around the globe. Other important areas of application are indoor and outdoor architecture and commercial applications where Martin products are increasingly being used to transform spaces through dynamic light. Martin also offers a range of advanced lighting controllers and media servers, as well as a complete line of smoke machines as a complement to intelligent lighting. The company operates the industry's most complete and capable distributor network with local partners in nearly 100 countries.
Contact
For more information contact your local Martin distributor or PR Coordinator Larry Beck at Martin Professional at: Telephone: +1 719 686 0793 Fax: +45 87 40 00 10 (DK) / +1 954 858 1811 (US)
E-mail:larry.beck@martin.dk
Web Site:www.martin.com