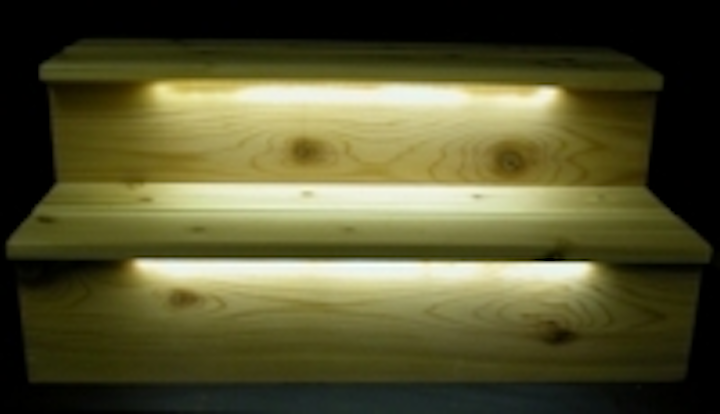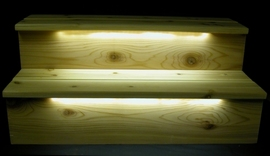 Date Announced: 06 Apr 2010
Whitewater, WI -- Aurora Deck Lighting's design team has broken new ground once again with the introduction of their new Odyssey LED Strip Lighting Kit. The Odyssey Strip Light is an all-new concept in lighting that creates a dramatic curtain of down light from underneath deck rails, stair rails, steps, soffits, patio covers, gazebos, or the underside of a deck to light up the landscape below.
Each Odyssey LED Strip Lighting Kit comes complete with four strips of lights, each with a 48" wire lead that allows them to be connected in a series along handrails, deck rails, or anywhere a shower of light is desired. The kit also includes the LED Driver Box with a timer, and a remote control for operating the lights. The kit is powered by any standard grounded outlet of 110 volts.
"The Odyssey Strip Lights are unique for a variety of reasons. First, there is nothing like them on the market today, but the most unique aspect is their tiny size, which makes them an extremely versatile choice for lighting in an endless array of creative applications," says Jay Savignac of Aurora Deck Lighting.
The strip lights, which come four to a kit, are available in four sizes: 18 inch, 24 inch, 36 inch or 48 inch. Each strip of lights is encased in the tiny 1/8" x ¼" rectangular casing that tucks neatly into a 1/8" channel that can be made with one pass of a table saw or router.
"Deck builders and landscapers love the versatility of these tiny strip lights. By selling them in a kit, professionals can inexpensively and easily add an interesting touch to the decks or outdoor living areas they create," Savignac says.
According to Aurora, each tiny light bulb in the chain puts out a
beam of light with a 120 degree radius. The string of lights creates a curtain or shower of light that lights up the landscape or deck environment.
Kits retail for between $219 and $319, depending on the length of the strip lights desired. Installation is simple, with one kit providing enough lights for a standard 10 x 12 foot deck. Expansion strips are available in 18", 24", 36", and 48" lengths. Up to 20 feet of strip lights can be wired together and powered by a single LED Driver Box.
The lights are available from fence and deck supply companies and select retailers nationwide. Visit www.auroradecklighting.com and the "Where to Buy" section for a list of suppliers or retailers in your area.
-end-
About Aurora Deck Lighting
Aurora Deck Lighting has been a leader in the design and manufacturing of top quality outdoor lighting solutions for more than ten years. The company is based in Whitewater, WI and distributes its products throughout North America through its network of fence and deck supply companies and fine retailers. The company's products carry some of the industry's best warranties, and Aurora offers a wide range of post cap lights, deck lights, post lamps, path lights, and recessed deck lights. Aurora is introducing several new products for the 2010 building season. The company's new Phoenix Recessed LED Light Kit, Pegasus Solar Deck Light, and Odyssey LED Strip Lights are among the newest products on the market. For more information, visit www.auroradecklighting.com
Contact
NOTE TO EDITORS: High resolution photos of all Aurora products are available by contacting Connie Holubar at OutreachPR, 903 880 8217, connie@outreachpr.com.
E-mail:customerservice@auroradecklighting.com
Web Site:www.auroradecklighting.com