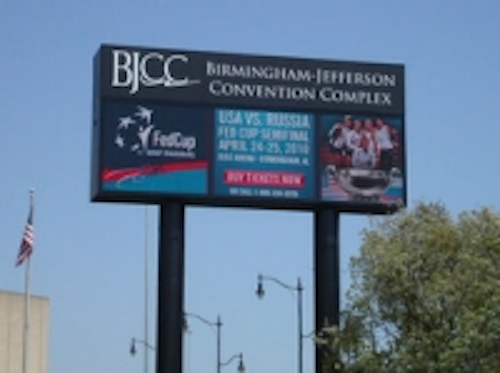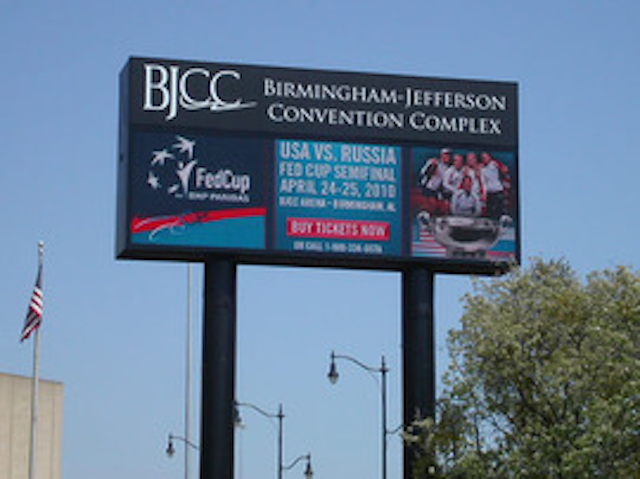 Date Announced: 13 Apr 2010
Daktronics Inc. (Nasdaq-DAKT) of Brookings S.D. recently installed its technologically advanced Valo® OT (Optimized Technology) digital billboard product at the Birmingham Jefferson Convention Complex (BJCC) in Birmingham, Ala.
Featuring the latest in cutting-edge LED (light emitting diode) digital billboard technology, a two-sided Valo® OT digital billboard will entertain and inform patrons outside the BJCC from near and far. Each display measures over 35 feet wide and 10 feet high with lines of pixels on 12 millimeter spacing. Featuring superior viewing angles, high brightness, enhanced contrast, low power consumption and a high-density pixel configuration for close-up viewing, the new displays deliver the sharpest images in outdoor advertising.
"On a rotating basis, the sign will be updated weekly to promote dozens of events held annually at the BJCC," said Susette Hunter Marketing Director for the BJCC. "A study estimates that 170,000 vehicles pass by our sign daily. It's a great way to advertise about the events we have going on here. This sign uses the latest in technology."
Daktronics Valo® product line uses innovative designs and the latest in LED technology to deliver vivid picture quality while optimizing light output and energy use. Recognized as a very innovative and efficient technology, the revolutionary product design can operate exclusively as a digital billboard, as compared to a video display used for billboard purposes.
Valo® digital billboards allow Daktronics, the world leader in LED displays, to tailor the product specifically for outdoor advertisers. In addition to providing affordable and flexible medium to advertisers, these digital billboards are able to perform several public service functions by facilitating Amber Alerts, weather alerts and law enforcement alerts. This product focuses on the most important needs of the client, the outdoor companies, as well as municipalities and consumers.
The new digital billboard displays are positioned near Interstate 59-20 in downtown Birmingham and replace a previous Daktronics marquee display installed in 1997. Complementing the new outside digital display, Daktronics also provided the current video and scoring system inside the BJCC's arena.
"We are excited to provide this significant upgrade and proud to continue our long-standing partnership with the BJCC," said Glen Marts, Daktronics Regional Sales Representative. "We look forward to serving the BJCC for many years to come."
About Birmingham Jefferson Convention Complex
The Birmingham Jefferson Convention Complex is a sports, convention and entertainment complex located in Birmingham, Alabama. It consists of a 19,000 seat arena, a 3,000 seat concert hall a 220,000 square foot exhibit hall, a 1,000 seat theater and various banquet and meeting rooms and other facilities.
About Daktronics
Daktronics is recognized as the world's leading provider of full-color LED video displays. Daktronics began manufacturing large screen, full-color, LED video displays in 1997. Since then, over 6,100 large screen video displays have been sold and installed in sporting and commercial facilities around the world. Since 2001, independent market research conducted by iSuppli Corp. lists Daktronics as the world's leading provider of large screen LED video displays. Daktronics designs, manufactures, markets and services display systems for customers around the world, in sport, business and transportation applications. For more information, visit the company's World Wide Web site at: http://www.daktronics.com, e-mail the company at sales@daktronics.com, call (605) 692-0200 or toll-free (800) 325-8766 in the United States or write to the company at 331 32nd Ave. PO Box 5128 Brookings, S.D. 57006-5128.
– END –
Contact
Mark Steinkamp Daktronics Marketing Director tel (605) 692-0200 email mark.steinkamp@daktronics.com
E-mail:mark.steinkamp@daktronics.com
Web Site:www.daktronics.com