OSRAM LEDs illuminate Expo 2010 in Shanghai
Apr 22nd, 2010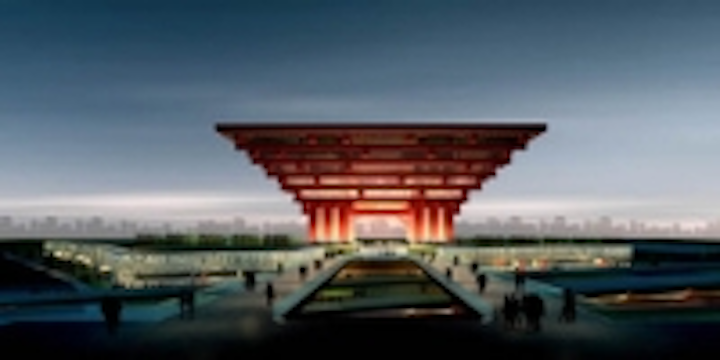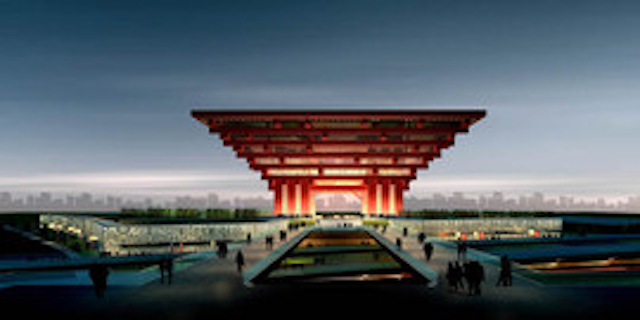 Date Announced: 22 Apr 2010
With energy-efficient lighting solutions like LED and OLED OSRAM makes its contribution to a more sustainable Expo 2010 with lower CO2 emissions.
As the official global lighting partner of Expo 2010 in Shanghai, OSRAM is providing green technology for more than 40 projects along with its parent company Siemens. OSRAM's energy-saving solutions will show the buildings' interiors as well as streets, pathways and tourist sights in the best light. Highlights include the China pavilion, Expo Centre and the "We are the world" pavilion. "With more than 150,000 LED OSRAM illuminates the pavilions and boulevards on the Expo area and demonstrates once more that climate protection and aesthetically appealing lighting go hand in hand", explains Martin Goetzeler, CEO of OSRAM.
The China Pavilion is one of the permanent buildings at Expo 2010. Based on the shape of an Oriental crown, the building's colour is mainly "China red", which gets its name from the Forbidden City (Gu Gong) in Beijing. In order to stage the 30-metre high, 160,000 square metre pavilion and its traditional Chinese features at night, OSRAM relies on over 23,000 Golden Dragon Plus LED, which emit their light over a distance of 66 metres. OSRAM worked on the exact mixture of LED light in Gugong red for six months. The advantage of LED is that they save more than 70 percent of the energy consumed by conventional halogen halide floodlights. With an operating life of 50,000 hours, LED also significantly reduce maintenance requirements and the cost of replacing lamps, which means greater sustainability, is achieved here too.
World Expo Centre: forum for technology and science
The Expo Centre – 350 metres long and 140 metres wide – covers an area of 142,000 square metres and is one of the few buildings that will still be standing after the Expo. During the Expo the centre is used for ceremonies, press conferences and events. The centre's lighting design is based on OSRAM's intelligent digital DALI lighting management system. This system provides more energy efficiency, environmental friendliness and flexibility, as light is dimmed, for example, using electronic control gear or is switched on only when needed.
By integrating fluorescent lamps and compact fluorescent lamps, in combination with energy-efficient electronic control gears, OSRAM achieves energy savings of up to 25 percent compared with conventional lighting solutions. The dynamic dimming effects of OSRAM's Linearlight LED modules that are also used provide the ideal ambience in the Expo Centre for presenting science and technology. Overall, with the lighting solutions used at the Expo Centre, OSRAM can save up to 33 percent of the energy.
Unlimited creative possibilities with OLED and LED
In the "We are the world" pavilion OSRAM demonstrates the possibilities that organic light-emitting diodes (OLED) offer in terms of design and energy efficiency. In a domestic situation, rows of Orbeos OLED panels form the frame of a mirror. The ultra-flat surface lights are not only visually appealing but also provide pleasantly diffuse lighting. With this installation, OSRAM proves that OLED already play a role in high quality general lighting. In future, architects, lighting planners and designers will have far more options – ceilings or partition walls of light will be feasible. Plus, virtually any object can become a luminaire with OLED.
The pavilion will be illuminated by the OSRAM joint venture Traxon Technologies. The 5 sphere concept design of the pavilion features color changing animations created by 1,180 pieces of Traxon's advanced Nano Liner, an ultra bright though environmental friendly LED lighting solution. Equipped with sophisticated control programming software from Traxon's control brand – e:cue lighting control, the eyecatching lighting effect delivers a world-class dynamic Solid-State Lighting experience to every World Expo visitor. A virtual "window" and a virtual "sky" at the entrance tunnel, powered by Traxon's LED panels, simulate various weather scenarios and times of day.
About OSRAM
OSRAM (Munich, Germany) is part of the Industry Sector of Siemens and one of the two leading lighting manufacturers in the world. Sales for OSRAM worldwide totalled to €4.0 billion in fiscal year 2009, 88 percent of which came from outside Germany. OSRAM is a high-tech company in the lighting industry. Over 66 percent of sales come from energy-efficient products. This global player employs more than 39,000 people worldwide, supplies customers in some 150 countries and has 46 production facilities in 17 countries (September 30). www.osram.com
About Traxon
Traxon Technologies Ltd. is a global leader in LED lighting systems offering sophisticated RGB and White solutions for the architectural and hospitality/retail industries. Together with its lighting control brand "e:cue", Traxon provides its customers full turnkey solutions, reaching from the cutting-edge LED lighting systems to the sophisticated large scale control solutions. In March 2009, Traxon Technologies entered into a joint venture partnership with OSRAM, strengthening its position in the market by combining know-how in technology and building on synergies with OSRAM's global presence. With over 3000 worldwide installations Traxon covers various market segments and has the knowledge and experience to improve and illuminate environments of various size and complexity.
About e:cue lighting control
e:cue lighting control develops state-of-the-art control and automation solutions, and works with lighting professionals and partners around the world to deliver dynamic lighting experiences. An industry leader with an integrated software and hardware portfolio, e:cue provides reliable control solutions for any dynamic lighting project. e:cue, as part of "Traxon Technologies – An OSRAM Company", is headquartered in Paderborn, Germany with regional offices in Europe, North America, South America, Asia and the Middle East. Distribution and support is managed through e:cue's extensive worldwide partner network.
Contact
US 866 993-5211 HK 852 3652 5522 Germany 49 941 850 1700 UK 44 1744 812 221
E-mail:prasia@osram-os.com
Web Site:www.osram.com