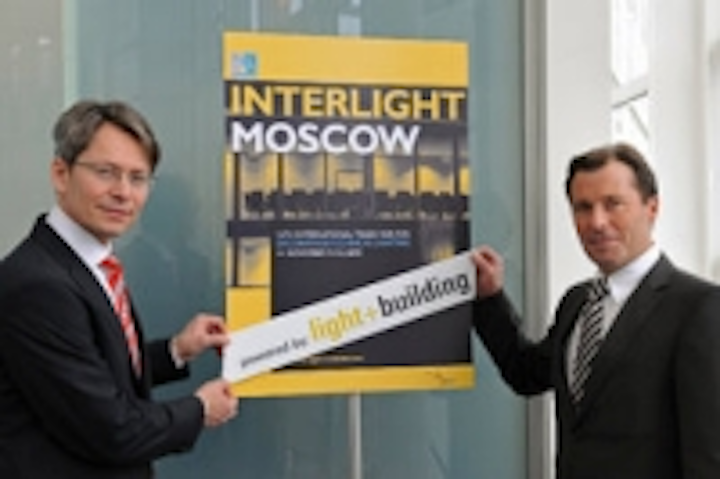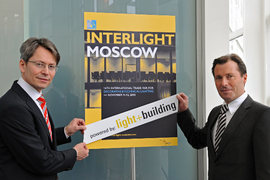 Date Announced: 22 Apr 2010
INTERLIGHT MOSCOW and Light+Building are collaborating now.
INTERLIGHT MOSCOW has been the leading trade show in Russia since 1995. Effective immediately the organiser OWP Ost-West-Partner will
explore the enormous potential of the Russian market in collaboration with international companies and world's leading trade show for Architecture and Technology, the Light+Building.
Because to date the local economy is rarely competitively viable, Russia represents an attractive growth market; especially for international companies. However, the market entry in Russia is costly and presents quite a few obstacles: Moscow is expensive, the bureaucracy is obstructive and business "po-russkij"(Russian business), is a learned trade.
Therefore the exhibitors and visitors of the leading industry trade show have high expectations. In an effort to satisfy and possibly exceed these expectations on a long-term basis, the INTERLIGHT
MOSCOW selected the "best possible partner for this extremely important endeavor: The Light+Building", said Bernd Fichtner, the executive director at OWP Ost-West-Partner GmbH, during the Light+Building press conference on April 13, 2010.
INTERLIGHT MOSCOW and Light+Building now strive to expand their trade show portfolio with the headline "INTERLIGHT MOSCOW powered by Light+Building". This interaction of decades of experience
in the Russian market and a global network represents an optimal platform for international companies to break into the Russian market or to enhance their current business ventures with Russia.
INTERLIGHT MOSCOW
With more than 300 exhibitors and approximately 20,000 expert visitors the INTERLIGHT MOSCOW is the most important information and contact platform for Russia.The product-range incorporates all sectors
of the lighting industry and international market leaders have already registered to introduce their latest innovations to the Russian and East-European market.
2010 is the fourth time the LED FORUM MOSCOW has participated within the scope of the INTERLIGHT MOSCOW. The international experts seek information regarding the latest innovative technology and development, by attending the presentations and workshops. With an attendance of more than 300 participants, the LED FORUM is the most prominent LED expert conference in Eastern-Europe and Russia.
You may obtain additional information as well as visuals for INTERLIGHT MOSCOW at:
www.interlight-moscow.com
Contact
+49 (0)9122 830583
E-mail:info@interlight-moscow.com
Web Site:www.interlight-moscow.com