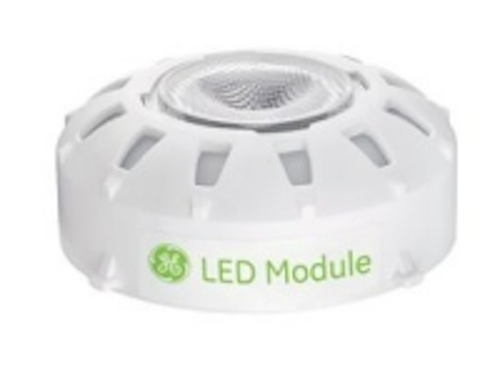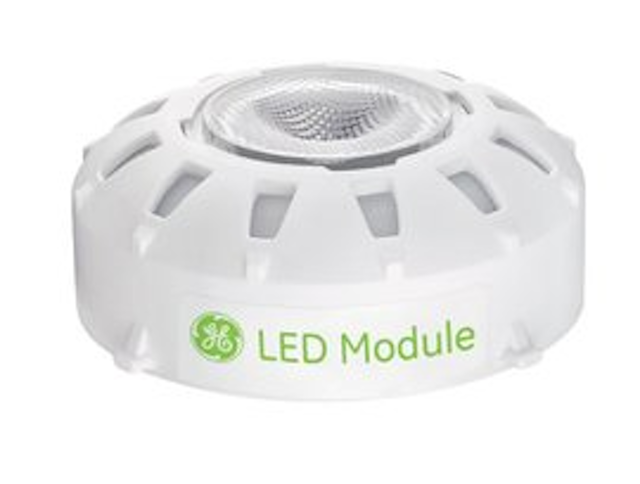 Date Announced: 30 Apr 2010
GE's new Infusion™ LED (light-emitting diode) module becomes available for the first time in the coming months in fixtures made by four companies: Janmar Lighting, Inc (Covina, Calif., USA), Journée Lighting, Inc. (Westlake Village, Calif., USA), Modular International, Inc. (Pittsburgh, Penn., USA), and Spectrum Lighting (Fall River, Mass., USA). Fixtures outfitted with the GE Infusion™ LED module will be available to commercial customers through GE's distributor partners.
"This product was specifically developed to address the needs of the design and specification community, which as a whole has been seeking ways to incorporate LEDs in more applications," says Steve Briggs, vice president of marketing and product development, GE Lighting. "As we roll out this technology, we hope consumers and designers alike find the simplicity of the design a perfect match for applications where aesthetics, efficiency and future replacement are valued."
The new GE Infusion™ LED module is a revolutionary product platform that provides general lighting with energy efficient, long-lasting LEDs in directional applications such as recessed down lights and tracks. It gives lighting designers and end-users the ability to easily upgrade LED lighting, addressing the inflexibility of integrated LED luminaires.
GE plans to highlight the new fixtures during its participation at LightFair 2010 in Las Vegas, Nevada, USA.
GE's Infusion™ LED module simplifies lighting and makes luminaires upgradeable and serviceable with a simple clockwise twist that mates the LED module to the fixture housing for necessary thermal, electrical and mechanical connectivity. The module's one-of-a-kind ease of installation contrasts sharply with current integrated LED luminaires and LED modules that are not easily replaceable because they require mechanical fasteners to couple the LED package to a heat sink, and a plug to make the electrical connection.
"Our Infusion™ LED module lets customers remain current with the latest LED performance, while providing many of the benefits that LEDs have a reputation for delivering visually, economically and environmentally," adds Briggs.
One lighting luminaire can support a variety of LED modules with varying color temperatures, beam angles and light packages. An added level of lighting design flexibility is enabled with the LED module's wattage-adjust switch that gives end-users three different light level/wattage options. For more information on the fully dimmable Infusion LED module, go to www.gelighting.com/infusion.
About GE Appliances & Lighting
GE Appliances & Lighting spans the globe as an industry leader in major appliances, lighting, systems and services for commercial, industrial and residential use. Technology innovation and the company's ecomagination(SM) initiative enable GE Appliances & Lighting to aggressively bring to market products and solutions that help customers meet pressing environmental challenges. General Electric (NYSE: GE), imagination at work, sells products under the Monogram®, Profile™, GE®, Hotpoint®, Reveal® and Energy Smart® consumer brands, and Tetra®, Vio™ and Immersion® commercial brands. For more information, consumers may visit www.ge.com.
Contact
216 266-2121
Web Site:www.gelighting.com/infusion