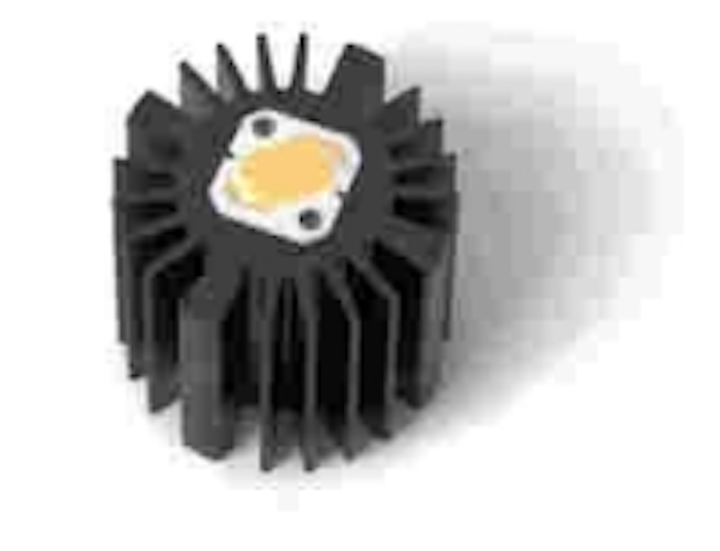 Date Announced: 06 Apr 2010
Thanks to their energy efficiency and operating safety, LEDs for lighting purposes represent a big opportunity for the lighting industry. The high power density of modern LEDs places the greatest challenge on safe, practical heat dissipation, to achieve trouble-free operation, good luminous efficiency and a long service life.
Hamburg, April 6 2010 – Although LEDs are clearly more energy efficient than light bulbs, which convert around 95% of current into heat and not into light, LEDs also waste a consid-erable amount of heat. Unlike in traditional light bulbs, this is not emitted as radiant heat but has to be dissipated through heat sinks. Without additional cooling measures, temperatures sometimes reaching well over 100°C would destroy LEDs. The dimension of the heat sinks depends on the number of the LEDs installed on the supporting substrate and the power they consume.
Unlike other manufacturers, Sharp (Hall 4.2, Booth J71) does not refer to the non-measurable junction temperature of the LED, but to the measurable temperature of the substrate. At a substrate temperature of 80°C, all Sharp LEDs have a specified service life of 40,000 operating hours.
The supporting material used by Sharp for almost all its high power LED products is high qual-ity ceramic. This allows an efficient dissipation of heat and helps to keep the size of the re-quired heat sinks to a minimum, thanks to its good heat conductivity properties. Although standard heat sinks are freely available on the market, the shape of cooling elements may be chosen at will as long as they guarantee the required heat dissipation. For this reason, heat sinks can also be used specifically as design elements when creating LED lamps.
Fischer Elektronik has developed concepts which are specially adapted to the constantly grow-ing demand for LED heat sinks. In addition to many standard heat sinks which can be used to dissipate heat from the LEDs, it also offers specially modified heat sink variants for LEDs and versions which are specially adapted to individual Sharp LED products.
With its standard portfolio, Fischer Elektronik already offers a comprehensive range of differ-ent types of aluminium heat sinks which can be installed in many popular housing models used in the lighting industry.
The LEDs are fixed to the heat sink using either double-sided, heat conductive adhesive film or a suitable thermal adhesive. Additional safety can be achieved by using optional screw fit-tings. The standard surface finishes are anodised in black or natural.
When considering the overall system of a light, Fischer Elektronik closes an important gap, us-ing its expertise in application-related heat management to complete Sharp's LED partner network. In addition to the standard heat sinks it offers, Fischer is also considered a specialist for customised modifications and special designs.
The product experts at Fischer Elektronik are at your disposal for any requests and further in-formation.
Availability
Samples can already be obtained via Fischer Elektronik and Sharp sales offices and distribution partners in Europe.
Please visit us at the Light + Building
From 11th to 16th of April 2010
Booth (Hall 4.2, Booth J71)
Messe Frankfurt
Note:
The availability of the products and components mentioned in this press release is restricted to the European markets. For availability of these products and components outside Europe, please check with the Sharp Device Sales Offices in the respective markets.
Contact
Contact Sharp: Sharp Microelectronics Europe Service hotline: +49 (0)180 507 35 07 (0.14 €/min. from the fixed network of DTAG.) Service e-mail: info.sme@sharp.eu Contact Fischer Elektronik: Fischer Elektronik GmbH und Co. KG Nottebohmstraße 28 D – 58511 Lüdenscheid Service-Hotline: +49 (0) 23 51/ 435 - 0 Service Email: info@fischerelektronik.de
E-mail:info.sme@sharp.eu; info@fischerelektronik.de