Focus supplies LED lighting for Russia PepsiCo factory
Apr 27th, 2010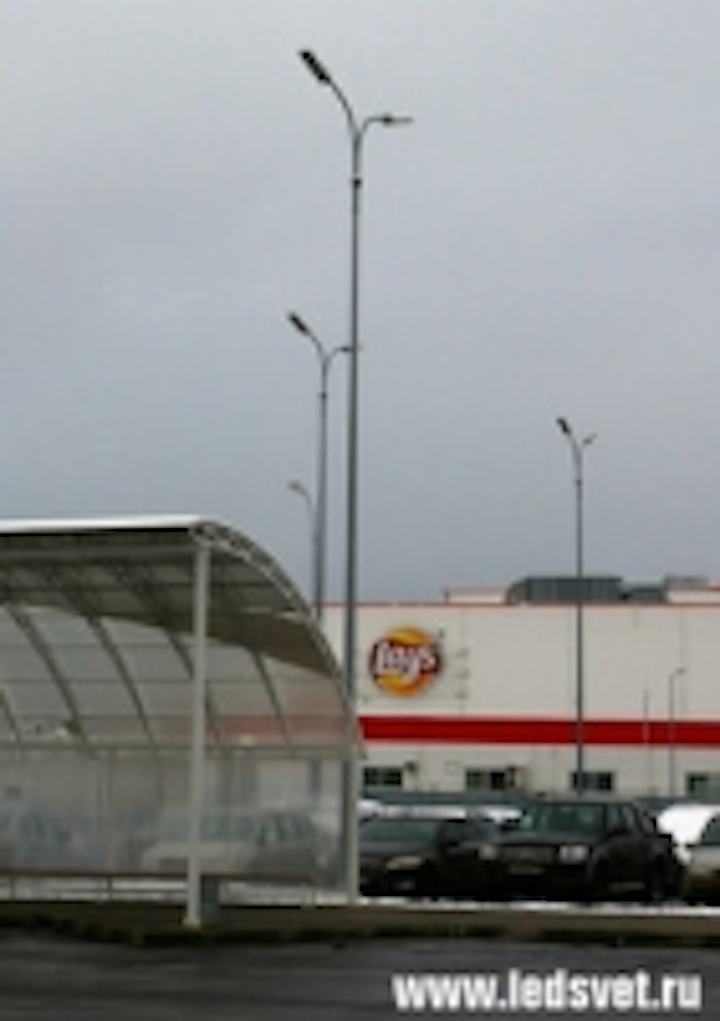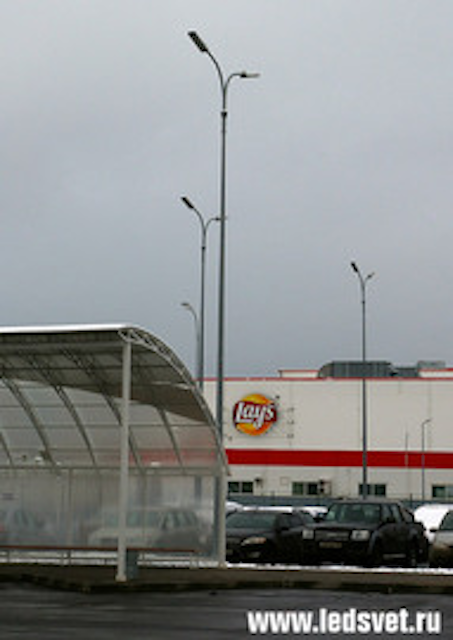 Date Announced: 27 Apr 2010
LED Lighting Project is implemented at the plant "Frito Lay Manufakturing" in Russia (a division of PepsiCo).
Lamp USS-70 is designed for lighting of streets, roads, squares, courtyards, warehouses, production, lighting, railway platforms, etc. Power from AC 220 V - 75 W Is the replacement lamps using mercury lamps DRL-250. Even being in a place where you want to save electricity and very high reliability.
There is no lamp strobing, intensity does not change the entire range of supply voltages. Time to treatment 1 second. USS-70 is made on the basis of LEDs of Japanese company NICHIA.
To increase the reliability of the lamp is divided into three electrically independent parts and has three independent sets of samples. The body is made of aluminum with glass from the optical polycarbonate. The lamp is attached to any poles, with a bore diameter pipe to 55 mm.
All these qualities allow to obtain the highest reliability lamp USS-70.
Environmental responsibility and energy efficiency - the company's philosophy "FOCUS", which she successfully implemented.
The company "FOCUS" organized in 2004 in the city of science Fryazino Moscow region. Our professionals have extensive experience in the field of electronics in military enterprises. The company began its activities with the development and manufacture of electronics for the special lighting on the orders of other companies - manufacturers. Parallel studies were conducted and tested in the field of optoelectronics, including in the direction of energy-efficient LED lighting.
For many years, together with our partners have analyzed the market of manufacturers of power LEDs in Russia and abroad, according to the results of tests that determined the main producers of high-quality LEDs, a Japanese company NICHIA German and OSRAM, which have signed long-term partnerships.
Today the company "FOCUS" mass-produce LED street lamps with different types of fasteners, lighting for indoor, lights for the field of housing and communal services, network LED spotlights white and colored glow, pulse chargers. The products operate on different sites confirmed the superiority and prospects of LED technology.
The company has a lot of innovative developments, patents, and implemented projects in the sphere of energy saving and conservation ecology.
"FOCUS" is positioning itself as a manufacturer of high quality products. Manufactured products meet the most stringent requirements for reliability, passing 100% of output controls.
Our mission - to make the fullest link innovative technologies to the market and promising market opportunity with a client.
We appreciate the frank and open relationship and we value our reputation as a reliable partner.
We always reduce the influence exerted by products of "FOCUS" on the environment from used materials to the finished product, which our consumers feel. Our products do not contain rtutesoderzhaschih parts, and soldering with lead.
When it comes to promoting environmental consciousness, we immediately appear many bright ideas. And not just us. Our partners share our responsibilities and strive to raise awareness of people about the problems facing our planet.
At the present time, we launched the line of LED lamps series of SPO, which in standby mode consumes only 2 watts of! And this line we have called ECO.
Contact
Russia, Shchelkovo, Moscow Region Melioratorov street, 1
E-mail:242187@mail.ru
Web Site:www.ledsvet.ru