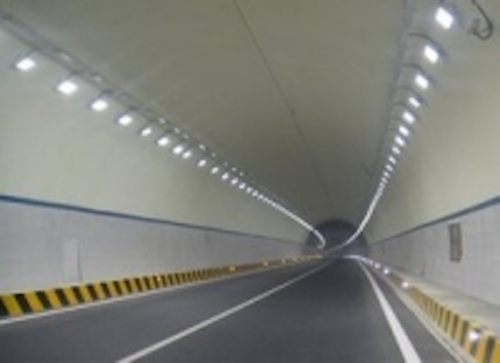 Date Announced: 20 Apr 2010
-- Developed by Xian Liming with Support from Future Lighting Solutions
MONTREAL, QUEBEC -– LED-based tunnel lighting for two new highway tunnels in central China is saving up to 60% in energy consumption and related costs over fixtures built with traditional light sources. Utilizing LUXEON Rebel LEDs from Philips Lumileds, the 3,900 fixtures involved in the project were developed by Xi'an Liming Electronic Technology Co., Ltd., with engineering assistance and LED inventory management supplied by Future Lighting Solutions.
Xi'an Liming, China's leading LED tunnel lighting manufacturer as well as one of the country's largest suppliers of outdoor LED lighting, worked with the engineering team at Future Lighting Solutions to ensure that the fixtures would meet national tunnel lighting standards as well as have a sustainable LED supply. Future's services included LED part and color bin selection, optical simulations, lens testing, advanced CCT binning to provide the desired 5000K color temperature, and bonded inventory for LED availability.
"Future's help in designing and optimizing these tunnel fixtures was instrumental in our ability to both meet and exceed the national standards for this kind of lamp, and thereby win the lighting contract for these two tunnels," said Yijing Mu, General Manager of Xi'an Liming. "More tunnel construction projects are on the drawing board, and we are now well-positioned to bid on those additional projects."
The fixtures are providing illumination for the Xinkailing and Wangzhuyuan No. 2 tunnels of the Liu'an-to-Wuhan highway, a north-south extension of the Shanghai-to-Wuwei mainline that is one of the country's key east-west arteries. The lighting – running the entire 4.7 km (2.9 mile) combined length of the two tunnels - was a joint project of Xi'an Liming and the Anhui Province Huanyu Highway Construction Development Co., Ltd.
Each 50W and 100W tunnel lamp contains 42 and 72 LUXEON Rebel LEDs, respectively. In addition to energy savings, advantages over conventional light sources such as fluorescent, metal halide and low and high pressure sodium include a 60,000-hour+ life and ability to withstand the shock and vibration of the tunnel environment, which in turn will reduce replacement, servicing and labor costs as well as lane closures.
Other benefits of using LED technology for this project include better color rendering for improved driving visibility and safety, less yellowing of the lamp fixture from baked-on dust and pollution because of LEDs' low heat production, and 'green' features such as ROHS compliance and mercury- and lead-free construction.
"This installation highlights the environmental and maintenance benefits of using LUXEON LEDs for tunnel lighting, as well as LEDs' ability to deliver the brightness and uniform roadway illumination required to drive safely and comfortably through the dark tunnel environment," said Winter Chan, VP of Sales Greater China for Future Lighting Solutions. "Working with Xi'an Liming on this project has enabled us to participate in an important infrastructure upgrade in China while also contributing to the country's energy-saving initiatives."
About Future Lighting Solutions
Future Lighting Solutions (www.futurelightingsolutions.com) is a leading provider of LED lighting components and support services for solid-state lighting products and installations, including engineering expertise, concept development, full system solutions and online tools that accelerate quality application development. The company is a division of Future Electronics.
Contact
Heather Goldsmith Telephone: +1 514-694-7710
E-mail:heather.goldsmith@futureelectronics.com
Web Site:www.FutureLightingSolutions.com