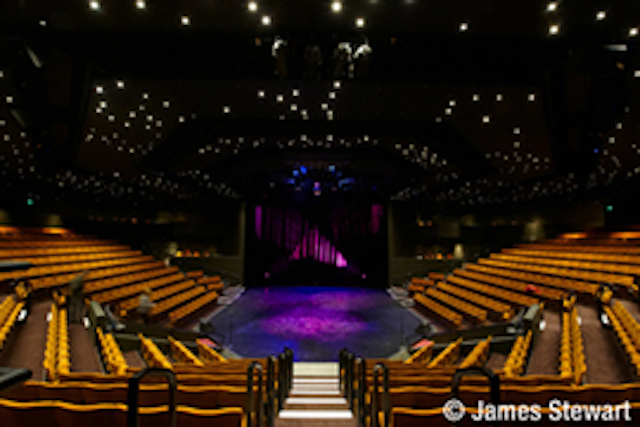 Date Announced: 14 Apr 2010
OSRAM's COINlight-OSTAR® LED modules and control gear have been specified by consulting mechanical and electrical engineers Michael Popper Associates and included in luminaires produced by lighting manufacturer Metro Ltd, to illuminate the famous Crucible Theatre in Sheffield.
OSRAM's LED modules were specified to provide a high level of light output as well as long lamp life. It was essential that the modules come equipped with a long lifetime as the fittings are in an awkward location which makes re-lamping difficult.
The Crucible Theatre is a 980 seat auditorium that is renowned for its innovative theatrical productions and also hosts the annual World Snooker Championships. Over 750 OSRAM COINlight-OSTAR® LED modules were installed in the main auditorium as part of a massive renovation project and overhaul of the complete Crucible site.
The original lighting for the auditorium starry sky used over one thousand 40W R50 lamps which, especially with the very high ceilings, were a constant maintenance headache and used a huge amount of energy. Michael Popper Associates were able to replace these with 756 OSRAM COINlight-OSTAR® units, achieving higher light levels, virtually no maintenance requirement and saving at least 17 tonnes of CO2 a year.
Cary Nelson, Sales Director of Metro Ltd, comments on why OSRAM offered the ideal solution:
"The ceilings at the theatre measure fifteen metres from the finished floor level. So, consequently we needed to procure a lamp that provided a good light output and would give the maximum lamp life. With the ceilings so high, the design had to incorporate the lamp being installed and maintained from the walkways within the ceiling void. The OSRAM COINlight-OSTAR® eliminates the need for changing lamps on a regular basis and consequently met all the requirements."
An additional challenge was to create a remote wiring box with all the control gear to run the OSRAM COINlight-OSTAR® lamps.
Nick Walker at Michael Popper Associates comments: "We specified OSRAM's OPTOTRONIC® OT75 220-240/24V and OT-DIM electronic control gear which was used in a remote sheet metal box. This allowed the installation team at the facility to run 6 x OSRAM COINlight-OSTAR® lamps off one control gear box, thus reducing the amount of gearboxes in the ceiling void."
The COINlight-OSTAR® LED module is perfect for orientation or accent lighting making it ideal for use on a wide range of internal applications. It is an ideal solution for The Crucible as the high-performance LED module offers an extremely long lifetime and gives excellent colour rendering.
Contact
For further information on the COINlight-OSTAR® LED module and other products in OSRAM's luminaire range please call 01744 812 221, email csc@osram.co.uk or visit www.osram.com.
E-mail:csc@osram.co.uk
Web Site:www.osram.com