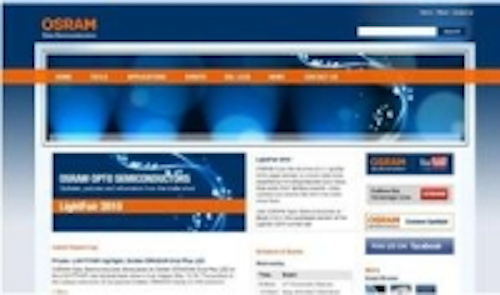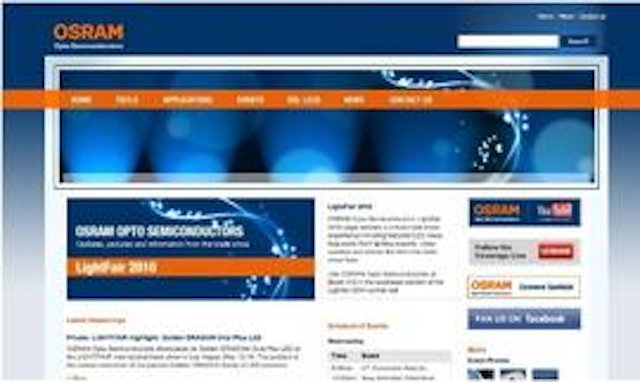 Date Announced: 29 Apr 2010
Sunnyvale, Calif. (April 29, 2010) — OSRAM Opto Semiconductors has launched a new section of its LED Light site dedicated to LIGHTFAIR International 2010, the lighting trade show to be held in Las Vegas, May 12-14.
Visit the new section at http://ledlight.osram-os.com/lightfair2010 for a virtual trade show experience that includes featured LED news, blog posts by lighting experts, video updates and Flickr photo streams leading up to the event and live updates from the show floor during LIGHTFAIR.
"OSRAM Opto Semiconductors is excited to use modern technology to showcase our LIGHTFAIR presence and interact with our customers at the event and around the world," said Kate Cleveland, marketing communications manager for OSRAM Opto Semiconductors. "The LIGHTFAIR virtual trade show page is a great way to experience the LED and SSL innovations from OSRAM Opto Semiconductors."
The virtual trade show page will include continuously updated content as the company prepares for the event, and live updates from the OSRAM Opto Semiconductors' display at Booth 315 at LIGHTFAIR .
The page will provide an online look at OSRAM Opto Semiconductors' "The Future — Illuminated" themed exhibit showcasing LED products designed for indoor and outdoor general lighting applications, greenhouse and photochemical applications, and architectural and façade lighting. In addition, the exhibit will showcase the company's fine white binning process and their cutting-edge ORBEOS OLED technology.
More than 19,000 design, lighting, architectural, and engineering professionals are expected to attend LIGHTFAIR International. The gathering is both a trade show and an educational event. More than 500 exhibitors will display their products and services. LIGHTFAIR also offers 70 courses covering all areas of lighting technology.
Visit the OSRAM Opto Semiconductors LED Light site's LIGHTFAIR 2010 page for more information. http://ledlight.osram-os.com/lightfair2010.
Caption: OSRAM Opto Semiconductors replicates the experience of visiting its booth at LIGHTFAIR 2010 through its new virtual web portal.
ABOUT OSRAM OPTO SEMICONDUCTORS
OSRAM is part of the Industry sector of Siemens and one of the two leading lighting manufacturers in the world. Its subsidiary, OSRAM Opto Semiconductors GmbH in Regensburg (Germany), offers its customers solutions based on semiconductor technology for lighting, sensor and visualization applications. OSRAM Opto Semiconductors has production sites in Regensburg (Germany) and Penang (Malaysia). Its headquarters for North America is in Sunnyvale (USA), and for Asia in Hong Kong. OSRAM Opto Semiconductors also has sales offices throughout the world. For more information go to www.osram-os.com.
Contact
Kate Cleveland OSRAM Opto Semiconductors (248) 277-8018 kate.cleveland@osram-os.com
E-mail:ldibble@webershandwick.com
Web Site:ledlight.osram-os.com/lightfair2010