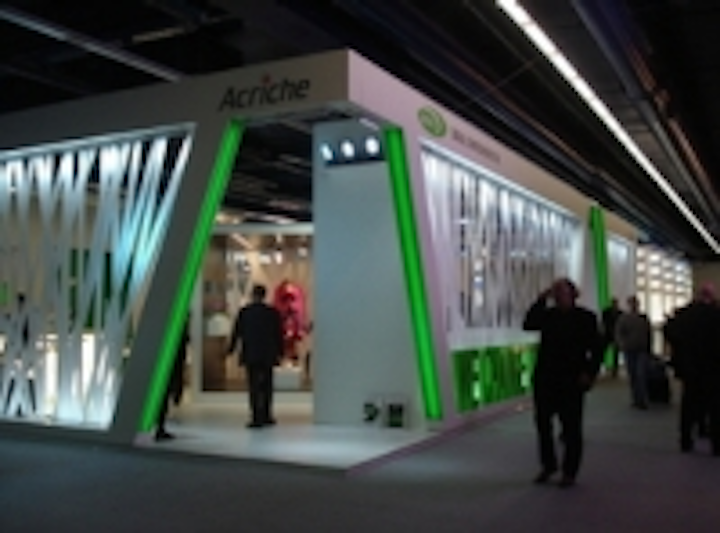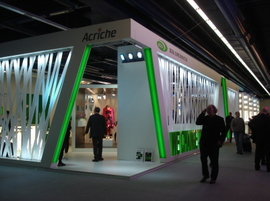 Date Announced: 20 Apr 2010
Seoul Semiconductor (CEO Chung Hoon Lee, www.acriche.com), a world's leading LED manufacturer has announced that the company is taking part in Light + Building (with booth number 4.2 - J70), the largest biennial lighting fair in Europe, which is held in Frankfurt am Main from from April 11 (Sunday) to April 16 (Friday), their main products including the new additions to the Acriche series and the Z5 ultra-small LED are receiving a very positive response.
The lighting fair of Light + Building is the largest event of it's type in the world mainly focused on the various fields of lighting, electro-technology, architecture, etc. More than 1500 of the worlds leading lighting technology companies from over 50 countries participate, demonstrating the latest products and cutting-edge technologies available. When last held in 2008, the international trade fair achieved great success by hosting over 2 thousand companies and welcomed more than 167 thousand visitors.
Seoul Semiconductor has received a great amount of interest from major lighting companies around the world, with the launch of the latest version within it's award winning Acriche family of products. After having achieved a luminous efficiency of 100lm/w, the new Acriche series is now being put into mass production and is attracting the attention of the media and buyers from European and international markets. The Acriche series is acknowledged as an innovative product that will be a leader in the the market for the next generation of lighting technology. Compared to previous products (based on A3), Seoul Semiconductor have improved the performance of the Acriche by more than 25 percent resulting in around 10 times higher luminous efficiency compared to incandescent lighting. Due to Acriche's ability to operate without the need for drivers, it is receiving a very positive response from the European markets where environmental considerations are becoming increasingly important.
Further to the release in Arpil 2010 of the worlds first AC LED to achieve 100 lm/W, Seoul semiconductor also recently succeeded in achieving efficencies of 150 lm/W and is scheduled to go into production with this technology by the end of the year accelerating the repacement of halogen lamps, incandescent light bulbs and fluorescent lighting.
In addition, Seoul Semiconductor presented a new product, Z-Power LED Z5 series. It has a brightness of 130lm@350mA and a small package size of 3.5 mm square and a height of 2.0 mm.
An official of Seoul Semiconductor commented, "Seoul Semiconductor's products have received a very positive response at the lighting fair. Seoul Semicoductor is now in a position to dramatically increase it's market share, with the European market seen as a major focus area within the LED industry. Due to recent and future legislation, Europe is expected to now fully embrace LED technology. The latest release within the Acriche series of product is now competing with DC led efficencies, and we expect that this technology will drive forward the usage of more efficient and environmentaly friendly lighting systems. We expect the Acriche will stand out in a very competitive market and in the future will continue to deliver higher efficencies for lighting solutions"
What is Acriche?
Seoul Semiconductor's main product, Acriche, is an AC-driven semiconductor light source. The Acriche range of LED's do not require a converter; and therefore are more energy and cost efficient than DC LEDs. Due to the high reliability and quality construction of the Acriche, it has been officially recognized for its safety, having acquired CE and TÜV certifications as well as UL certification in the United States. Acriche is easy to install, and has a typical life span of more than 35,000 hours, far exceeding that of conventional lighting technology.
About Seoul Semiconductor (www.acriche.com)
Seoul Semiconductor is the fourth largest LED company globally, according to IMS Research, a British electronics market research agency. The company has more than 5,000 patents and owns internationally recognized technology such as Acriche, developed by its own original technology; Deep UV LED; and Non-Polar LED implementations. The company runs 33 overseas operations, including three subsidiaries, and 150 worldwide distributor locations. Visit www.acriche.com for more information.
Contact
Seoul Semiconductor Market ing Team / Hyesun Paek / +82-31-364-3787 / s1u0n0@acriche.com PR Agency of Seoul Semiconductor / Minbok Song / +82-2-3210-9680 / smb5116@prain.com
E-mail:smb5116@prain.com
Web Site:www.acriche.com