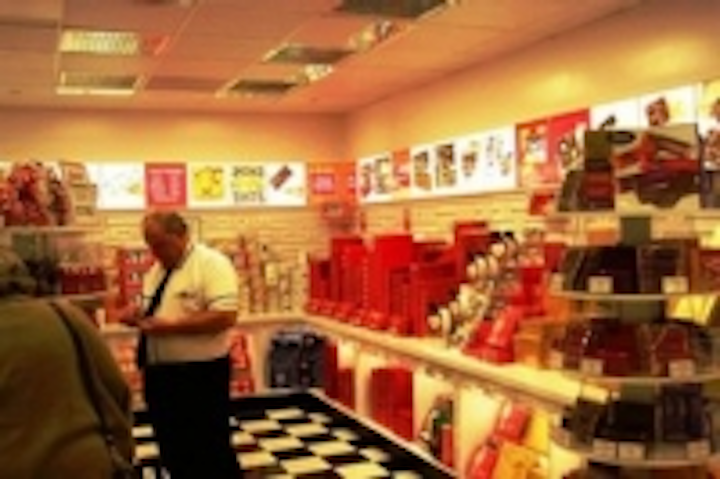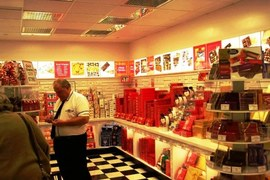 Date Announced: 06 Apr 2010
LED Concepts has installed thin profile 2" deep light boxes using a revolutionary LED light source from ION Light Engines for environmentally-friendly See's Famous Old Time Candies at their stores in San Rafael, CA and Denver, CO.
The brilliant LED backlit light boxes contain 12 to 30 graphics each, displayed horizontally. The thin-profile, two-inch-deep displays combine superb styling aesthetics with superior functionality, the all-welded extruded aluminum construction of the lightweight frame ensures premium product durability and is 100% recyclable.
The energy efficient light boxes also use a unique remote power source for the ION Light Engines that takes advantage of Low Voltage Class II technology to provide a power supply with user replaceable power modules.
LEDs are solid-state light engines that last from 50,000 to 100,000 hours, compared to T-5 and T-8 fluorescent lamps that only last from 8,000 to 20,000 hours. LED-illuminated light boxes deliver four times greater energy efficiency than light boxes using fluorescent lamps, and enable users to qualify for energy and tax rebates. The energy savings per light box is a whopping 65% over T-8 fluorescent lamp technology.
See's Famous Old Time Candies' thin profile light boxes using the high performance LED ION Light Engine:
• Increase energy efficiency since LEDs last up to seven times longer than light boxes using T-8 fluorescent lamps.
• Do not radiate infrared heat (IR), reducing building heat load and decreasing air conditioning costs.
• Do not emit ultraviolet (UV) light, which reduces the fading of graphics.
• Do not contain heavy metal pollutants or toxic gases to operate, as with fluorescent lamps.
• Do not introduce mercury into landfills, as is the case with improperly disposed of fluorescent lamps.
• Reduce maintenance costs by eliminating fluorescent-lamp replacement.
• Can operate in harsh environments and withstand temperatures ranging from -40° F to +185° F. Fluorescent lamps have executable difficulties in cold environments.
The energy-saving technology, lower maintenance costs and extreme durability of LEDs decrease CO2 emissions, reduce the associated carbon footprint and help protect the environment to ensure a stable climate for future generations. LED illuminated light boxes from LED Concepts meet federal standards for energy efficiency and green manufacturing regulations. They are fully recyclable at end-of-life, and contain no heavy metals or other hazardous components.
About Sees Famous Old Time Candies
See's Famous Old Time Candies® are well known and loved throughout the West where the company was founded in 1921. If you were to visit a See's Candy store, you would find a sparkling clean storefront where your candies would be packed to order as you make your candy selection. See's reputation for friendly old-fashioned service remains unrivaled. To produce the best possible boxed chocolates, See's acquires the choicest and finest grade raw ingredients from all over the world. Making over 100 varieties of candies, See's has maintained their reputation for excellence by strict adherence to See's "Quality Without Compromise®" motto. See's is headquartered in South San Francisco, California.
About LED Concepts
LED Concepts is an award-winning manufacturer of high performance, energy efficient LED illuminated light boxes and menu boards for the retail, hospitality and quick-serve and fast casual restaurant markets. The company's president has been involved in the light box, menu board and high-tech specialty lighting markets for over 25 years. Our Eco-friendly products are all 99% recyclable, UL, CUL and CE-listed, meet ROHS specifications, contribute points to LEED-certified buildings, as well as qualify for regional power company energy rebates and Federal tax credits for energy efficiency. We design, engineer and manufacture each of our products in our state-of-the-art Green manufacturing plant in Lake Forest, California. LED Concepts received a 2009 Harvey Mudd College Green Engineering Certificate of Merit for our energy effiicient menu boards at the TechAmerica High-Tech Innovation Awards. LED Concepts was also a finalist in the Rising Star category for the 2009 Platts Global Energy Awards. For more information, please call us at 1-800-733-6661 or visit www.ledconcepts.com
Contact
Dawna Lee Heising Director of Marketing LED Concepts 26845 Vista Terrace, Lake Forest, CA 92630 800-733-6661 x216
E-mail:dheising@ledconcepts.com
Web Site:www.ledconcepts.com