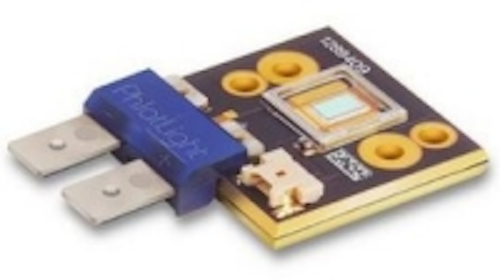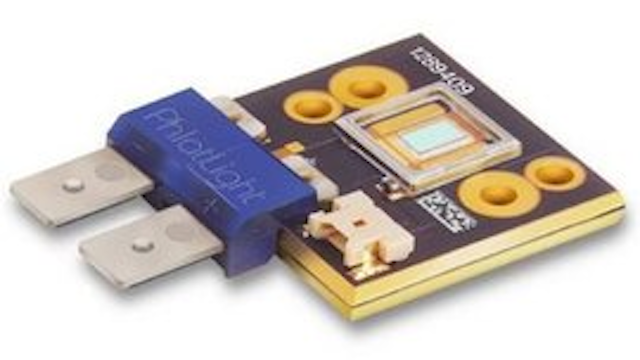 Date Announced: 06 Apr 2010
Luminus Devices, Inc., developer and manufacturer of big-chip PhlatLight® LEDs, today announced the UV CBT-120, the company's first big-chip UV LED built on PhlatLight technology. The CBT-120 is ideally suited for a widely diverse number of industrial processes ranging from epoxy, ink, paint, laminate and adhesive curing to semiconductor processing.
The UV CBT-120, based on Luminus' award-winning large monolithic chip platform, is well-suited for UV applications that demand a high-flux of UV photons. The UV CBT-120 has a power density of 1 W/mm2, offering extremely high optical output of 10W at 390 nm.
"Traditionally, industrial curing applications have been forced to use high-wattage, high-intensity lamps due to the level of optical power density required for these applications," said Alexei Erchak, CTO, Luminus Devices. "Now, with the release of the UV CBT-120, a solid-state lighting solution is available that can reach the requisite power levels and provide a new level of process control that is safe and reliable."
The UV CBT-120 features high thermal-conductivity packaging, with a junction to heat sink thermal resistance of only 0.7 °C/W so it can reliably be driven to the demanding power levels necessary for industrial processing. It is an energy saving, environmentally friendly light source lasting over 10,000 hours compared to 1,000 – 2,000 hours in traditional high intensity discharge lamps.
Samples are now available, full production is expected later in 2010. For inquiries on Luminus' PhlatLight UV CBT-120 please visit: http://www.luminus.com/content1032.
About Luminus Devices
Luminus Devices, Inc. develops and manufactures high performance solid-state light sources – PhlatLight® LEDs - for a variety of lighting applications. Its headquarters and primary manufacturing facilities are located in Billerica, Massachusetts, U.S.A.
Contact
978-528-8000
Web Site:www.luminus.com