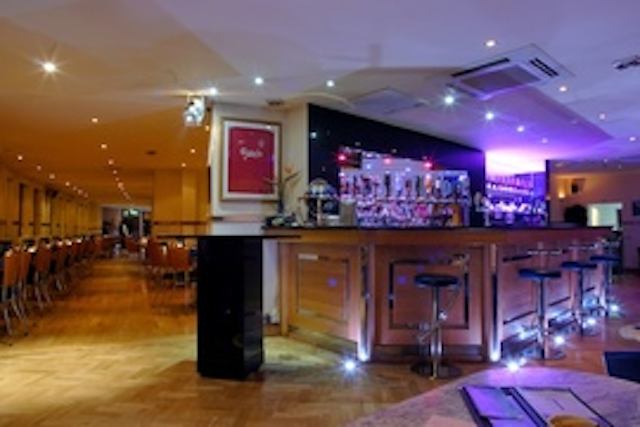 Date Announced: 08 Jul 2010
The Raj Restaurant in Kettering has chosen a vast selection of LED's from
Collingwood Lighting
to create striking visual effects, in addition to reducing maintenance costs by over £900 a month.
"We wanted to create an environment at the Raj that truly allowed our customers to dine in style," comments Goyas Miah, Owner of the Raj. "The sheer versatility of Collingwood's LED not only enabled us to create an intriguing visual environment, but also dramatically reduce our running costs, with its LEDs now a focal point of our entire interior design concept."
To highlight its extensive selection of high end wines and champagnes, The Raj chose from Collingwood's array of coloured LED's to create a flexible lighting effect for the bar area, that can be changed whenever necessary. Situated along the bar's shelving the GL040, provides green, blue and red colourways through Collingwood's high power light source, offering an LED output of 3 Watts.
To illuminate the bar from the ground up, Collingwood supplied The Raj with its GL050 ground lights- designed to deliver both elegance and performance. Three high power LEDs provide an exceptionally high light output, which is protected with a special lens to ensure the light source remains easy on the eye. Over four metres of Collingwood's STRIP LED completes the illumination of the bar area, which runs along its shelves. The self adhesive flexible strip has been seamlessly integrated under several of the bar's glass shelves, washing the surrounding area with constantly changing colours.
The Raj has also utilised Collingwood's distinctive range of exterior LEDs, to ensure the restaurant provides strong aesthetics inside and out. The Aqua LED is positioned around the restaurant's exterior signage, illuminating the text and adding significant kerb appeal. Comprising an exceptional IP rating of 67, the Aqua LED provides exceptional protection against the elements and contamination from foreign bodies. An extended beam angle of 100o means The Raj's exterior signage can be highlighted from any position required.
Finally, in order to create a prominent statement piece on the restaurant walls, Collingwood supplied the WL041. An intriguing fan light, the WL041 comprises hundreds of tiny fins and when connected to a high power LED produce large blades of light across the walls and ceiling in a dramatic fashion.
Goyas Miah concludes, "Collingwood's far reaching repertoire really has provided us with an extensive array of lighting for our restaurant. The LEDs have really helped us create an atmosphere that our customers will remember. Although some people could be put off by the initial outlay of LEDs, the long term savings are definitely worth it. I've saved nearly £12,000 in one year and have not had to change a single light- meaning maintenance time has also been reduced significantly. I'm now working on a new restaurant and bar project and am currently considering how I can fit Collingwood LEDs into the interior design there!"
Contact
Collingwood Lighting
E-mail:sales@collingwoodgroup.com
Web Site:www.collingwoodlighting.co.uk