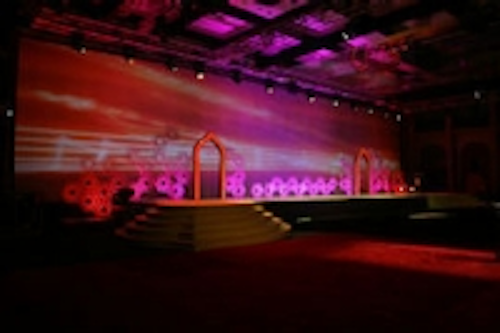 Date Announced: 05 Jul 2010
Called upon by long time partner QMDI in Doha, Qatar, and working alongside Production Company John Adkins (JA) Productions, Creative Technology (CT) provided a variety of video equipment for the inauguration of Phase 2 of the Al Khaleej Gas (AKG) Project in Qatar.
The ceremony, held at the Cultural Village in Doha on May 10th, was the second stage, the first phase of which began in November 2005 and was completed in December last year. This is an ambitious project, the aim of which is to provide gas to some of Qatar's most significant industries.
For this event Creative Technology supplied four Barco R20+ projectors with 0.8 lenses blended onto a 27m wide x 6m high rear projection screen, also provided by CT. This was used to run the main show content and included GFX video and Catalyst. Operated and programmed by CT London's Anthony Bezencon, the entire system was driven by Spyder control, while all playback was via Pronto HD machines.
The main showcase to the event was a 6m x 6m Musion screen that hydraulically floated down from the trussing to sit at its desired position and was used to create a powerful and virtual 3D image/video in front of the main rear projection screen. In order to achieve this effect CT supplied three HD20K blended projectors flown in portrait orientation pointing vertically at an angle of 22 degrees and mounted on frames custom designed by CT London for the occasion.
The entire content was programmed and played through a fully backed up 6 channel V4 Watchout system, programmed by CT London's Tom Burford.
A four camera digital High Definition PPU system, mixed by Vision Director Steve Price, recorded the whole Inauguration and fed HD Imag to the Watchout system for display on the Rear Projection Screen. Additionally a sub mix was sent to QTV Qatar for the live distribution of the event to the TV world.
In addition, Production Designer Sven Pedersen designed a huge building mapping of the grand entrance to the venue through which all guests entered, which attracted the attendees' attention from the moment they arrived. CT helped achieve this by using a further six Barco 20k projectors.
The five day build culminated in a two hour ceremony showcasing the formal inauguration of Phase 2 of the AKG Project by the Emir HH Sheikh Hamad bin Khalifa Al Thani. It was then followed by a formal dinner with representatives of all the companies and authorities involved in the project.
After the show, Kevin Brown, Event Director at QMDI commented: "We are extremely grateful for the tireless efforts of the production, technical and creative teams that were involved in this project to make it such a success. We very much look forward to working with all of them and their companies in the near future."
Andy Reardon, Project Manager for CT commented: "The event ran seamlessly and was a pleasure to work on with such a great team."
Contact
Damien McGurn Creative Technology Dubai dmcgurn@ctdubai.com +971(0) 4 885 6020
E-mail:marketing@ctdubai.com
Web Site:www.ctdubai.com