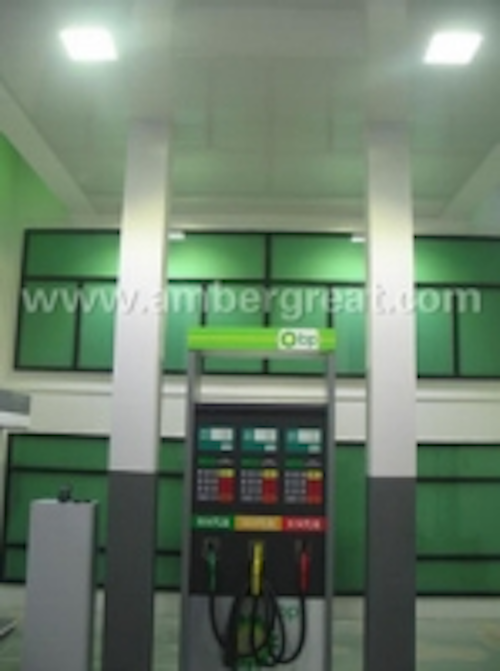 Date Announced: 26 Jul 2010
Ambergreat LED Gas Station Light, LED Canopy Lamp.
Features
1. Top light source-LED from CREE
2. Patented packing technology
3. Energy saving, environmentally friendly, long lifespan
4. Radiator made of Aluminium alloy which has the best heat conductivity
5. Applied with patented quadric optics non-imaginglens, luminaire efficiency over 90%
6. Powered at AC board voltage input with constant current drive
7. The lamp has been designed a respiratory system to ensure the dust resistance, water resistance and self cleaning ability
8. Integrated heat conduct panel with lamp body enabled the completed heat dissipation
9. New T3 optical lens reflects square light spot
10. Aesthetic style
11. National-wide various invention patents
Application
1. Petrol station, canopy
2. Airport, supermarket, booth
3. Train station, lobby
4. Industry, shopping mall, indoor parking
Power supply
1. Input voltage AC 100~277V, 50~60Hz
2. Output voltage DC53V
Installation
1. Ceiling mounted with bracket
LED Gas Station Light's top light source-LED from CREE ,IP Rating is IP67 adn Warrantee are 5 years.
Contact
Marketing Department Ambergreat Electronics Pte Ltd Singapore 258 Boonlay Dr#06-513 Singapore 640258 Tel: 0065-68982180 0065-67913539 Fax: 0065-63382898
E-mail:sales@ambergreat.com.sg
Web Site:www.ambergreat.com