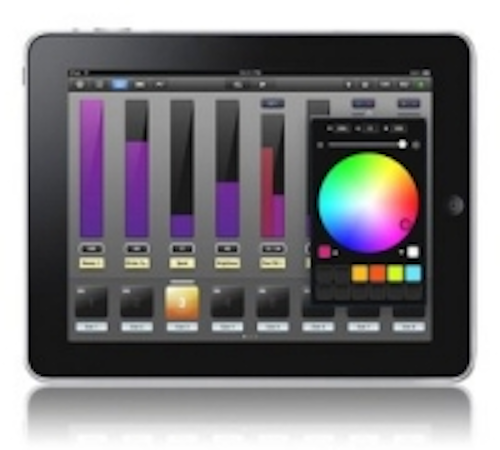 Date Announced: 13 Jul 2010
Cincinnati, Ohio - Synthe FX has announced the immediate release of Luminair for iPad, it's new desktop-class multi-touch DMX lighting control app for Apple's iPad. Luminair uses the Art-Net protocol to transmit DMX data over Wi-Fi, giving users wireless control of color- mixable LED fixtures, dimmers, studio lighting, moving lights, media servers, and any other DMX enabled equipment.
Luminair for iPad is a giant leap forward from it's related iPhone version, and includes new features like instantly editable quick-touch cues, project-based draggable color swatches, pop- up contextual controls, external keyboard support, and a user-configurable UI. It's also built for future expansion, which means users can expect the same rapid feature updates that Luminair for iPhone customers have received for the past two years.
When paired with a compatible Art-Net to DMX interface, Luminair for iPad has a low overall price that makes it a lighting console which almost anyone can afford, and use in a multitude of ways. Whether it's used for architectural lighting, theatrical and musical venues, by educators, or by cutting-edge visual artist's and VJ's, the possibilities are infinite.
"Luminair for iPad is the result of over two and a half years of multi-touch development, and is one of the most exciting new products currently making waves in the entertainment and LED lighting markets", says company founder Ryan Hisey. "The speed at which users can now interact with their lighting designs is absolutely incredible, directly as a result of multi-touch and Luminair's innovative UI design. It's an exciting time to be creating software for Apple's iOS platform, and Luminair for iPad once again puts Synthe FX at the forefront among app developers."
Luminair for iPad can be purchased and downloaded directly from the iTunes App Store immediately. Full details and product videos are available at:
http://synthe-fx.com/products/luminairipad
Synthe FX last week also released an update to Luminair for iPhone, which adds iOS 4.0 compatibility, multi-tasking, an optimized high-res UI for iPhone 4's retina display, plus other enhancements and fixes. Version 2.0.1 is a free upgrade for current users.
About Synthe FX
Synthe FX is a premier developer of lighting control & live performance apps for Apple's iOS and Mac OS X platforms. They specialize in developing software for professionals in entertainment related fields such as live-performance, design, broadcast, film, and architectural markets. Synthe FX also works directly with leading professional lighting and entertainment- related manufacturers, to further extend and enhance the capabilities of their products and services.
Contact
http://synthe-fx.com
E-mail:info@synthe-fx.com
Web Site:synthe-fx.com/products/luminairipad