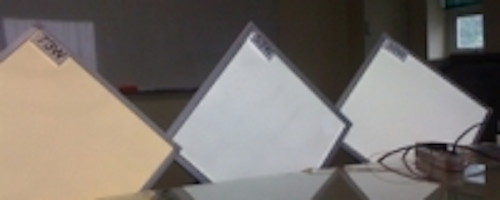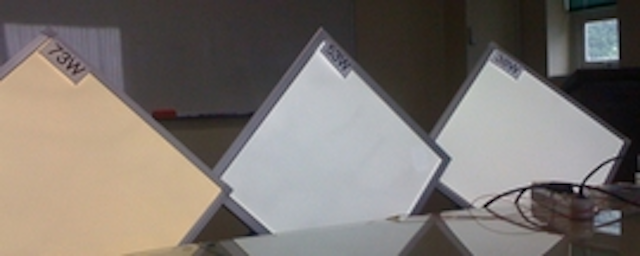 Date Announced: 14 Jul 2010
European LED firm Frontline LED this week announced the release of their new series of emergency maintained LED light panels, offering the most efficient replacement for recessed fluorescent fittings inclusive of emergency backup. The FL-L series of light panels, already available from Frontline, now boast a 3hr integrated emergency backup version which will run for 3 hours in the event of mains failure.
It is the law to ensure sufficient provision of emergency lighting in commercial and public buildings and the provision of proper emergency maintained luminaires is vital for the progression of LED lighting. The FL-LXXXXem provide 3hours of light from a 10 hour charge with a 10% ballast lumen factor.
In their normal state the FL-LXXXX series cut consumption by roughly 50% compared to their fluorescent alternatives with a significantly enhanced lifetime. At 70 lm/w they are highly efficient, beautifully designed and very clean (their flat-panel is easy to maintain and doesn't gather dust).
The slim-panel LED light panels provide a crisp, even light (6000K and 3000K) using side-lighting LED technology. The development of an integrated 3hr backup, incorporating a 7.6v Li-Ion battery, allows large commerical, retail, healthcare and public buildings to comply with laws requiring emergency lighting and install higher-efficiency LED lighting.
The FL-LXXXX series of light panels and the FL-LXXXXem series of emergency maintained panels are available in wattages from 25w to 72w with the conventional 600x600mm unit available in 38w, 52w and 72w. The emergency backup unit has been developed especially for Frontline LED and our European customer base of commerical, healthcare and retail clients.
Speaking about the launch Cian O'Flaherty, Managing Director of Frontline LED, said: "We are very proud of this product, it represents a real professionalistion of LED products capable of overtaking and replacing the 4x18w recessed fluorescent luminaire that is so visible in offices everywhere. Our light panels use the same flat-panel technology as LED TVs to emit an even, crisp light that is healthier and greener than fluorescent light."
"Already, we are speaking to hospitals in Ireland and facilities managers for public and commercial buildings about installations of this product. Having adequate security lighting in place is the law, and an overriding concern for these groups is safe installation of LED and a backup that is designed for LED. With the launch of our emergency maintained light panels Frontline LED have made it much easier to opt for energy-saving, high-performance LED lighting and receive the same emergency backups one expects from conventional lighting."
"Frontline LED has a sharp focus on providing maintained, emergency compatible LEDs that provide the greatest efficiencies as well as the most peace of mind for large facilities. We have an extensive R&D operation now developing key emergency solutions for the next generation of LED lighting which we expect to present shortly. The release of the FL-LXXXXem series today marks the beginning of that process."
The units are available from Frontline LED and all sales and distribution inquries should be made to: info@ledireland.ie or cian@frontlineled.eu.
Further product information is available at
http://www.ledireland.ie/catalogue/FrontlineLED_Panel_Maintained_spec.pdf
Contact
Cian O'Flaherty, Frontline LED Managing Director Phone: +353 (0)1 4433812 Email: cian@frontlineled.eu
E-mail:info@ledireland.ie
Web Site:www.ledireland.ie