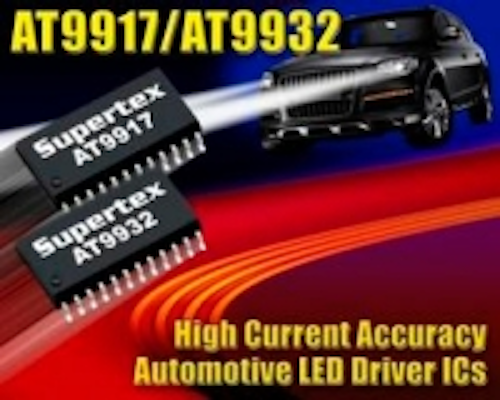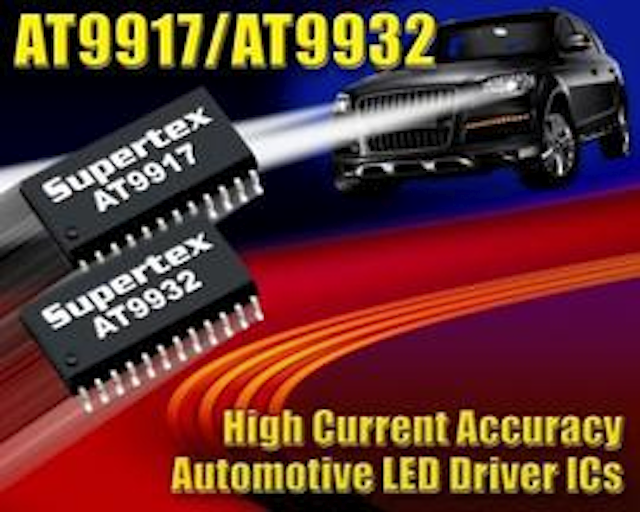 Date Announced: 15 Jul 2010
Sunnyvale, Calif., –
Supertex, Inc.
(Nasdaq GS: SUPX) today introduced the AT9917 and the AT9932, LED lamp driver integrated circuits (ICs), designed specifically for solid-state lighting applications in automobiles, such as head lights, tail lights, indicator lights, dome lights, and panel backlights. These ICs feature technology that is ideal for automotive applications.
The AT9917 uses a peak current mode control scheme to drive single switch converters and includes an internal transconductance amplifier to accurately control output current to the LEDs. It also includes a fault output using an external FET, to disconnect the LED string during erroneous conditions, such as an alternator load dump.
The AT9932 features a unique feed forward current control scheme, which achieves very low susceptibility to input voltage transients, making it indispensable for automotive LED lighting applications. The IC can maintain constant output current even under vigorous input transient conditions. Its output current control loop is inherently stable and can be compensated using a single capacitor with the appropriate damping at the coupling capacitor.
"By integrating features which allow use during input voltage transients caused by events such as cold crank conditions, the AT9917 and the AT9932 prove themselves to meet the rigorous requirements for automotive solid-state lighting applications," states Hernan DeGuzman, Vice President of Marketing for Supertex. "These robust driver ICs allow automobile manufacturers to realize the numerous benefits of using LEDs in solid-state lighting for their applications."
The AT9917 and AT9932 are available in 24 lead TSSOP packages (AT9917TS-G & AT9932TS-G). The parts are RoHS compliant. Samples are available from stock. Pricing is US$2.05 each for the AT9917TS-G and US$2.23 each for the AT9932TS-G, both in 1K quantities.
About Supertex
Supertex, Inc. is a publicly held mixed signal semiconductor manufacturer, focused on high voltage analog and mixed signal products for use in the medical, LED lighting, imaging, industrial, and telecommunication industries. Supertex product, corporate and financial information is readily available at
www.supertex.com
.
Contact
Ken Vickers Marketing Communications Manager 408-222-4810
E-mail:kennethv@supertex.com