ARC Lighting control system beautifies the fashion EcoARK in 2010 Taipei INTE'L Flora Expo
Jul 16th, 2010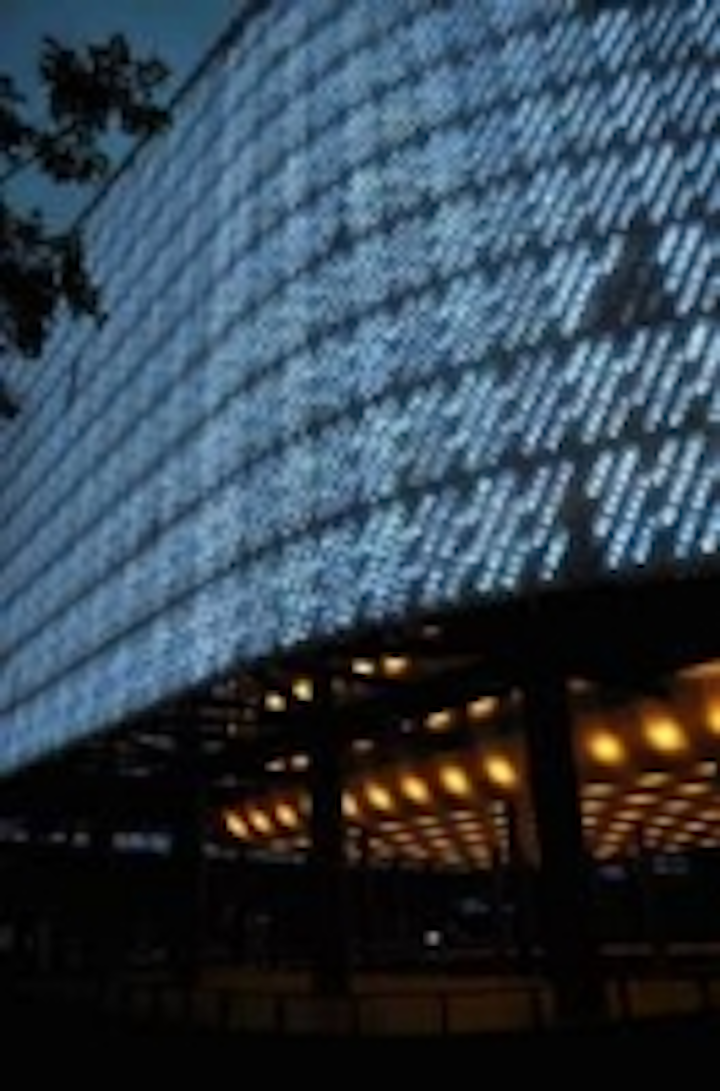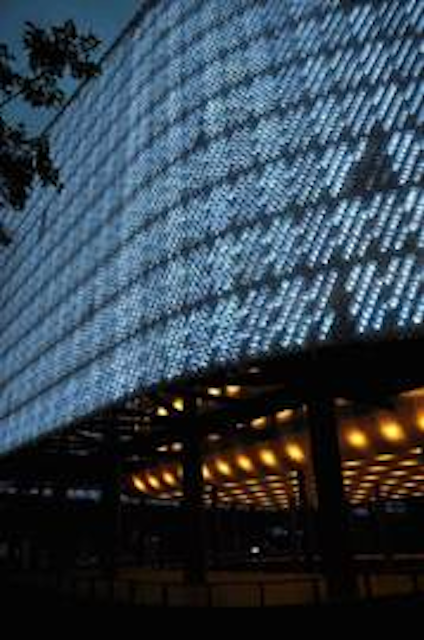 Date Announced: 16 Jul 2010
Located in Zhongshan Soccer Stadium and Zhongshan North Road, a building with a crystal and eye-catching of design is EcoARK, which will be on show in 2010 Taipei INTE'L Flora EXPO. The main feature is its exterior wall which is built by 1.52 million plastic bottle, and turn into the beautiful fancy bottles which completely show the green life and is the combination of fashion, eco and green building of the pavilion.
With bamboo for building's main structure, and using recycled PET bottles for a completely environmentally-friendly concept of green building. ARC Lighting Corp. and Oasistek are much honored to be in charge of the lighting control system of the project to create this miracle for using the recycling bottles. We also hope to combine fashion and LED energy-saving to create the spectacular building.
In the overall architecture, hexagonal appearance with a translucent plastic bottle, outlining the modern architectural design. During the day, it looks like a fully transparent sense of the art building; when darkness gradually falls, the 40,000 LED light up with the dynamic and colorful light show by ARC editing software which is also giving its vitality.
With the lighting control system of an ARC5001-B0 (DMX lighting controller) & 310 units of ARC3610-W (3-Channel Constant Voltage Driver) which distinguished the space with precisely programmed color and movement in wide-ranging applications. As the white light show effect is the demand, and although more than 40,000 lamps in total, but the actual is 48 lights as a pixel which utilizing the medium-sized DMX lighting controller (ARC5001-B0) and 3-channel constant voltage Driver (ARC3610 -W) to complete the EcoARK; Thanks to the high performance of the product, which is to save costs and simplify the system application. Furthermore, using ARC light show editing software" LightShow_Screen" to customize the brilliant and vivid lighting effect.
All changes of light show are controlled by the same system, using the standard communication protocol DMX signals, and customize light shows with the software, and then downloaded to the controller. It can show the status on site through LED display.
This system of control and drive is owned by ARC lighting Corp.. Therefore, through the integration, it is to bring to our customers the advantages as below:
1. Auto-Addressing: It is a patent design which the system detects ID automatically. When you add or delete mode inside the system, the system will detect the signals after data resent from the controller.
2. Non-Polarity connection: Easy to install without +/- polarity differentiating and ensure safety against possible damage due to incorrect wiring.
3. High noise-tolerance: The serial linked structure makes high noise-tolerance in control network.
4. High-speed data:Exclusive DMX+ communication protocol based on DMX512 but it supports the number of driven LED limitation up to 3072 channels and transmission rate up to 1M bps
5. Built-in GAMMA Correction:Color transit smoothly in low brightness and sharp color contrast in high brightness.
Product Used:
1. DMX Lighting Controller (ARC5001-B0)
2. DMX 3-Channel Constant Voltage Driver (ARC3610-W)
3. Light Show Editing Software : LightShow_Screen
ARC Lighting Corp. is designed to the customized intelligent lighting system for each customer. If you need further information, you are welcomed to contact us directly.
Contact
ARC SOLID-STATE LIGHTING Joyce Chen TEL : +886-8227-8217#613
E-mail:joycechen@arclight.com.tw
Web Site:www.arclight.com.tw