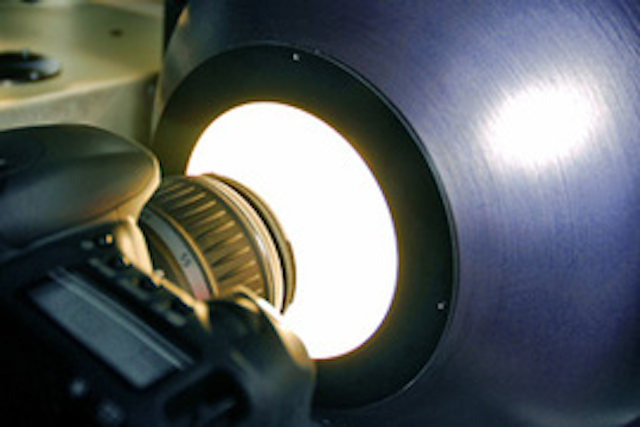 Date Announced: 10 Jul 2010
North Sutton, New Hampshire –
Labsphere
will be showing its complete light metrology product line at the SPIE Optics and Photonics exhibition, booth 508, August 1-5 at the San Diego Convention Center (San Diego, Calif.). Of particular interest will be the company's CSLMS LED measurement systems for solid state lighting manufacture and its uniform source systems for calibration, remote sensing and solar simulation.
Labsphere's CSLMS Systems for the characterization of large light sources simplify complex measurements. With application specific software, a high-end CCD-based spectrometer, and large area light measurement sphere, the system delivers total spectral flux, luminous flux, radiometric flux and colorimetric results in milliseconds.
For UV radiance calibration and Lambertian solar simulation, the company's XTH Uniform Source Systems generate a uniform radiance field which approximates the spectral radiance of a 100 percent Albedo source, or the spectral curve of the ASTM Standard D65. Each system monitors radiance levels in cd/m2 and in Foot-Lamberts and all calibrations are traceable to the National Institute of Standards and Technology (NIST).
Labsphere also offers uniform source systems for imager calibration and remote sensing. The USS 1200-V Low Level system includes a satellite sphere illuminator with an external halogen light source and a motorized variable attenuator for precise control over illumination levels. It can be operated either directly, from front-panel controls, or through Labsphere's standard USS software, which automatically corrects detector readings using programmable calibration factors, displaying corrected readings in graphic and numeric format.
Labsphere's application engineers will be at the company's booth, 508, to discuss custom solutions. Outside the show, send an e-mail to
labsphere@labsphere.com
, or phone +1 (603) 927-4266.
Labsphere, a Halma company, is a world leading designer and manufacturer of precision radiometric and photometric test and measurement products addressing the specific needs of the aerospace, electronic imaging, LED, lighting, medical imaging and optics industries. The company offers a broad line of integrating sphere systems, uniform calibration sources, spectroscopy accessories and diffuse reflectance materials and coatings.
Contact
Labsphere Inc. 231 Shaker Street North Sutton, NH 03260 USA Tel: +1 603.927.4266 Fax: +1 603.927.4694
E-mail:labsphere@labsphere.com
Web Site:www.labsphere.com