Edison Opto introduces new planar light source - EdiPower II
Jul 20th, 2010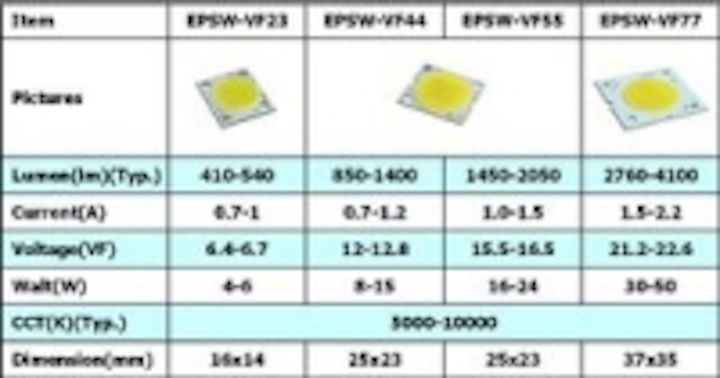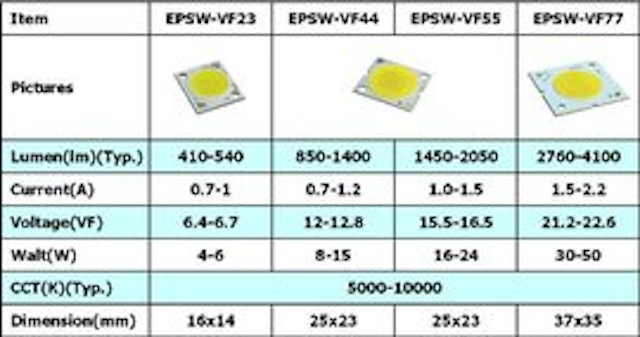 Date Announced: 20 Jul 2010
Edison Opto expands its product portfolio with the newly developed EdiPower® II series.
Featuring low-power consumption, long life, high reliability and performance, EdiPower® II offered several brightness specifications in order to contribute on wider lighting applications.
The newly developed EdiPower® II series cover 410 lumens to 4,100 lumens, which are suitable for general indoor & outdoor lighting, street light and other industrial lighting. In addition, EdiPower® II uses copper substrate in order to save time on assembly, and also designing for replace incandescent lamps, halogen lamps, high pressure gas lamps, as well as fluorescent and other lamps.
EdiPower® II offers lumen efficiency up to 100 lm/W satisfying most lighting needs. EdiPower® II series provide several choices of luminous; 410-540lm series ideal for replace conventional light sources, such as halogen lamps and mercury. 850-1,400lm can be used in MR16, embedded lights and spot lights. 1,450-4,100lm is suitable for LED projector, and also applicable to large space lighting, factory lighting and architectural lighting, etc.
EdiPower® II series are RoHS compliance and are available for mass production in Q3.
Edison Opto can accommodate and customize different specifications to meet various demands. For more information, please visit: www.edison-opto.com.tw
About Edison Opto
Edison Opto is a leading high power LED manufacturer and a solution provider experienced in optical design and thermal management for the emerging SSL market. With R&D headquarter in Taiwan, production capabilities in Dong Guan, China, as well as distribution network over twenty-six countries, Edison Opto offers a diverse range of high power LED products to worldwide commercial, industrial, retail, and residential markets. For more information, visit www.edison-opto.com.tw
Contact
Jill Hsu, Marketing Planning Specialist Edison Opto Corporation Tel +886 2-8227-6996 Ext.8802 Fax +886 2-8227-6993
E-mail:jillhsu@edison-opto.com.tw
Web Site:www.edison-opto.com.tw