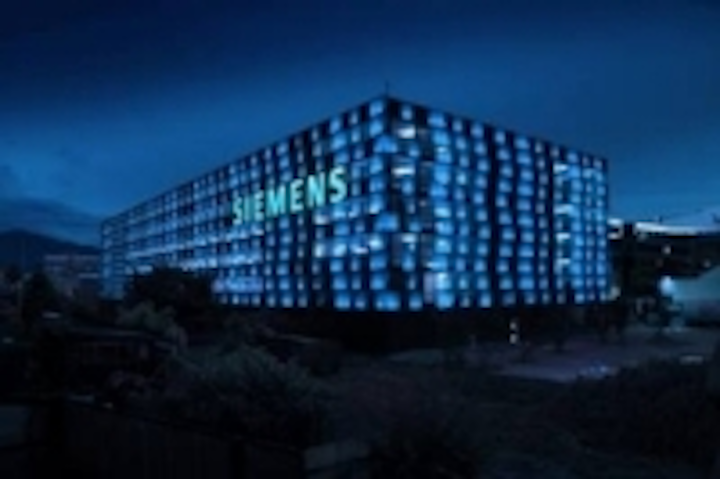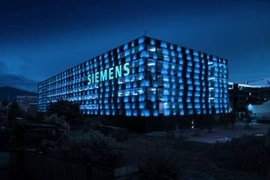 Date Announced: 30 Jul 2010
Cologne, Germany – Effective June 1, 2010, the parking garage at the headquarters of Siemens Building Technologies Division, Zug, Switzerland, is illuminated with 25,900 LEDs, representing another innovative architectural highlight for the city.
The lighting design concept was defined in cooperation with Traxon's parent company, Siemens, and with the lighting design office HEFTI HESS Martignoni. To meet the requirements set by Siemens to draw special attention to the car park construction, 1,230 Traxon Liner XB RGB fixtures, equipped with efficient highpower LEDs, were installed the parking garage facade. The products accentuate and trace the design of the building or let it blur into the darkness of the night. The car park is an architectural masterpiece and a symbol for renewable energies which provides another landmark in this Swiss city.
For the implementation, Traxon used four different, individually-controllable, standardized Liner XB RGB. With its asymmetrical optics, the Liner XB RGB is the perfect solution for the uniform and intense illumination of this project. In addition, Traxon Technologies developed a customized Liner XB RGB with special length, in order to respond flexibility to specific nature of the building.
During the realization of this project, the challenge was a 70-meter-long cable distance between the central control system and the installation. Control of this project is provided by Traxon's brand e:cue lighting control, whose Lighting Application Suite, LCS1, and Butler, were implemented to ensure easy control of lighting effects on the car park facade. The lighting designer HEFTI HESS Martignoni chose Traxon and e:cue as partners for this project due to numerous international project portfolio references in this field, as well as professional expertise gained over the last years.
About Traxon
Traxon Technologies Ltd. is a global leader in LED lighting systems offering sophisticated RGB and White solutions for the architectural and hospitality/retail industries. Together with its brand "e:cue lighting control", Traxon provides its customers full turnkey solutions, reaching from the cutting-edge LED lighting systems to
the sophisticated large scale control solutions. In March 2009, Traxon Technologies entered into a joint venture partnership with OSRAM, strengthening its position in the market by combining know-how in technology and building on synergies with OSRAM's global presence. With over 3000 worldwide installations Traxon covers various market segments and has the knowledge and experience to improve and illuminate environments of various size and complexity.
About e:cue lighting control
e:cue lighting control develops state-of-the-art control and automation solutions, and works with lighting professionals and partners around the world to deliver dynamic lighting experiences. An industry leader with an integrated software and hardware portfolio, e:cue provides reliable control solutions for any dynamic lighting project.
e:cue, as part of "Traxon Technologies – An OSRAM Company", is headquartered in Paderborn, Germany with regional offices in Europe, North America, South America, Asia and the Middle East. Distribution and support is managed through e:cue's extensive worldwide partner network.
For more information, visit
www.traxontechnologies.com
or
www.ecue.com
.
Contact
Tracy Lam Marketing Communications Manager Traxon Technologies Ltd, Tel: 852-2943 3488
E-mail:marketing@traxontechnologies.com