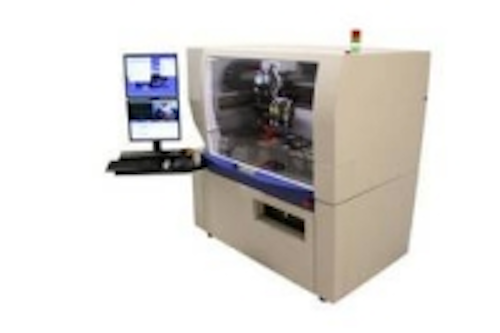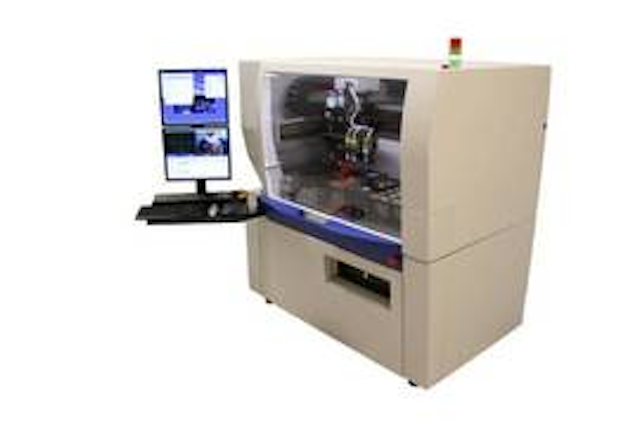 Date Announced: 14 Jul 2010
Carlsbad, CA - Palomar Technologies, a world leader in providing precision wire bonding and die attach systems and services for microelectronic and optoelectronic packaging applications in the aerospace and defense, medical, optoelectronic (incl. HB LED), and consumer high technology industries, introduced its new fully automated 3800 Ultra Flexible Die Bonder at SEMICON West 2010 in San Francisco, CA. To see live demonstrations of the new 3800 Ultra Flexible Die Bonder, visit Booth #6064, North Hall.
Created for flexibility, high accuracy and precision, the 3800 Die Bonder offers its user the latest in design, mechanics, software, and ergonomics. Expanding on the proven technology of Palomar's three-generation 3500 Die Bonder and more recent 6500 1.5 micron accuracy Die Bonder, the 3800 is a sophisticated "all-in-one" automated die bonding solution. The new 3800 boasts 3.5 micron repeatability, 3 sigma and 2600 UPH over a large 36" x 20" work area, enabling its user to achieve high accuracy, precision and speed, with extraordinary flexibility. Users with complex packaging requirements and the need to accommodate a wide variety of high reliability application types will benefit from the 3800's ultra flexible design. For customers worldwide, the 3800's improvements in speed, accuracy and precision will increase product throughput, yield and ROI.
Palomar bonding systems are known for their flexible, precise, and accurate performance with design for complex packaging applications in high mix and low/medium volume production environments. The 3800 die bonder furthers this case with its large work envelope and multiple option offerings. In addition to its proven epoxy and eutectic die attach tools, available options include flip chip, lookup camera (and software), integration into ultra high accuracy assembly line, fully automated substrate and part loading, ID tracking software, tape feeders, motorized expanded wafer die ejectors, automated dispense in series with pick and place, and customized tooling.
The 3800 bottom-line value comes from its flexibility without the traditional sacrifice of precision, accuracy, speed and quality. Palomar's agility and ability to customize its bonders benefits those users with rare, novel, atypical or unconventional application challenges.
3800 Data Sheet
About Palomar Technologies
Palomar Technologies, formerly part of Hughes Aircraft, is the world's foremost provider of high-precision wire bonders, high accuracy die bonders and precision contract assembly services. These solutions increase yield and lower costs for micro-optoelectronic device manufacturers in the telecommunications, medical, military, and commercial high technology industries. Find Palomar on the web at www.palomartechnologies.com. Visit Palomar's blog at solutions.palomartechnologies.com.
Contact
Richard Hueners 760-931-3600 Palomar Technologies
E-mail:rhueners@bonders.com