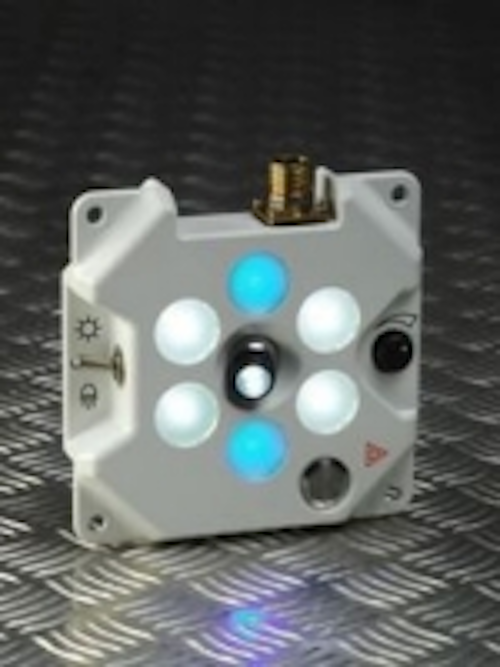 Date Announced: 14 Jul 2010
Tel-Hanan, Israel – Imco Industries, Ltd., (TASE: IMCO) a global provider of electrical harnesses, control boxes and electromechanical devices, for military applications, announced today a new LED replacement for the popular MS (Military Standard) Dome Light. The MS Dome Lights is very popular for many years on all western tanks and armored vehicles. Imco breaks new ground as the industry's superior designer and manufacturer of military illumination and marking systems and will showcase its LED Lights at the Eurosatory 2010, at Hall 6 Stand B661.
Imco's LED Dome Light offers reduces power consumption and additional features that are not available so far in the bulb type dome light, such as directional and adjustable Map Light, built-in and remote dimming, external blackout control, backup rechargeable battery pack and low-voltage indication.
The Dome Light delivers a total of 500 lumens at 5W in white mode and the power consumption is just 1 Watt in directional light mode and 2 Watts in blackout mode.
The blackout lamps are available in all standard colors: red, blue, cyan and green.
The replacement of the existing old MS Dome Lights with Imoc's new Dome Light is very simple, since the mechanical dimensions are the same as the old version, and the same 1-pin connector may be used. All is required is to open 4 screws, take out the old Dome Light and install the new one.
Imco's LED lights family includes internal LED dome and crew compartment lights, external rear and front lights including main headlights, external flood lights with dual beam optimized to cover close and medium distance areas, standardized LED lights for tanks, armored vehicles, mobile shelters, aircraft, helicopters and naval vessels and LED IR driving modules.
The company also offers customized LED lights for specific applications and platforms and retrofit lamps for direct replacement of old light bulb types
"We are proud to introduce the new replacement for the bulb type dome light" said Boaz Weiss, IMCO's VP Marketing & Business Development. "With benefits such as Longer Life Cycle, More Light, Map Light, Less Heat Dissipation and Battery Backup, it seems that the days of the MS Dome Light are over, and LED Dome Light is for sure the next thing"
Mr. Weiss continued: "The new Dome Light is a breakthrough in light density and ruggedness that represents our 36 years expertise in the defense field. By using LED LIGHTS the end users can benefit from the advantages of these innovative lights solutions offer, such as vehicle low battery voltage alert, built-in and remote dimming, back-up batteries, blackout mode with intelligent microprocessor control and more, as well as basic benefits such as durability, less heat dissipation, low energy consumption and multitude of colors without using an optical filter"
About Imco:
Imco Industries Ltd. (TASE: IMCO) is a market leader provider of military control and electrical systems for combat and armored vehicles, military aircraft and helicopters, missiles, Naval, and UAVs. Founded in 1974, Imco has extensive experience in design, manufacturing and delivering of harnesses, control boxes, control panels, LED lighting for armored vehicles, smoke grenade launchers, slip rings for tanks and special electromechanical devices.
Imco's ability to tailor cutting-edge technology and innovative design to specific project requirements enables it to effectively respond to today's most challenging demands.
The company is an approved vendor by US Army, US Air force, IDF and modern armies.
Contact
Boaz Weiss, VP Marketing & Business Development Tel: +972-4-8213322 Fax: +972-4-8210508
E-mail:boazw@imco-ind.com