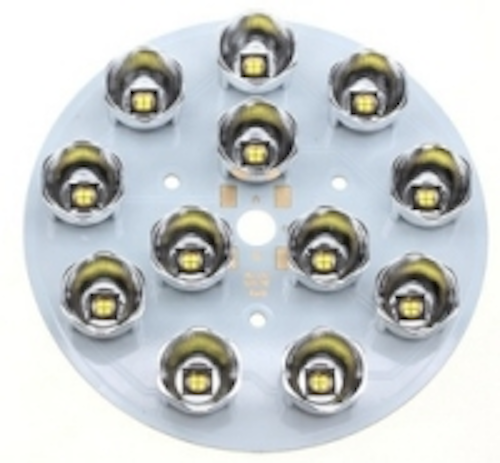 Date Announced: 28 Oct 2010
NIVISS unveiled its new powerful LED engine specially designed for one of the street luminaries manufacturers. This LED engine was designed for indirect lighting solutions to illuminate pedestrian zones, zebra crossings, squares and buildings with modern architecture. It is based on 12 CREE XLamp MC-E LEDs with effective lumen output of 6500lm at 120W. The main advantage of this engine is a highest quality MCPCB made from aluminum magnesium alloy to maximizing the thermal conductivity.
CREE LED Solution Provider
NIVISS has joined an exclusive program of Cree LED Solution Providers. Our effort and innovative products were highly appreciated by CREE, the world leader in LED technology, and resulted in an invitation to be a part of such an elite group.
All products and technological solutions from NIVISS, which base on Cree High Power XLamps and Cree High-Brightness LEDs, meet all requirements of the most demanding customers. The CREE LED SOLUTION PROVIDER status asures our customers of the highest quality of our products and services as well as confirms the world class level of all our technical achievements.
About NIVISS
NIVISS offers LED lighting solutions based on Cree Xlamps for a wide range of applications. Our company delivers two main groups of products. The first one are LED modules (LED Engines) based on standard or custom designed MCPCBs combined with optics and drivers. Customer specific LED Engines were used in many prestigious projects. Worth mentioning are building illuminations of shopping centers, outdoor and indoor commercial lighting projects or modules used in emergency vehicles. The second group are ready LED lighting solutions like Niviss nSpot spot lights, Niviss nStreet street lamps and waterproof Niviss nFlex LED strips. All products meet highest quality standards and are CE and RoHS compliant.
Cree is a market-leading innovator in LED technology. The key to success and to gain an advantage over the competition is a great knowledge of the most vital chemical compounds like silicon carbide and gallium nitride. This knowledge gives an opportunity to provide cutting edge chips, as well as the highest quality LEDs. Cree's know-how allows to achieve higher luminous energy from a smaller surface and with a significant heat reduction.
You are welcome to visit NIVISS on:
ELECTRONICA 2010 in Munich
November 9th-12th 2010
Hall A3 Stand 270
Contact
For any questions or enquiries send us an e-mail at sales@niviss.com or call +48 58 781 33 99.
E-mail:pl@niviss.com
Web Site:www.niviss.com