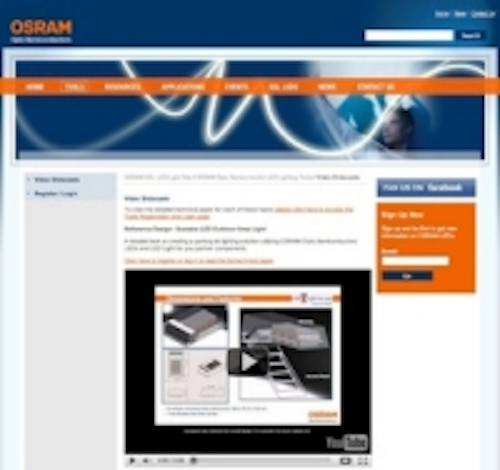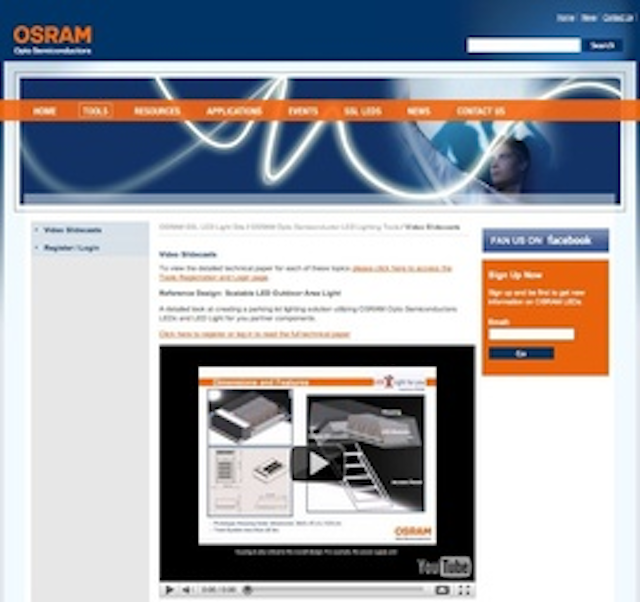 Date Announced: 12 Oct 2010
Sunnyvale, Calif. — Osram Opto Semiconductors is providing powerful new tools, downloads, and technical information for solution providers and engineers via its LEDlight website.
The new online tools section provides access to a number of LED lighting tools for lighting engineers and designers. The tool section is located at
http://ledlight.osram-os.com/led-ssl-tools
.
"The new tools section of the OSRAM Opto Semiconductors LED light site is designed to be a leading resource for engineers in the LED light industry, with free information and tools to help deliver LED lighting solutions using OSRAM Opto Semiconductors components," said Brian Terao, Director of SSL for OSRAM Opto Semiconductors. "OSRAM Opto Semiconductors takes pride in providing the LED lighting industry with valuable resources and information, and these online tools give us another avenue to offer guidance."
The tools section features a section of LED lighting resources open to the public, including video slidecasts of recent reference designs, LED product highlights, and SSL technical guides.
Registration for the tools section is free. Registered users will have access to a multitude of helpful resources for lighting industry engineers. Among these tools are the downloadable Printed Circuit Board design files (Gerbers) along with a viewer if needed, which include links to purchase the associated components; an Optic Selector Tool that helps users identify the best lense and optics solutions from several OSRAM partners; and Technical Papers and Reference Designs, which will be updated regularly with the latest LED and SSL industry innovations from OSRAM Opto Semiconductors.
The tools section will be updated continuously with new LED light resources, features and information. Be sure to check page regularly for frequent updates.
To learn more about the free LED lighting tools from OSRAM Opto Semiconductors, visit the LED light site at
http://ledlight.osram-os.com/led-ssl-tools
.
About OSRAM Opto Semiconductor
OSRAM is part of the Industry sector of Siemens and one of the two leading lighting manufacturers in the world. Its subsidiary, OSRAM Opto Semiconductors GmbH in Regensburg (Germany), offers its customers solutions based on semiconductor technology for lighting, sensor and visualization applications. OSRAM Opto Semiconductors has production sites in Regensburg (Germany) and Penang (Malaysia). Its headquarters for North America is in Sunnyvale (USA), and for Asia in Hong Kong. OSRAM Opto Semiconductors also has sales offices throughout the world. For more information go to
www.osram-os.com
.
Contact
Kate Cleveland OSRAM Opto Semiconductors (248) 277-8018 kate.cleveland@osram-os.com Eric Rodriguez Ingenex Digital Marketing (734) 272-4698 eric@ingenexdigital.com
E-mail:eric@ingenexdigital.com
Web Site:www.ingenexdigital.com