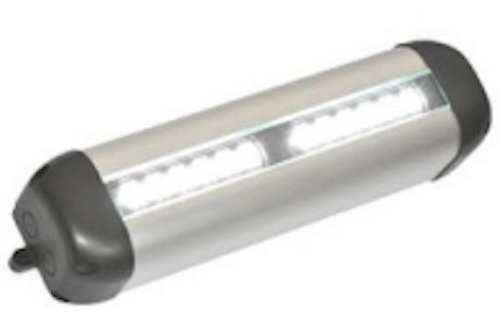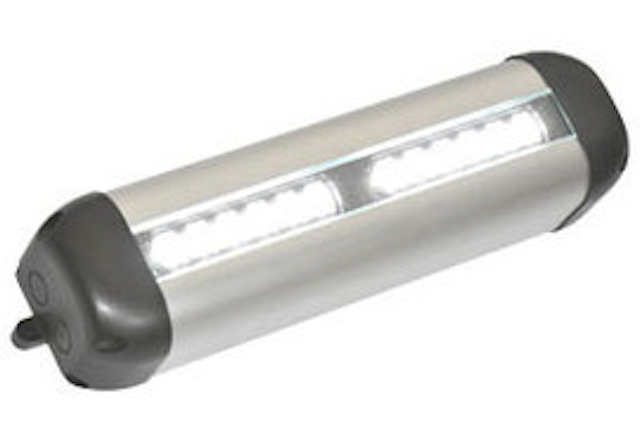 Date Announced: 18 Oct 2010
Vexica Technology Limited, a UK based solutions provider have launched the VEXBAY 300. This high power luminaire is a versatile LED based linear product suited to a multitude of surface-mounted lighting applications. Consuming a mere 27 watts of power this luminaire offers excellent ROI periods when replacing standard 50 watt fluorescent tubes or similar.
The luminaire delivers unrivalled LED output utilising the latest in high power LEDs via patented TIR lenses delivering an even oval shape beam pattern. Light output projected is suitable for applications such as tunnel lighting, storage lighting, walkways, car parks, security and under canopy lighting. The VEXBAY 300 is also available in a wide angle circular beam distribution for other specific lighting plots for general area lighting.
The luminaire incorporates power LED drivers that directly connect to mains power. (Low voltage and DALI versions available upon request). This robust luminaire delivers a high light output in a small form factor offering significant energy savings over standard lighting fixtures. The VEXBAY300 has a loop through mains facility for ease of installation and can also accommodate a lighting BUSBAR arrangement as an optional request making this luminaire simple for contractors to install. VEXBAY 300 is offered in 3 colour temperatures: 3000k, 4000k or 5000k. Other CCT are also available as specials.
Vexica is now offering product demonstrations and is already being specified for a variety of applications including railway, low bay and general machine vision uses.
If you feel that your business can benefit from the integration of Vexica into your product line to facilitate energy efficiency then please contact sales@vexica.com or visit www.vexica.com to download our products services brochure and data sheets.
About Vexica:
Vexica is a UK based company focused on the design and supply of high power "Solid State Lighting" based solutions for lighting industry product integration. Vexica's focus is to design, develop and deliver energy efficient more environmentally friendly solutions. Vexica offer a myriad of solutions that can be tailored specifically to an individual OEM requirement. Our core competencies include thermal design, thermal analysis, electronic LED driver design, reflector technology and LED light engine integration for multiple industries. Vexica have a range of standard products that can be viewed on our website.
Contact
Our contact details are: Telephone: +44(0)113 2434813 Vexica Technology Limited, Works of Iron, 36 Whitehouse Street, Leeds, LS10 1AD, United Kingdom
E-mail:sales@vexica.com
Web Site:www.vexica.com