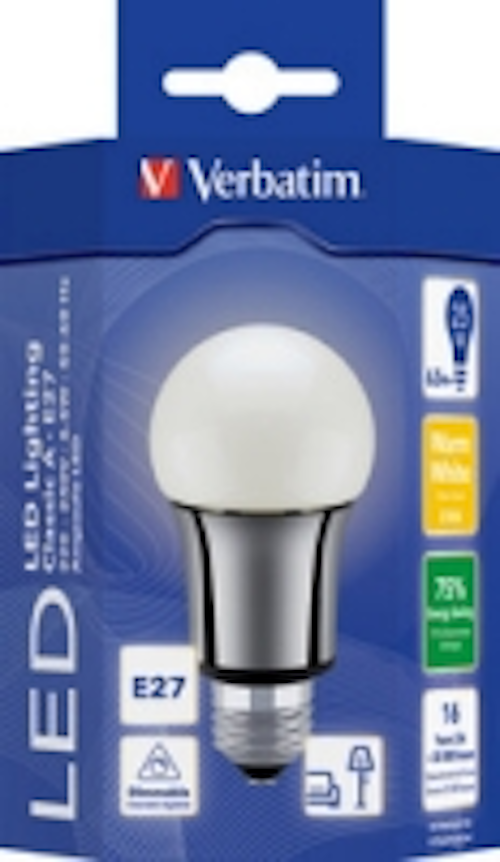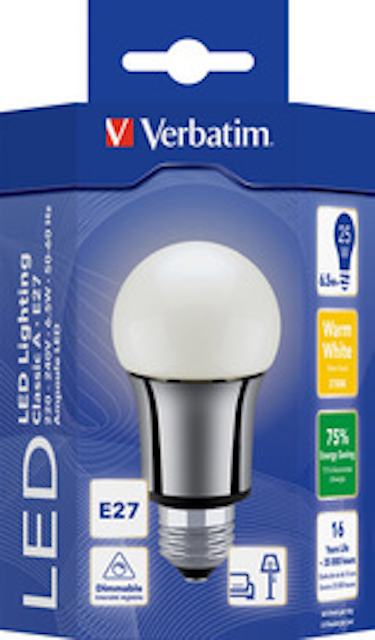 Date Announced: 18 Oct 2010
Melbourne – Verbatim Australia is pleased to announce the commencement of the distribution of it's range of retrofit LED lamps in Australia. The LED range is made up of lamps that are direct replacements for conventional incandescent bulbs, halogen spot lights, downlights and compact fluorescent lamps. Verbatim's range of LED lamps is unique with most models being dimmable using common domestic dimmer systems.
The LED's will be distributed through Verbatim's Australia-wide wholesale and retail channels and will be available to consumers towards the end of the year.
• Seven key retrofit lamp models will initially be introduced:
- Classic A Type, MR16, GU10 and Candle
- Industry-standard E27, E14, R63, MR16 and PAR16 socket bases
• All models are dimmable (except candle)
• Power ratings from 4W to 10W with luminous flux from 90 to 500 lumens
• Replacements for conventional lights rated between 15W and 40W
• Provide energy savings of up to 80%
• Offer warm white light with a colour temperature of 2700k or 2800k, depending on model
• All based on Verbatim's blue-chip LED technology, with a colour rendering index (CRI) of over 80
• Life expectancy is 35,000 hours for all versions except the E14 candle lamp, which has a life expectancy of 25,000 hours.
LED lamps are now positioned to replace wide ranges of conventional lighting in residential and commercial applications.
With an operating life of approximately 16 years at 6 hours per day (depending on conditions), and only around 20% of the power consumption of conventional lighting, LED's are now both commercially and environmentally a compelling alternative to other lighting technologies.
LED's produce very little heat and do not contain the toxic chemicals found in other low-energy lamps. In addition, they are ruggedly built and do not emit infrared or ultra-violet radiation, thereby do not cause fading of artwork, fabrics and other materials. Verbatim lamps are based on technologies developed by the company's parent, Mitsubishi Chemical Corporation which as one of the world's major chemical companies, has over 50 years' experience in developing lighting materials and is a world leading supplier of phosphors in the lighting industry.
About Verbatim
Since 1969, Verbatim has been shaping the development of data storage technology – from Floppy Disks and Magneto-Optical storage media, CD and DVD formats to the latest High Definition media Blu-ray. Moreover, Verbatim offers high quality products in the field of Portable USB Drives, Flash Memory Cards, SSD and External Hard Drives in 4,57cm (1,8") Pocket, 6,35cm (2,5") Portable and 8,89cm (3,5") Desktop-Format as well as a broad variety of computer Accessories. Verbatim is a subsidiary of Mitsubishi Chemical Group and benefits from the outstanding research and development department. With these innovations Verbatim has played a key role in shaping the storage media market. Ultra-strict quality controls during the manufacturing process ensure the high quality of Verbatim's products, which have been the winners of numerous international comparative tests. The company is the worldwide market leader for Optical Media. For more information, please visit www.verbatim.com.au.
Since 2010 Verbatim has also started to participate on the global lighting energy-efficiant LED/OLED lighting market, based on core technologies provided by Mitsubishi Chemical Corporation.
Contact
Verbatim Australia 6 Weir Street, Glen Iris. VIC 3146 t. (03) 9823-0999 f. (03) 9824-7011 Press Contacts Elaine Salt - Marketing Coordinator Vanessa Taylor - Marketing Coordinator
E-mail:sales@verbatim.com.au
Web Site:www.verbatimLED.com