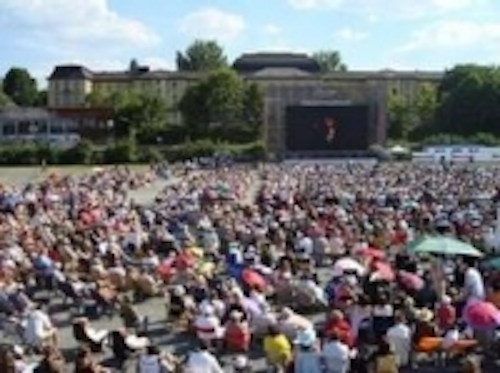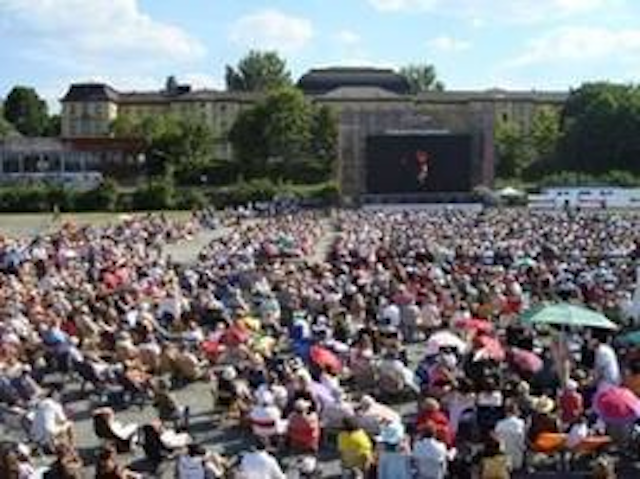 Date Announced: 01 Oct 2010
-- Medien Werkzeuge lets LED video walls float and sing
Where stages are too small to accommodate large-scale productions, Medien Werkzeuge comes into play and puts up LED video walls the size of medium-sized apartments. Often as special constructions – like at the "Visualisierte Linzer Klangwolke" (in Upper Austria), where a excavator and a barge also played key roles. A Wagner spectacle was publicly broadcast using a video wall for 40,000 spectators at the Bayreuth Festival, too.
Vienna and Munich, October, 2010
Linzer Klangwolke – The Floating LED Video Wall
At this year's "Visualisierte Linzer Klangwolke" on 4th September, Medien Werkzeuge installed a 50 m² LED video wall onto an excavator and then put the machine on a 107 meter-long, 300 ton barge. The barge then went up and down the Danube between two bridges. The signal was broadcast via radio to the screen on the Danube (it is hard to use a cable on a moving vessel). The video wall was part of the performance BABY JET by the artist network lawine torrèn under Director Hubert Lepka. BABY JET is a mixture of scientific experiment, vision and railroad thriller - a magnetic train zooming through vacuum tunnels at supersonic speed.
The audience, approximately 70,000 people, lined up along the banks of the River Danube in Linz, with the Brucknerhaus to their backs, and faced 500 meters of specially installed rails, a rail jet and a steam engine, which were lifted over the Danube with the help of a crane. A mixture of live feeds and film sequences were shown on the floating video wall, which was turned repeatedly by the excavator's arm to face the audience as appropriate. Hubert Lepka, visionary artistic director, on Medien Werkzeuge: "With Medien Werkzeuge I know that they'll support me no matter how bold my ideas are. I need a technology partner that is creative when it comes down to doing the project itself – not somebody who gives up at the first, second or third hurdle, packs his things and leaves."
www.klangwolke.at
www.torren.at
Bayreuth Festival Night – The Singing LED Video Wall
Evening gowns and white gloves in the first rows – flip-flops in the sand, cocktails in hand at the gastronomical fringes. The audience in front of the 70 m² LED video wall was very diverse at Bayreuth Volksplatz on 21stt August, 2010. The festival night provided a live feed of Wagner's "The Valkyrie" directly from the Festspielhaus. The opera's libretto was displayed on an 11 meter-long, man-sized LED display.
In the morning, the large video wall had been already installed for the children in the audience and displayed a recording of the children's version of "Tannhäuser". Medien Werkzeuge was the technological equipment provider at the Festival for the third time; and is looking forward to 14th August 2011, when "Lohengrin" will be on the program.
Medien Werkzeuge in Culture
Is it more exciting to provide equipment for cultural events than for sports events or congresses, for example? Christian Wymetal, founder and Managing Director of Medien Werkzeuge says: "Cultural events have a unique quality. When we set up a giant LED video wall, thousands of people can enjoy a performance which is otherwise reserved for a few selected individuals. That's quite something. On the festival night there were 40,000 people at Volksfestplatz in Bayreuth. The waiting time for tickets for the Festspielhaus, which can seat around 2,000, is about ten years." On the Linzer Klangwolke, Wymetal says: "A production such as BABY JET is ingenious. Our material not only broadcasts what is happening on stage to another place, but is also part of the production and the open-air stage itself. Working together with Hubert Lepka is always a technical challenge – and great fun. A few years ago, we fixed our video walls to snow groomers for his glacier spectacle 'Mars 2068'."
Pure SMD Technology Culture
Whether Bayreuth or Linz - Medien Werkzeuge uses cutting-edge equipment: the digiTILE T12 System with SMD technology. It provides high-resolution, homogenous and true-colour images in all light and weather conditions, from every viewing angle and even close-ups. Its low weight and modular system is also an advantage: one module measures 80 x 90 cm and weighs 28 kg, half the weight of conventional LED screens, and is made-up of two metal frames and six screens, which can be transported individually. Several of the modules can be put together as a modular system into display boards or giant screens, if desired. The system is quick and easy to assemble and disassemble saving time and money. The digiTILE T12 video wall modules also hit the high notes with low energy consumption.
(Technical details can be found in the attached data sheet)
About The Company
Medien Werkzeuge Kommunikations- & Veranstaltungs GmbH owns more than 600 m² of LED rental equipment and is one of the top three LED rental companies in Europe. Medien Werkzeuge, founded in 2000, has offices in Vienna and Munich and generates an average annual turnover of 3.5 million euros. Along with its global project partners, the company and its 11 full-time staff (8 in Austria, 2 in Germany, 1 in the Netherlands) set up flexible indoor and outdoor LED formats (display boards, video walls) for major international events in the fields of sports, culture and trade fairs.
Fotos, Bildtexte, Credits
..can be found at
http://www.medienwerkzeuge.at/index.php?nav=1518&id=263&lang=en
For further questions, please contact:
Medien Werkzeuge Kommunikations- & Veranstaltungs-GmbH
Christian Wymetal, Founder and Managing Director
Renngasse 4, 1010 Vienna
Tel +43 1 40 60 480
Mobile +43 699 1 40 60 480
wymetal@medienwerkzeuge.at
www.medienwerkzeuge.com
Glossary
LED
LED stands for Light Emitting Diode. These light emitting diodes are based on semiconductors which convert power directly into light. The colour of the light emitted depends on the semiconductor materials used. Multicolour pictures require three diodes: red, green and blue (the additive colour model). LEDs benefit from their low energy consumption, high efficiency and longevity, as well as their robustness. Conventional diodes are mounted on circuit boards using the through-hole technique. SMT represents a more refined technology on hardware level.
SMD
For SMD LEDs (Surface Mounted Device), three diodes are soldered together in a casing and then mounted onto the surface of the circuit board. This method enables higher pixel density resulting in excellent picture quality.
Contact
For further questions, please contact: Medien Werkzeuge Kommunikations- & Veranstaltungs-GmbH Christian Wymetal, Founder and Managing Director Renngasse 4, 1010 Vienna Tel +43 1 40 60 480 Mobile +43 699 1 40 60 480
E-mail:wymetal@medienwerkzeuge.at
Web Site:www.medienwerkzeuge.com