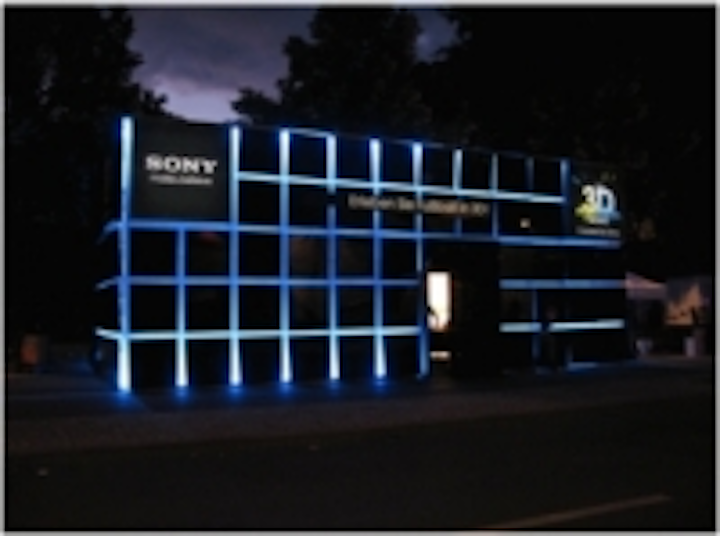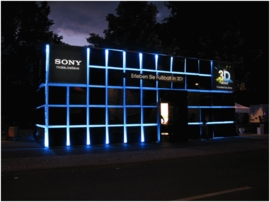 Date Announced: 04 Oct 2010
ElektoLED the experts in LED lighting and signage recently provided a fully programmable Colour change LED Lighting system complete with purpose made "Plug and Play" wiring looms for the Sony 3D Pavilions at this years FIFA Football World Cup 2010 Fan Fests.
Comprising of over 300 Elekto-BRITE Light Bars, 20 Astrum 10 LED Controllers and over three kilometres of purpose made cable harness, ElektoLED excelled in ensuring timely delivery for the equipment, software and programming. By designing "Plug and Play" wiring harnesses, pre-assembled controller racks and a pre-programming the Nicolaudie STICK controllers, prior to dispatch, eliminating the costs of sending engineers around the globe for installation and set up.
The project was carried out on behalf of Swarm, the interactive design, build and delivery agency.
Sony, as tier 1 World Cup 2010 sponsors, appointed Iris Experience who in turn appointed Swarm to design, build and install the pavilions in markets across the globe. Venues were as far away as Sydney and Mexico City and as close to home as Paris, Rome and Berlin. Installations were in June and July.
Swarm put together a bespoke technical delivery team of which ElektoLED was a proud partner and supplier.
The team provided:
• Design of pavilion
• Build of pavilion
• On site installation
• Project management
Swarm work with agencies and brands to develop interactive solutions for installations, product launches, exhibitions and events. ElektoLED look forward to partnering with Swarm on future projects.
Contact
Kevin Knight Managing Director
E-mail:sales@elektoled.com
Web Site:www.elektoled.co.uk