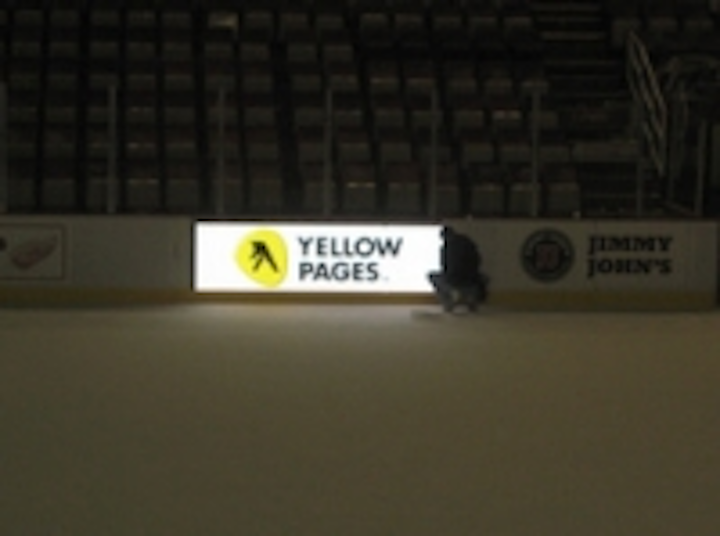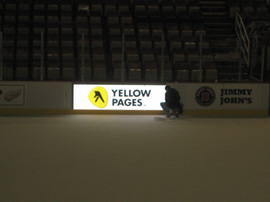 Date Announced: 08 Oct 2010
Purchase, NY – ANC Sports Enterprises will debut two 10mm light emitting diode (LED) dasherboard displays at Joe Louis Arena when the Detroit Red Wings open the National Hockey League season against the Anaheim Ducks tonight.
The two separate modules, each measuring approximately 2'6" high by 9'4" feet wide, will create an unlimited amount of televised sponsor inventory at ice level. Driven by ANC Sports' patent-pending VisionSOFT™ operating system, the state-of-the-art displays will allow sponsors to highlight a variety of products or messages, as well as change promotions during the game depending on the score, individual statistics, or other game events.
"ANC's dasherboard LED technology enables us to highlight our corporate partners while offering unlimited creative opportunities on the most visible advertising inventory available in professional hockey," said Steve Violetta, senior vice president of business affairs at the Detroit Red Wings.
The LED dasherboards will be located inside the two offensive zones on the dominant camera side of both ends of the ice. Capable of full motion animations, the signage will most often display still sponsor images, advertiser call-to-actions and real-time promotions. ANC will coordinate the development of all content for the dasherboards with the Red Wings and the team's corporate partners.
ANC Sports LED dasherboard technology is also being used by six additional NHL teams, including the Florida Panthers, Los Angeles Kings, Ottawa Senators, Pittsburgh Penguins, Tampa Bay Lightning, and Washington Capitals.
About ANC Sports
ANC Sports Enterprises, LLC, is the industry leader in team and venue services, providing integrated signage, design, and marketing solutions for sports and commercial facilities. ANC Sports and its divisions: ANC Technologies, ANC Design, and ANC Marketing, offer Light Emitting Diode (LED), rotational and fixed visual displays; advanced media control systems; signage operation and maintenance; advertising sales and marketing consultation; graphic design; and printing production. ANC Sports provides signage solutions for 200 plus venues/stadiums in North America. For more information on ANC Sports, please visit its web site at
www.ancsports.com
.
Contact
Michael Hopkins ANC Sports Enterprises 914-696-2100 ext. 139
E-mail:mhopkins@ancsports.com
Web Site:www.ancsports.com