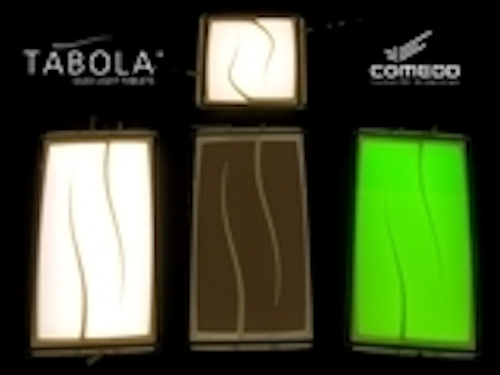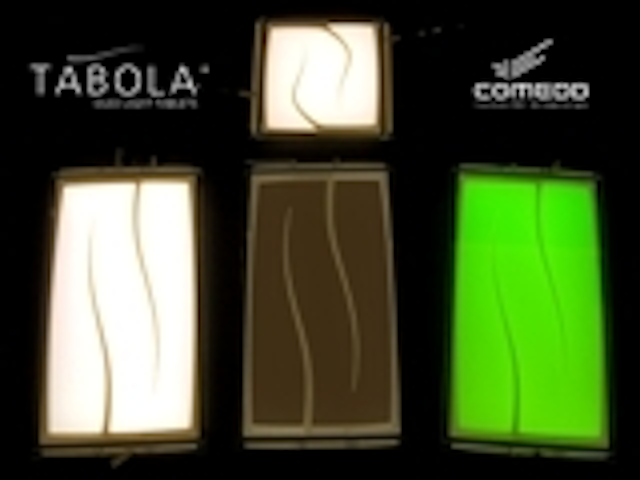 Date Announced: 15 Oct 2010
For a few years the Fraunhofer IPMS is providing technologies and foundry services for the development of customer specific OLEDs under the name of COMEDD (Center for Organic Materials and Electronic Devices Dresden). To give the opportunity of evaluating the new technology, the institute presents the TABOLA OLED Light Tablets which will be deliverable in standard sizes in Q1 of 2011.
First of all, the TABOLA OLED Light Tablets will be available in three different sizes, bottom emitting or transparent, and optional with a grid. The standard color will be white.
The head of the business unit for Lighting and Photovoltaics, Dr. Christian May, comments: "The OLED Light Tablets of different sizes allows customers to manage first own tests with this fascinating technology. Furthermore, they can build up OLED lighting solutions on their own."
Subsequent to this, COMEDD offers the development of OLED demonstrators and even the production of small and medium sized series of customer-specific OLED elements.
OLED designer Jan Hesse, the main person in charge for the new TABOLA OLED series, explains: "The optional available grid of TABOLA with its liana-like shape combines technological and aesthetical demands for OLED lighting and additionally emphasizes the environmentally friendly character of the OLED technology."
The OLED Light Tablets are energy efficient and contain no heavy metals like mercury or lead. Furthermore, the effort on heat management can be kept low because the small amount of heat disperses over the whole area. At a brightness of 1000 cd/m² almost no generation of heat is sensible.
The development of the TABOLA OLED series was made possible as a result of many different research projects funded by the Development Bank of Saxony, the Federal Ministry of Education and Research, initial research projects funded by the European Commission and additionally by cooperating with industrial and scientific partners of Fraunhofer IPMS.
The TABOLA OLED series comprises the following sizes:
TABOLA 37: 35 x 75 mm²
TABOLA 77(G): 75 x 75 mm²
TABOLA 157(G): 150 x 75 mm²
Contact
Fraunhofer IPMS Ines Schedwill Marketing/Public Relations Maria-Reiche-Str. 2 01109 Dresden GERMANY Tel.: ++49 (0) 351/8823-238 Fax: ++49 (0) 351/8823-266
E-mail:info@ipms.fraunhofer.de
Web Site:www.ipms.fraunhofer.de