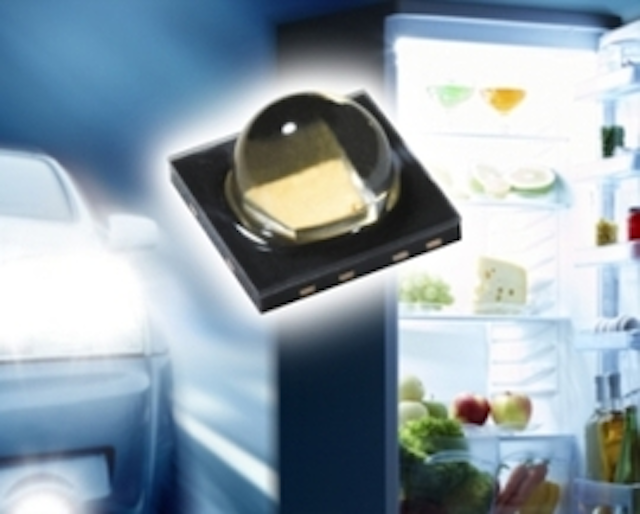 Date Announced: 21 Oct 2010
OSRAM Opto Semiconductors has added the OSLON Black Series to its successful OSLON family. The first member of the new series has a metal lead frame, a compact package and a tried and tested lens design. The LED can be used wherever there are large fluctuations in temperature and a large amount of light is needed from a small area.
The black molded package of this high-power LED ensures a high level of stability. Not only does the thermal coefficient of expansion of the molding material precisely match the coefficient of expansion of the boards but there is an ESD protective diode concealed in the molding. Thanks to the high output efficiency in the black package there is no need for additional reflectors. The materials have been chosen so that even large fluctuations in temperature do not have an adverse effect on reliability or on the life of the LED (around 50,000 hours). Another benefit of the new OSLON is its low thermal resistance of 6.5 K/W, which again is thanks mainly to the classic metal lead frame.
Like other OSLON LEDs, the OSLON Black Series has a lens with a 90° beam angle and produces a typical brightness of 115 lm at an operating current of 350 mA and a color temperature of 6500 K. By increasing the operating current to 1 A it is operating to achieve a brightness of 250 lm. The LED uses a 1 mm² chip and is available in all colors including warm white. As is usual with OSRAM, the OSLON Black Series solder pad is compatible with the other LEDs in the product family.
There are many possible applications, including signal lights, interior lighting for refrigerators and lighting for trains and planes. This LED really shows its strengths wherever high thermal stability, performance and brightness are needed.
OSRAM will be showcasing the OSLON Black Series for the first time at electronica (November 9 to 12, Munich) at booth 107 in hall A3. You can find more information on
www.osram-os.com/m-electronica2010
.
The OSLON Black Series combines thermal stability with high performance and reliability in a compact black package. It is ideal for example for, trains, planes and automobiles, and even refrigerators.
ABOUT OSRAM OPTO SEMICONDUCTORS
OSRAM is part of the Industry sector of Siemens and one of the two leading lighting manufacturers in the world. Its subsidiary, OSRAM Opto Semiconductors GmbH in Regensburg (Germany), offers its customers solutions based on semiconductor technology for lighting, sensor and visualization applications. OSRAM Opto Semiconductors has production sites in Regensburg (Germany) and Penang (Malaysia). Its headquarters for North America is in Sunnyvale (USA), and for Asia in Hong Kong. OSRAM Opto Semiconductors also has sales offices throughout the world. For more information go to
www.osram-os.com
.
Contact
Marion Reichl Tel. +49 941 850 1693 Fax +49 941 850 444 1693
E-mail:marion.reichl@osram-os.com