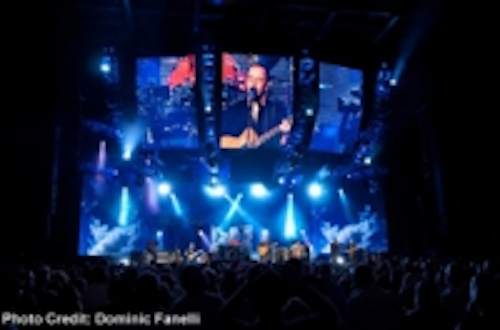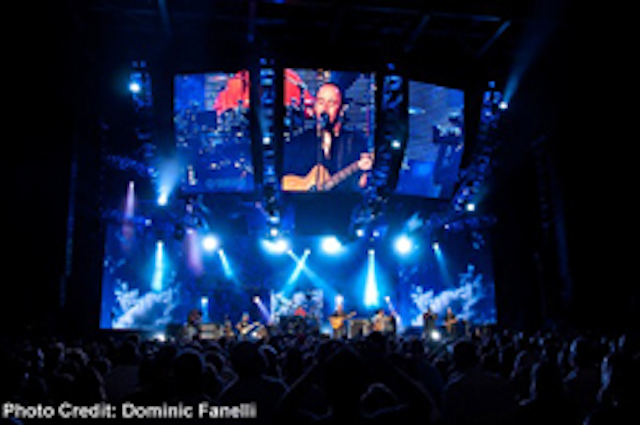 Date Announced: 01 Oct 2010
Los Angeles – With 11.6 million tickets sold between 2000 and 2009, the Dave Matthews Band was the top touring act of the last decade. Now with its 2010 tour, DMB is picking up right where it left off, selling out even the largest arenas and baseball stadiums such as Wrigley Field. The show has even received a Billboard nomination for the Annual Touring Awards Eventful Fans' Choice Competition "Best Tour of the Year."
The group's amazing ability to create a genuine emotional connection with its audiences, along with its widely-known support of environmental and charitable causes – from Farm Aid to Hurricane Katrina relief -- have undoubtedly played a big role in attracting this loyal fan following. So it's only fitting that the lighting used at DMB concerts should be both emotionally expressive and earth-friendly. No big surprise, then, that one of the "newcomers" to the 2010 tour is the Design Wash LED Pro, a compact energy-efficient high-power RGBW moving head color wash from Elation Professional.
DMB lighting designer Fenton Williams and programmer Aaron Stinebrink are using 16 Design Wash LED Pros, supplied by Theatrical Media Services (Omaha, NE), as color-changing truss toners. The compact 17.2" x 13" x 8.6" size of these fixtures is perfect for fitting inside the 20.5" truss used on the set, said Stinebrink. Equipped with 108 x 3W Rebel LEDs (52 red, 22 green, 22 blue and 12 white), the Design Wash LED Pro produces an infinite spectrum of rich colors, bright beams and smooth color changes to create the intense moods that make a DMB concert such an emotional experience. Because the fixtures utilize 3-phase motors, they are also faster on pan (630° or 540°) and tilt (265°).
"The Design Wash LED Pro has been a great addition to our tour lighting package," commented Stinebrink. "Their speed, durability, size and price make them an ideal fixture for large and small touring applications. When we were looking for a small compact LED wash fixture, Theatrical Media Services pointed us in the direction of the Design Wash LED Pro, which turned out to be the perfect fit for our touring needs."
With its efficient LED lamps, the Design Wash LED Pro is also a very "green" fixture, drawing a relatively small amount of energy and boasting a long lamp life of 50,000 hours, thereby producing less waste for landfills. Such earth-friendliness is a perfect fit with DMB's environmental consciousness – and a big reason why the band was among the earliest to add LED products to its rig.
As an LED moving head that's compact enough to be used as a truss toner, the Design Wash LED Pro definitely adds a new dimension, believes Stinebrink. "We have used a large number of different LED products," said Stinebrink. "We started using . . . LED fixtures a number of years ago. We have really enjoyed moving to the Design Wash LED Pro due to the flexibility it gives us as a moving light truss toner."
Other features on the Design Wash LED Pro include a built in EWDMX receiver for wireless DMX;- 98-240v multi-voltage internal power supply; and a 15° lens that produces a 9° beam angle effect and a 23° field angle.
Contact
Elation Professional 866-245-6726
E-mail:abby@fucinipro.com
Web Site:www.elationlighting.com