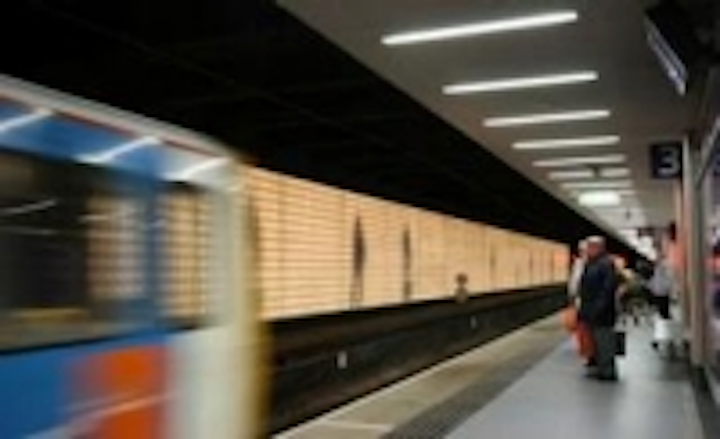 Date Announced: 01 Oct 2010
The people of Sunderland gathered earlier this month for the unveiling of the city's revamped rail station. The £7 million renovation has seen new waiting areas, lighting, ceilings, floors and wall panelling installed, but the most impressive additions are the three art installations, one of which is a dazzling new light installation designed by Jason Bruges Studio and supplied by Architainment Lighting UK.
In creating the light wall installation on platform five, Jason Bruges called on Architainment for a custom solution. Architainment supplied 717 Philips Color Kinetics eW® Flex SLX fittings with 15 node strings. This warm white string LED solution is a versatile strand of 50 individually controllable white light LED nodes. The durable, flexible form allows for dynamic points of white light to be installed across nearly any interior or exterior surface, including walls, ceilings, floors, three-dimensional sculptures, and set pieces.
The lighting installation is the centrepiece of the new station and features shadow figures walking back and forth along the platform, mimicking the passengers waiting on the platform. Installation of the Color Kinetics fixtures, carried out by LX Engineering, and assisted by Architainment's Technical Services, proved challenging as the station had to comply with LSOH cabling, and the ever-changing temperature of the station made this difficult. Commenting on the project, Architainment Key Account Manager, Lee Shields, said: "It has been a pleasure to work with Jason Bruges on this prestigious project, and we are incredibly pleased with the final result."
The station, which is owned by Network Rail and operated by Northern Rail, is used by more than two million people a year, making it one of the busiest in the country. Transport executive Nexus footed the bill as its Metro services account for three quarters of all passengers using the station.
About Architainment Ltd
Architainment Lighting Ltd is a specialist lighting solutions provider for the architectural and entertainment sectors in the UK.
We provide our clients with an in-depth quality service and detailed product knowledge. Our extensive industry expertise makes us uniquely placed to deliver the latest lighting developments tailored to our clients' individual needs.
In keeping with our commitment to excellence, Architainment Ltd represents only the world's top manufacturers in the lighting solutions field, including Philips, Color Kinetics, Led Linear and SensaCell.
Since our formation in 2003, Architainment Lighting Ltd has developed excellent relationships with lighting designers, architects and specifiers. We have a team of dedicated professionals with in-depth lighting industry expertise which allows us to offer a unique level of service from initial concept to completion with full technical support.
Contact
Holly Winman PR and Marketing Coordinator T: 01494 471340 F: 01494 442627
E-mail:Holly.Winman@architainment.co.uk
Web Site:www.architainment.co.uk