WILA light the new Land Securities Model Room using Xicato Spot Modules
Oct 27th, 2010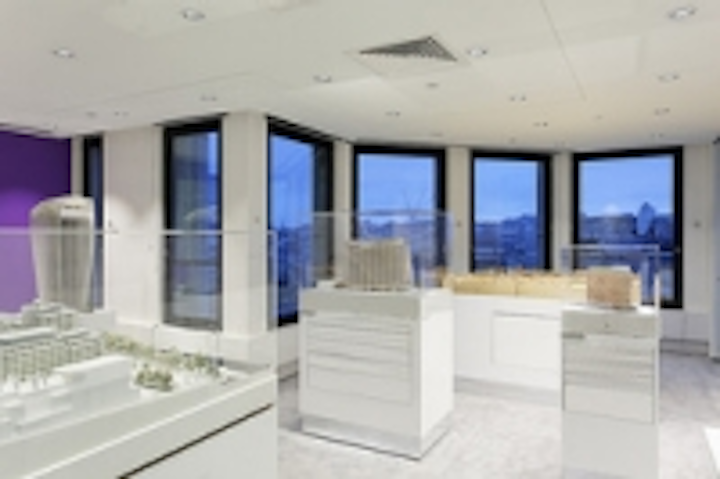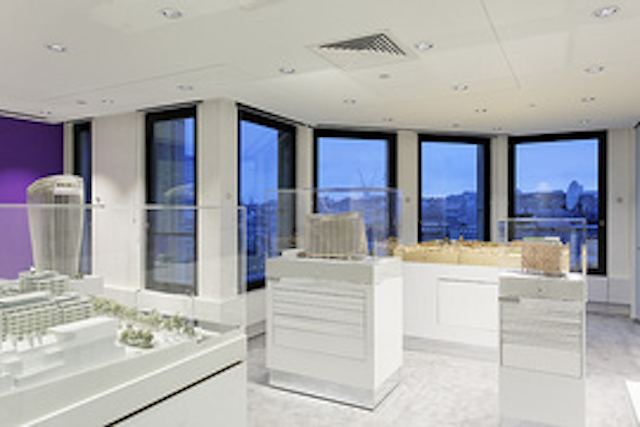 Date Announced: 27 Oct 2010
When the most successful property company in the UK decided to relocate its Model Room, where clients view the property portfolio that is currently available in London, they approached WILA Lighting Limited to provide a lighting solution. Attractive lighting can enhance the showroom experience for prospective clients, particularly when it involves properties with a rent value in excess of 50M per annum.
For the new Model Room, WILA chose a solution using the Xicato LED module which not only provides a superior lighting environment, but saves energy in the process. The new model room uses a total of 31 luminaires incorporating the Xicato module providing a 60% energy savings when compared to the previous room which used conventional low voltage 50mm mirror reflector (MR50) tungsten halogen down lights and two squares of track with fully adjustable spotlights (MR50) combined with 1-10V dimming and Lutron Grafik Eye lighting controls. In addition to the energy savings from deploying the Xicato solution, maintenance savings are afforded by the 50,000 hour life compared with halogen's 4000 hour life. The upgrade ultimately translates to a 2 year payback for the client. Flexibility is further provided by fully adjustable discrete luminaires where the reflector beam angles can be easily varied as models change in the future.
The new Model Room has moved location from 11 Strand to 5 Strand with a window backdrop of Nelson's Column. Corporate colors were used on the main walls to provide a good contrast and a significant change was that nothing should protrude below the ceiling. A second requirement was for flexible lighting to enable changes in model sizes and positions. An overall requirement was that the lighting should utilize the very best of today's technology with maximum ecological grounding matched by no compromise in light quality
The basic rules of display lighting were adopted providing an overall low illuminance ambient lighting level with highlighting of the merchandise. The solution chosen was to use an adjustable recessed down light that did not protrude beneath the ceiling. This provided a clean symmetrical ceiling layout whilst allowing flexibility to highlight the models.
WILA's E Connect Nero Accent was used to provide the solution for both the ambient and display lighting with scene setting to provide the theatre to emphasise the particular building model. E Connect Nero Accent (
http://www.wila.com/pages/typo3/navoben/service/presse/nero-accent.html
) is a new range of down lights utilising Xicato Spot Modules with three reflector options from narrow spot (20°) to medium (35°) to wide beam (60°).
The Xicato Spot Modules are available in lumen outputs of 400, 700 or 1000lm, corresponding with 20, 35 and 50W low voltage halogen lamps, and with a range of Correlated Color Temperatures: 2700K, 3000K and 4000K. Using a separated and corrected cold phosphor a high color rendering of CRI over 80, and a tight, maintained, color point of less than 2 SDCM, ensures no compromise light quality. The modules are sealed with an aluminium case and glass lens, affording complete protection to LEDs and phosphor, allowing safe cleaning of reflectors. There is no UV or IR emitted.
The new model room was modeled in Dialux with the exact building model size and locations where various scenarios were tested. A mixture of 60° and 25° beam angle reflectors were found to provide wall washing, ambient and highlighting that achieved the desired results. Each luminaire has a 360° rotation and 20° tilt within the small diameter outer reflector of 100mm. Each luminaire uses Harvard's CoolLED DALI driver rated at 350 or 700mA (
http://www.harvardeng.com/led-lighting.php
) allowing the Simmtronic lighting control architectural dimming system to provide scenes using simple push buttons to achieve highlighting of the various building models.
Emergency lighting within the previous model room was by dedicated emergency luminaires. There was a desire to eliminate the need for separate luminaires so emergency lighting is provided by the same luminaire using an inverter that operates the 1000 lumen LED module at reduced output for escape lighting. This module is accessible through the 120mm cut out in the plasterboard ceiling.
Profile background
Wila Lighting Limited
"Our purpose is to become the specialist lighting company of choice for professional lighting specifiers.
WILA is the specialist for professional quality lighting solutions. We create and construct innovative high performance, energy efficient and sustainable products providing lighting professionals with the right lighting tools to improve the visual environment."
Michael Collett (Chief Executive Officer WILA Group)
WILA Lichttechnik GmbH, Iserlohn, Germany, is a leading producer of specialist quality lighting for office and administrative buildings, public and community buildings, schools and other educational establishments. Formed over 150 years ago in 1857, the company concentrates on high-performance, energy-efficient, sustainable products – providing better lighting and a better working environment in the 21st-century workplace. WILA Lichttechnik GmbH is an international company with a clear focus on the European market and has sales partners in more than 25 countries. The company holds EN ISO 14001 and 9001 certification and has received the 'Investors in People' award. In 2009 it became a member of the German Sustainable Building Council (DGNB).
Further information can be found at
www.wila.com
.
Xicato
Xicato is a young Solid State Lighting company founded by seasoned industry professionals, with offices located in Silicon Valley, California (HQ), London and Tokyo.
Xicato develops, manufactures and globally markets LED modules that simply are functional replacements for traditional lamp technologies, offering all the life and energy-saving advantages of LEDs with no light-technical or aesthetic compromises. Xicato provides industry best (plus) specifications via an open approach with a global circle of leading end-users, specifiers and luminaire manufacturers.
Xicato is committed to address the whole broad sphere of the general illumination world, taking on segment by segment with our annual new product launches. By 'Making sense with LEDs'™ Xicato will bring confidence in LEDs to the lighting market and contribute to their widespread adoption.
Contact
Roger Sexton Vice President Marketing and R&D
E-mail:roger.sexton@xicato.com
Web Site:www.xicato.com