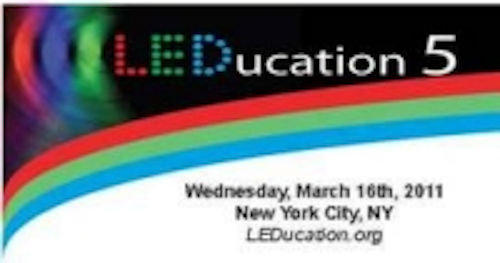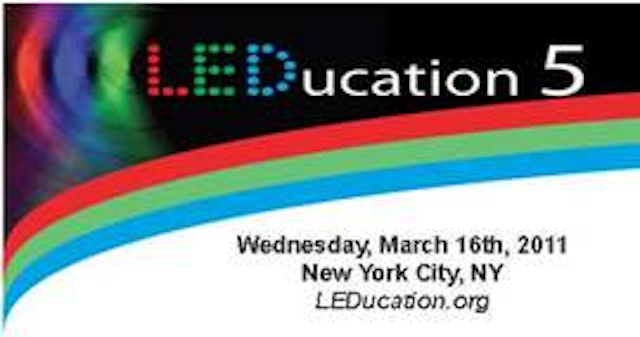 Date Announced: 15 Oct 2010
What:
THE DESIGNERS LIGHTING FORUM OF NEW YORK (DLFNY) HAS ANNOUNCED THE DATE FOR ITS FIFTH ANNUAL PROGRAM ON LED TECHNOLOGY.
LEDucation 5 will take place on Wednesday, March 16, 2011 in New York City.
More than 1,000 lighting design community members are expected to attend seminars led by LED experts to help attendees recognize the ever changing, constantly evolving LED market. LEDucation 5 will offer guests the choice of four credited programs as well as the opportunity to speak with manufacturers directly while viewing product. Attendees will have an opportunity to see firsthand the rapid speed at which products have progressed by viewing the latest innovations on display at more than 96 LED and control manufacturer exhibits.
When:
Wednesday, March 16th, 2011, 12:00 p.m. EST
Exhibit hours are from 12:00 p.m. to 9:00 p.m. LED presentations will begin at 12:30 p.m. thru 7:30 p.m. Check website (
dlfny.org
) for details on speakers and specific sessions.
Where:
Hotel Pennsylvania, 401 Seventh Avenue, New York City
Located between 32nd & 33rd Streets – across from Madison Square Garden
How to Register:
Visit
dlfny.org
or
leducation.org
for further event details.
Cost:
No charge for DLF and IES members (pre-registration required, $25 if registering on site), $20 for all others (pre-registration required). Students are encouraged to attend as a complimentary guest with preregistration and ID.
# # #
ABOUT THE DLFNY:
The Designers Lighting Forum of New York is committed to exploring and presenting the power of lighting in design. Founded in 1934, the Designers Lighting Forum is a not-for-profit organization, led by a volunteer Board of Managers and sustained by member dues and the generous support of our corporate sponsors. They enthusiastically provide designers, architects, manufacturers and their representatives, contractors, educators, and students the opportunity to meet and experience the wonder of lighting in New York City and beyond. The DLFNY also supports formal lighting education through contributions to local universities and design schools, as well as national funds.
LEDucation is supported through the volunteer efforts of DLFNY members.
---------------------------
Committee Chair:
Co Chair – Peggy S Meehan – Amerlux Lighting Solutions
Co Chair – Burt Grant – Metro Area Sales
Vice Chair – Robert Nadel – Energy and Lighting Systems, Ltd
---------------------------
Committee members:
Wendy Kaplan – Lightwild
Caroline Rinker – O'Blaney Rinker Associates
Scott Thurm – Lighting Group/Phillips
Nathalie Faubert – Cline Bettridge Bernstein Lighting Design
Contact
Press Contact: Cindy Foster-Warthen CFW Marketing Communications, Inc.
E-mail:cindy@cfwevents.com
Web Site:www.dlfny.org