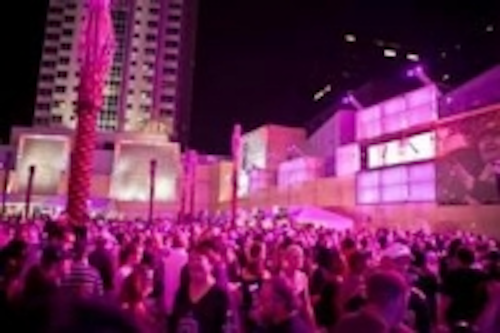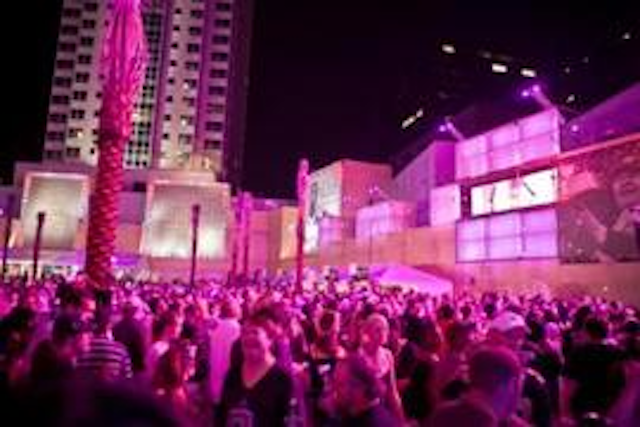 Date Announced: 18 Oct 2010
When you win your first NFL Super Bowl – as the New Orleans Saints did in February – a proper community space for celebration is a must, and is especially relevant in a city as renowned for celebration as New Orleans.
Champions Square is a new outdoor festival space conveniently located near the Louisiana Superdome (home to the New Orleans Saints) and New Orleans Arena. Used for a variety of events, its unique amenities, including the latest in Martin Professional dynamic lighting, make it the perfect place to host pre- and post -game activities, outdoor concerts and festivals, special events or any celebration.
Outdoor rugged
Installed at Champions Square in August were energy-efficient Martin Exterior 400™ luminaires and Martin LC Plus Series™ LED panels. Designed for outdoor use with full-weather IP65 protection ratings, both the Exterior 400 luminaires and LC panels add a versatile measure of decorative color and dynamic energy to the space.
"The first thought when choosing the ambient lighting fixtures for Champions Square was a fixture that was rugged enough to be outdoors in the ever-changing weather in New Orleans," explains Matthew Foucheaux of the Solomon Group who designed the lighting for the space. "One day it can be 94 degrees with a humidity index of 70%, and then an hour later it can be thunderstorms, bringing heavy rains, wind, and flash flooding. It was important for all the equipment to withstand the sometimes harsh weather. Since we started the project, on August 2nd, there have been multiple storms roll through, and a small tropical storm. All 40 Exterior 400's and 30 LC panels have held up without flaw." Installation and supply of the Martin gear was completed by All-Star Electric of LaPlace, Louisiana.
Exterior 400
Martin's Exterior 400 Range is a line of new LED wash luminaires consisting of two powerful RGBW color mixing fixtures (separate color pixels or pre-mixed), one white light fixture, and a single color variant. Extremely energy-efficient with very low power consumption (max 139 W), the Exterior 400 Range includes color calibration ensuring uniformity, a super rugged IP65 housing, and internal power and control. The RGBW color mixing Exterior 400, used at Champions Square, provides extremely bright light (4900 lm) at narrow beam angles and is ideal when uniform color washes at great distances is required.
"We were directed to be as 'green' conscious as possible when designing the system," states the Solomon Group's Jonathan Foucheaux. "In fact, there is not one dimmer on site and every fixture is LED. We looked to Martin first to see what products they had that would fit this project. That's when we found the Exterior 400's."
Dual purpose
The 400's, located two per truss and jutting out above a 680-foot scaffold wall, illuminate all of the public area in the center of Champions Square and are used two-fold - as regular ambient lighting and as show lighting to create a complete atmosphere of color.
Matthew Foucheaux explains, "Aside from the ruggedness of both the LC and Exterior 400's, quality of light was a very important factor. The ambient lighting from the 400's had to be able to light the entire 70,000 ft2 Champions Square with a minimum of 15 foot-candles at full brightness everywhere, which the 400's had no problem doing."
Saturates to pastels
All the LED in the square is pixel-mapped so the color rolling through the 400's coincides with the video on the Martin LC Plus LED panels. "The 400's really have some great color," comments Matthew Foucheaux." The RGB is so saturated that you can get some very deep blues and reds, but with the addition of the white LED you can get some great pastels as well. So, for any company that comes in and wants to use the space, we can match whatever color choices they need! There are so many great features with the 400's. Ruggedness, brightness, and endless possibilities of color make this fixture the choice for any outdoor architectural situation."
Both the Exterior 400s and LC panels have reportedly held up perfectly. "We actually got rained out several times during the installation with some pretty nasty weather. All was good throughout and still working 100%," concludes Jonathan Foucheaux.
Martin Professional
Founded in 1987 and headquartered in Aarhus, Denmark, Martin Professional is a world leader in the creation of dynamic lighting solutions for the entertainment, architectural, and commercial sectors. Martin lighting solutions are industry standard on top tours and events, grace prestigious theatres, energize nightclubs, and decorate major television studios around the globe. Other important areas of application are indoor and outdoor architecture and commercial applications where Martin products are increasingly being used to transform spaces through dynamic light. Martin also offers a range of advanced lighting controllers and media servers, as well as a complete line of smoke machines as a complement to intelligent lighting. The company operates the industry's most complete and capable distributor network with local partners in nearly 100 countries. For more information please visit
www.martin.com
.
Contact
Larry Beck Telephone: +1 719 686 0793 Fax: +45 87 40 00 10 (DK) / +1 954 858 1811 (US)
E-mail:larry.beck@martin.dk