Balise Lexus unveils Green from the Ground Up model dealership with LED lighting from Qnuru
Dec 10th, 2010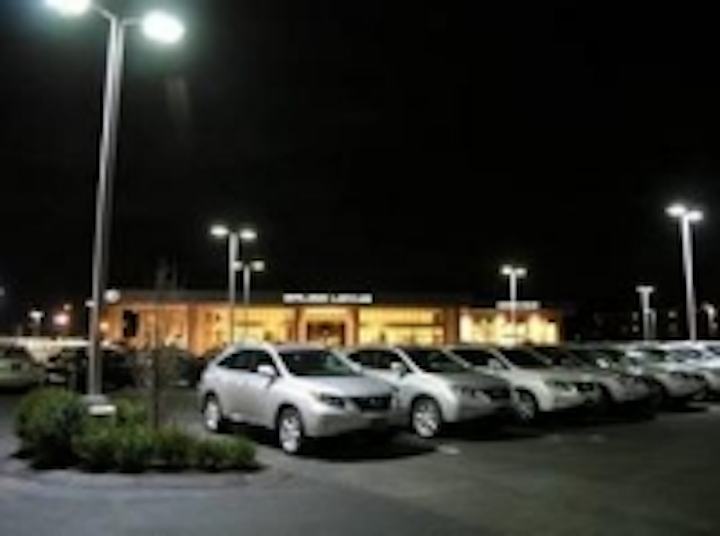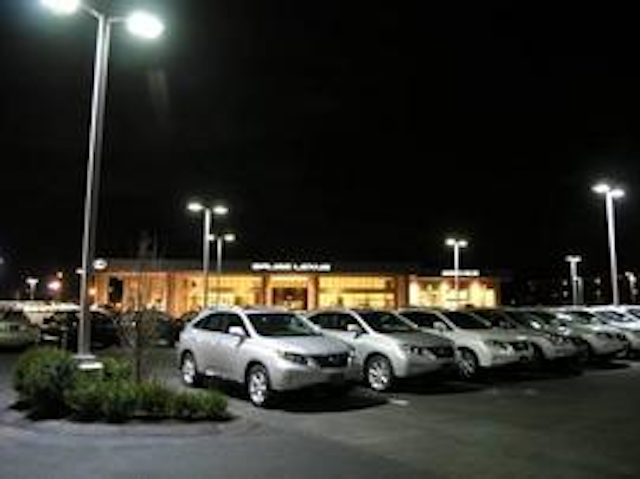 Date Announced: 10 Dec 2010
Albuquerque, New Mexico — Qnuru™, the premier provider of energy efficient digital lighting solutions, today announced that it partnered with Balise Auto Group to install LED lighting throughout its newly constructed West Springfield, Massachusetts Lexus dealership. Qnuru and the dealership's local electrical contractor, Collins Electric, outfitted the Lexus facility with 32 new 144 watt LED parking lot lights and eight new 67 watt pathway fixtures based on Qnuru's product family of high wattage Vector LED bulbs. The Qnuru LED parking lot fixtures have reduced Balise's energy expenses by 86%, compared to equivalent 1000 watt metal halide-based lights. And the Qnuru LED pathway lights use 80% less energy than standard 322 watt high pressure sodium fixtures. Balise's return on investment (ROI) for the project was less than 24 months and includes Qnuru's 5-Year Product Warranty. Qnuru is part of the Noribachi Group, a clean technology firm.
"We have highly educated customers who reward their loyalty to businesses who demonstrate environmental stewardship," said Jeb Balise, owner of Balise Auto Group. "We installed LED lighting to reduce our energy consumption and lower our community's carbon footprint. Just as Lexus engineers are working hard to increase our fleet's mileage efficiency, dealerships are aggressively embracing green building practices. Will being 'green' sell more cars? Maybe not. But we know our customers appreciate environmental innovations like LED lighting. At the very least, we end up with lower energy costs and better looking cars and that is a big payback for doing the right thing for our local community and the larger environment."
Qnuru's Vector retrofit product family of over 45 high wattage LED bulbs fit all major commercial and industrial light fixtures, including lighting brands offered by manufacturers such as NSi Lighting (NYSE: NSI), Lithonia Lighting (NYSE: AYI) and Cooper Lighting (NYSE: CBE). They can be installed by a licensed electrician in less than 20 minutes, offer an average investment payback of 10-30 months and carry a 5-year warranty. Based on Cree (Nasdaq: CREE) XLamp® LEDs and Qnuru's patent-pending Universal Lighting Control Processor and Common Lighting Unit design, Vector LED Light Bulbs fit any lighting application, including high bay and low bay lights used in warehouses and production facilities, canopy lights used in retail petroleum stations and covered parking garages, ornamental and historic pole-mounted lights for roadways and plazas, bollard and pathway fixtures for parks and public spaces, floodlights for security and building illumination, and interior and exterior recessed down lights.
"Auto dealers use an enormous amount of unnecessary energy lighting their facilities with highly inefficient 400-1000 watt metal halide lamps," said Rhonda Dibachi, President and CEO of Qnuru. "The double tragedy is they spend a fortune on their utility bills and get lousy light which discolors their inventory and imposes a heavy maintenance burden in terms of time and expense. LED lighting solves all these issues which is why Qnuru has dozens and dozens of pilots and full installations in auto dealerships in over 20 states."
About Balise Auto Group
Balise Auto Group is one of the largest retailers of new and used automobiles in New England. The company was founded in 1919 when the grandfather of the current owner, Jeb Balise, purchased a welder and began fixing farm equipment and automobiles from his backyard garage. Today the company operates Buick GMC, Chevrolet, Ford, Honda, Hyundai, Lexus, Mazda, Nissan, Subaru, Toyota Scion and Volkswagen dealerships. Balise employs over 800 people in Massachusetts, Connecticut and Rhode Island. For more information, visit
www.baliselexus.com
.
About Qnuru
Qnuru is a digital lighting technology innovator. Our intelligent lighting solutions deliver unparalleled light quality while reducing grid dependency to positively impact your bottom line. We design and manufacture brilliant lighting solutions, including Vector high wattage LED retrofit solutions for the commercial and industrial markets; Prism low wattage LED bulbs for homes and offices; the Matrix product line of new LED-based luminaires, and the Helix family of solar-powered LED luminaires. Our products are UL Listed, ETL-Certified and designed, assembled and tested in the U.S. Qnuru is part of the Noribachi Group, a clean technology firm. For more information about how we can take your lighting light years ahead, visit
www.qnuru.com
.
About Noribachi
The Noribachi Group, LLC is a privately held company focused on the clean technology economy. Our goal is to inject clean, green and renewable energy technologies and products into everyday life. The Noribachi Group invests in and supports the development and commercialization of core technologies critical to the burgeoning clean energy industry. Since 2007, The Noribachi Group has founded, funded and is building clean technology businesses in areas as diverse as LED/solar lighting, solar material manufacturing, light-powered consumer electronics, and home energy storage systems. Noribachi has offices in Albuquerque, NM, San Francisco, CA, and Shanghai, China. For more information, visit
www.noribachi.com
.
Contact
Joe Gillach 415-515-4275
E-mail:joe@qnuru.com