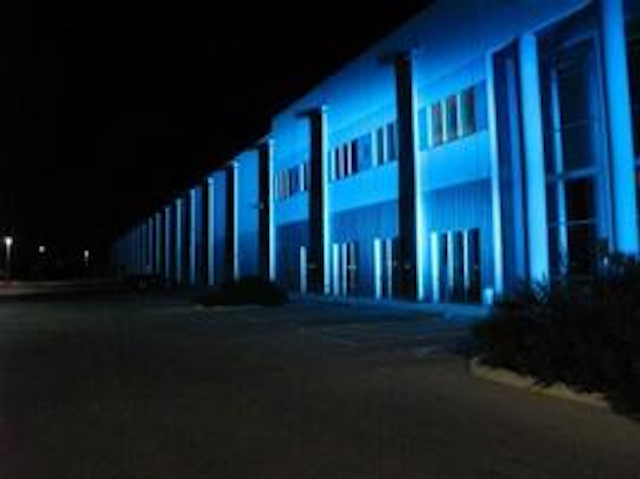 Date Announced: 16 Dec 2010
San Marcos, TX – Philips Wide-Lite, a leading manufacturer of sustainable lighting products, unveils a new family of indoor and outdoor RGB LED floodlights that allows users to simply paint with light – thanks to four levels of dynamic color-mixing control.
Designers seeking to better integrate lighting solutions with dynamic color mixing schemes now have the flexibility and diversity to do so, thanks to the innovative Color-Tune technology that TAG offers. Color-Tune allows the user to control everything directly at the fixture. Simply power up a TAG luminaire for the first time and 16 million color possibilities are available. Push the Color-Tune button to lock your desired color in place, or continue pushing to cycle through twelve pre-set color choices around the color wheel, including white. No secondary DMX control systems are required.
TAG offers two distinct levels of push-button Color-Tune technology that are plug-and-play ready, allowing for dynamic, simple and affordable color control:
Level-1 Color-Tune control allows the user to control each RGB luminaire independently at each fixture location.
Level-2 Color-Tune control allows the user to control a string of multiple fixtures from a single 'Master' fixture location by simply daisy-chaining TAG's DMX control wires.
For designers that want DMX compatibility:
Level-3 Color Control uses TAG's standalone and simple-to-use ColorDial DMX wall-mounted controller, which features eight pre-programmed lighting effects. It offers more control than Color-Tune by itself, without the need for a complete DMX system.
Level-4 Color Control employs TAG's full DMX compatibility for professional and theatrical effects with almost any off-the-shelf DMX control system and software, giving designers the freedom to choose any DMX package they want.
"Color mixing has often been ruled out as a design consideration due to the need for secondary DMX control systems, which can be both costly and complicated to maintain," said Terry Headrick, Product Director for Philips Wide-Lite. "We developed TAG to provide a simple and dynamic LED color-mixing alternative. And with our unique push-button Color-Tune technology, the ability to create dramatic effects with color has never been easier."
TAG architectural high-brightness white and RGB color-mixing LED floodlighting products are available in both round and linear housings with five optical choices to choose from, giving designers additional choice and flexibility.
For more information about the complete TAG product line and Color-Tune technology, visit
www.widelite.com
Furthering Philips' company-wide commitment to sustainability, TAG benefits from the company's Cradle to Cradle (C2C) product recycling assistance program. C2C ensures hassle-free recycling at the product's end-of-life or time of replacement. Simply ship the product back to Philips Wide-Lite, where it will be disassembled, recycled and disposed of according to environmental standards. A certificate will be returned to the consumer to document the environmental efforts, a testament to their limiting landfill waste, cutting disposal costs, and reducing their overall carbon footprint and environmental impact.
About Royal Philips Electronics
Royal Philips Electronics of the Netherlands (NYSE: PHG, AEX: PHI) is a diversified health and well-being company, focused on improving people's lives through timely innovations. As a world leader in healthcare, lifestyle and lighting, Philips integrates technologies and design into people-centric solutions, based on fundamental customer insights and the brand promise of "sense and simplicity". Headquartered in the Netherlands, Philips employs more than 118,000 employees in more than 60 countries worldwide. With sales of EUR 23 billion in 2009, the company is a market leader in cardiac care, acute care and home healthcare, energy efficient lighting solutions and new lighting applications, as well as lifestyle products for personal well-being and pleasure with strong leadership positions in flat TV, male shaving and grooming, portable entertainment and oral healthcare. News from Philips is located at
www.philips.com/newscenter
.
Contact
Silvie Casanova Senior Manager Lighting Communications Philips Electronics North America Ph: 781-418-7928
E-mail:silvie.casanova@philips.com