TOPLED compact LEDs from Osram set new performance standards for LCD backlighting
Dec 7th, 2010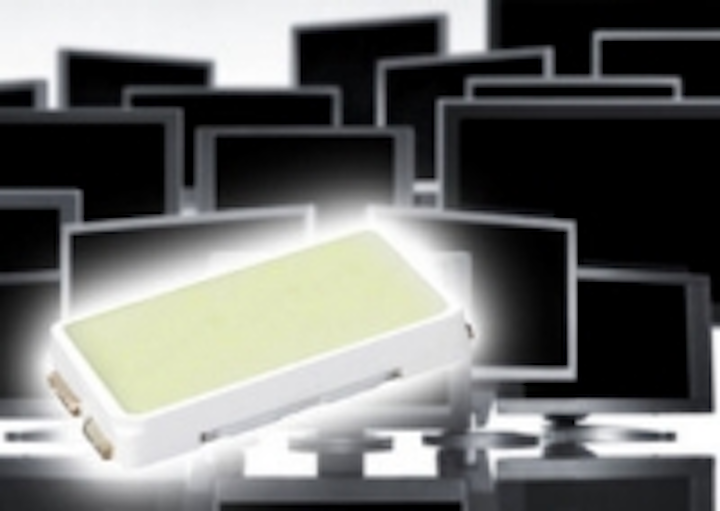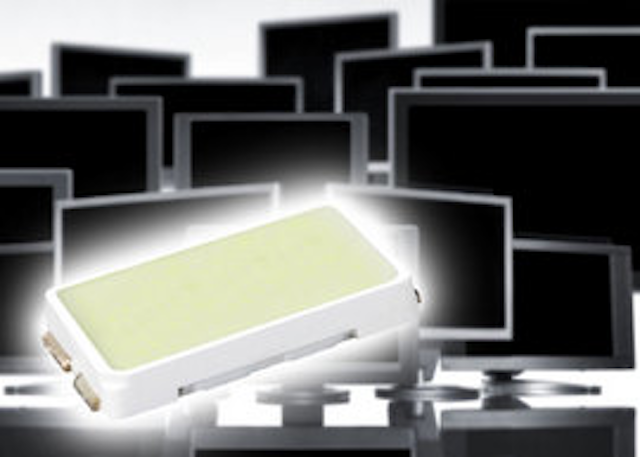 Date Announced: 07 Dec 2010
OSRAM Opto Semiconductors announces the new TOPLED Compact 5630 LED, an innovative addition to the world of LED lighting. By adapting its successful TOPLED packaging technology to the special needs of backlighting applications, OSRAM Opto Semiconductors has created a brilliant LED that will enhance monitor and TV screens of all sizes. Two new versions of the TOPLED 5630 with different coverage of the color space according to the sRGB standard are available to meet various customer requirements.
The ultra-white version of the new TOPLED LED has an efficiency of 76 lm/W at an operating current of 120 mA. Color space coverage is up to 100% sRGB, depending on the color filters used in the display. A specially optimized phosphor is used as conversion material to ensure high stability of the white point over time and across a wide temperature range. OSRAM also offers a multi-white version that achieves 67 lm/W for the same operating current and covers up to an impressive 120% of the sRGB color space. Both versions measure just 5.6 x 3.0 x 0.9 mm in size and offer uniformly high quality in the product and in the application.
"Televisions backlit by LEDs offer brilliant colors and high contrast. The TOPLED Compact provides superb color space coverage, and its high white-point stability ensures that colors remain consistent over its operating lifetime," said Winfried Schwedler, Marketing Manager, Consumer Applications, at OSRAM Opto Semiconductors. "The multi-white TOPLED in particular exhibits a linear response that sets new standards."
The ultra-white version offers 13% higher efficiency, which means that fewer LEDs are required for screen backlighting units to achieve comparable brightness. Both TOPLED Compact 5630 LEDs make it easy for monitor and TV manufacturers to meet strict energy consumption standards of Energy Star 2010/2012 and EuP Class A 2010/2012.
The new LEDs are flat-encapsulated, have no integrated lens, and provide high efficiency for injection into light guides. OSRAM's tried and tested TOPLED design stands for reliability and is suited for high volume manufacturing. The TOPLED Compact 5630 is the second LED of this family, together with the TOPLED Compact 4520.
The TOPLED Compact LED – suitable for backlighting all sizes of LCD monitors and TVs. Picture: OSRAM
ABOUT OSRAM OPTO SEMICONDUCTORS
OSRAM is part of the Industry sector of Siemens and one of the two leading lighting manufacturers in the world. Its subsidiary, OSRAM Opto Semiconductors GmbH in Regensburg (Germany), offers its customers solutions based on semiconductor technology for lighting, sensor and visualization applications. OSRAM Opto Semiconductors has production sites in Regensburg (Germany) and Penang (Malaysia). Its headquarters for North America is in Sunnyvale (USA), and for Asia in Hong Kong. OSRAM Opto Semiconductors also has sales offices throughout the world. For more information go to
www.osram-os.com
.
For more information on OSRAM Opto Semiconductors' LED solutions for LCD backlighting, visit
http://www.osram-os.com/pr-kit-backlighting
.
Contact
Kate Cleveland OSRAM Opto Semiconductors (248) 277-8018 Charles Birkhead Macrovision, Inc. 215) 348-1010 charles@macrovis.com
E-mail:kate.cleveland@osram-os.com
Web Site:www.osram-os.com