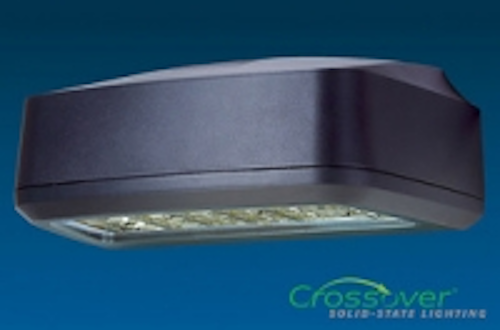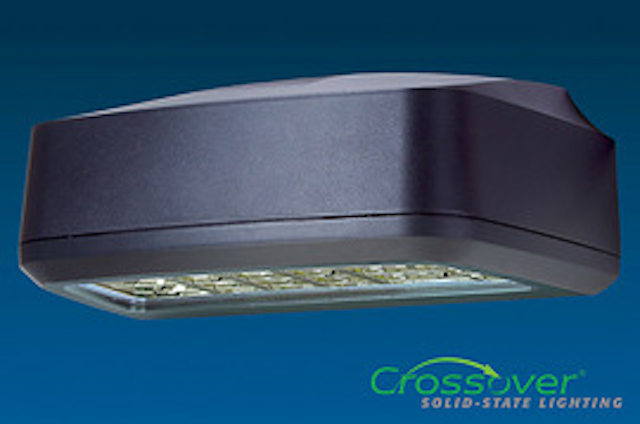 Date Announced: 14 Dec 2010
Cincinnati, OH – LSI Industries Inc. has introduced its new Crossover LED wall sconce. With sweeping architectural lines, the Crossover Patriot wall sconce delivers exceptional uniformity with full cutoff to create a brighter environment at lower light levels, making it ideal for entrance, egress and security lighting. Environmentally friendly and energy efficient, the Crossover LED Patriot wall sconce will enhance any site.
With Crossover Patriot wall sconce fixtures you will enjoy –
• Choice of 28 or 48 LEDs
• LSI's innovative TriLume™ optics -- multiple optics and drive current choices to create the lighting best suited for your application
- Wide Throw, Forward Throw and Wall Wash reflectors
- 350mA and 450mA drive currents
- Cool White and Neutral White color temperatures
- Surge protectors that meet Location Category C-Medium standards (10,000V; 5,000A)
• Thermal management system that won't lose effectiveness over time to give you the lowest internal operating temperatures possible
• Optional motion sensor for additional energy savings
• Emergency options that meet NFPA-Life Safety Code requirements
• Virtually no maintenance – 60,000 – 100,000 hour expected life
• Energy reduced up to 68% compared to HID
• Green Design -- RoHS Compliant; recyclable glass & aluminum. No Mercury
• IP65 Rating
The Crossover Patriot wall sconce is the result of LSI's 35+ year experience in delivering revolutionary lighting solutions.
LSI Industries is an Image Solutions company dedicated to advancing solid-state LED technology in lighting and graphics applications. We combine integrated technology, design, and manufacturing to supply high quality, environmentally friendly lighting fixtures and graphics elements for commercial, retail and specialty niche market applications. LSI is a U.S. manufacturer with marketing / sales efforts throughout the world with concentration currently on North American, South American, Asian, Australian, New Zealand and European markets.
LSI's major markets are the commercial / industrial lighting, petroleum / convenience store, multi-site retail (including automobile dealerships, restaurants and national retail accounts), sports and entertainment markets. LSI employs approximately 1200 people in facilities located in Ohio, New York, North Carolina, Kansas, Kentucky, Rhode Island, Texas and Montreal, Canada. The Company's common shares are traded on the NASDAQ Global Select Market under the symbol LYTS.
Contact
Minda Matthews-Smith
E-mail:minda.matthews@lsi-industries.com
Web Site:www.lsi-industries.com