PSI Supplies Tech production for Children In Need Belfast concert
Dec 20th, 2010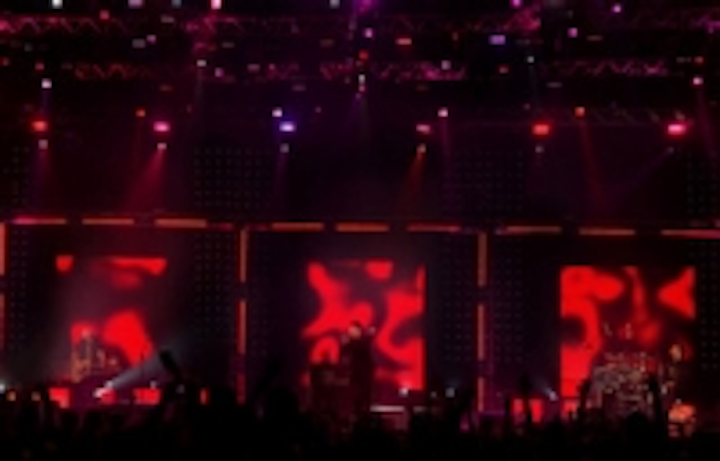 Date Announced: 20 Dec 2010
Belfast, UK based Production Services Ireland (PSI), supplied lighting, video including screens and media servers, trussing and rigging to BBC Northern Ireland for the 2010 Belfast Children In Need concert staged at the city's Odyssey Arena.
PSI has been involved with this annual fundraising event for at least 7 years, but this was the first year that they have supplied such a comprehensive package of technical equipment and crew for the show, which was presented by John Daly and BBC Radio 1's Reggie Yates. The capacity audience enjoyed live performances by Westlife, The Script and Jedward among others, and it was broadcast live across the region, with link ups to the simultaneously running London event at the BBC.
PSI's Brian Reilly project managed, commenting, "We were delighted to be so involved with Children in Need this year as it's a fantastic cause, and it was a pleasure working with BBC lighting designer Philip Brines and the rest of his team, who produced a stunning and memorable show".
Lighting
Philip Brines' lighting design was based on a trussing grid hung above the stage and two trusses flown over the audience, complete with all the required rigging and motors to accomplish this also coming from PSI.
He comments, "It is always a delight to work with Brian and the crew at PSI – everything was well organised and kit was of an excellent standard".
He used a variety of lighting fixtures, with the moving lights comprising 40 Robe ColorSpot 700E ATs, 40 Robe ColorWash 700E ATs and 16 Vari*Lite 2500 Spots.
In addition to these were 30 PixelPARs, utilised for some very effective truss toning, 6 x Studio Due CS4 moving PAR bars which were flown on the audience trusses, along with 12 i-Pix BB4 LED wash lights
For generic white light, there were 16 x ARRI 2K fresnels and 12 each of 8, 4 and 2-lite Molefeys, plus 8 sets of 8 x PAR36 ACLs and a number of Spaceflowers.
He used 3 Lycian Mk II 2.5K long throw follow spots which were also supplied by PSI, together with Avolites dimming, all the associated power distro and cable management infrastructure and DF50 fog machines.
The consoles - two Compulite Vectors - were supplied by the BBC and John Gallagher, operated by Philip Brines and moving light programmer/operator John Gallagher.
Video & Set
For the set company, PSI supplied three x 3 metre square Studio Due 18mm LED screens, which were integrated into the scenic elements designed by Colin Parker of Parker Butler Design. These screens are currently being evaluated by PSI, and Studio Due UK's Ian Brown was extremely helpful in co-ordinating things so they arrived in time to be used on this show.
The content for the screens was stored on and played back from PSI's Hippotizer media servers, controlled and run by Peter Jones using his own BBC console.
For additional set illumination, 60 ColorBlock dB4 battens and 60 Pulsar ChromaStrip 1200 LED strips were provided.
PSI's 6 crew worked alongside the BBC's crew on both lighting, and assisting with the set video and lighting elements that they had provided.
The show was directed by Maeve O'Cathain and produced by Mike Edgar and proved a massive success along with the host of other Children In Need activities and events happening throughout the UK.
Contact
Louise Stickland +44 (0)1865 202679 or +44 (0)7831 329888
E-mail:louise@loosplat.com
Web Site:www.productionireland.com