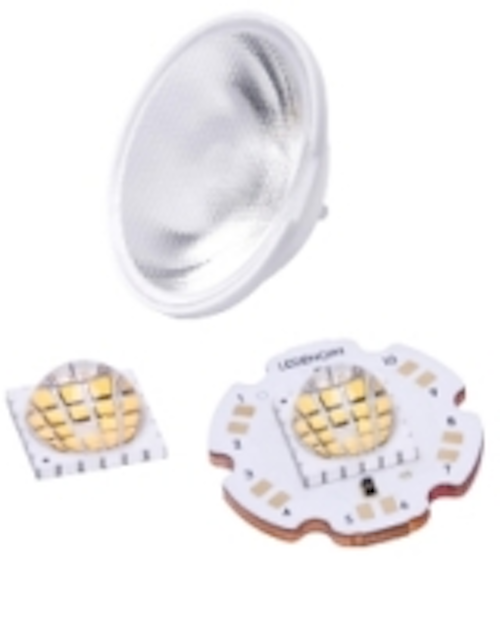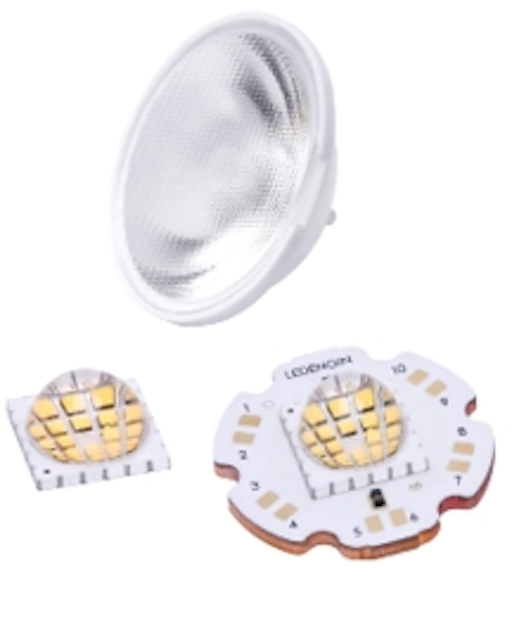 Date Announced: 14 Dec 2010
-- Record 5500 lumen high power density LED in compact 12mm X 12mm package
Santa Clara, CA -- LedEngin, Inc., a leader in high performance LED lighting solutions, announces its latest and highest performance platform yet- the LZP-series. The multi- chip emitter generates up to 5500 lumen (CCT of 5500K) and 3000lm (CCT of 3100K) in an unprecedented compact 12mm x 12mm package. LZP-Series systems replace 35W metal halide (MH) bulbs or 50W high pressure sodium (HID) bulbs achieving the high flux required in applications such as High Bay lighting, architectural lighting, street/area lighting and Stage & Studio moving heads.
LedEngin high lumen density products are complemented with proprietary TIR high-efficiency optics to produce maximum lumens in beam for superior Lux on TargetTM performance. LedEngin LZP-series when coupled with LedEngin TIR optics exceeds the luminance of competing LED solutions by 6-10 times. The compact optical system overcomes a major challenge in flood and spot lighting applications that cannot be achieved with larger LED sources or current technologies such as MH or HID. Equally important, the single high lumen density emitter in combination with a single high efficiency TIR optic produces a superior light quality, homogeneous beam pattern and crisper image for a more natural perception of the light.
Key features of LedEngin LZP series include
• 24 LED dies configured in four strings of six dies in series
• Maximum current of 1A per die totaling up to 90W power
• High luminous efficacy at 350mA per die of 95lm/W (5500K) and 70lm/W (3100K)
• Compact 12mm x 12mm form factor for high luminous density
• L70 lifetime > 50,000 hours
• Available in CCT 2700K, 2900K, 3100K, 4100K and 5500K
• Typical CRI of85 and R9 of 30 for true color rendering
• Color point stability 7X better than the requirement of Energy Star
• Emitter junction to case thermal resistance of 0.35K/W
• Offered with or without glass dome
• LedEngin designed high efficiency TIR lens products with 15°, 23° and 35° beam angles
• LedEngin-designed, extremely low thermal resistance, copper core PCB (0.1K/W) mounting option to minimize design time
"With the introduction of our new LZP-series, LedEngin pushes the lumen density performance to record high levels. With brightness performance equivalent to MH and HID levels, our customers can take advantage of our robust packaging and long lifetimes to improve the overall cost of ownership for a new class of lighting applications", said Xiantao Yan, Founder and CTO of LedEngin. "Our LZP-series emitters have the same known robustness, lumen maintenance performance, color quality and color point stability that customers have come to value with LedEngin products".
The LZP series emitter, copper Star PCB and TIR lenses are available for sampling and volume production.
About LedEngin, Inc.
LedEngin, Inc. is a California-based solid-state lighting company specializing in ultra-bright, ultra-compact LED components capable of emitting 5,000+ lumens in a single package, delivering extreme flux density and industry-leading reliability. The company's family of LED replacement lamps and lighting modules provide superior quality light in down light applications equivalent to 35W to 90W halogen lamps. LedEngin commercially available LED component products range from 3W to 80W in white, direct colors, RGB, RGBA, RGBW, Far Red, Deep Red, Dental Blue and UV. Products are sold directly and through select distributors.
Contact
Quata Ocano Manager, Product Marketing LedEngin, Inc. Quata@ledengin.com (408) 492-0620 x115
E-mail:info@ledengin.com
Web Site:www.ledengin.com