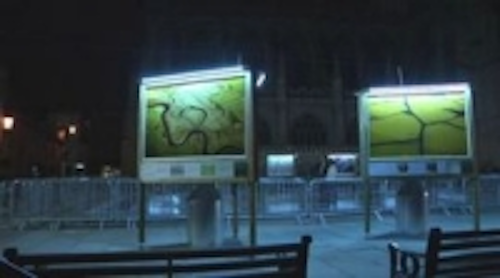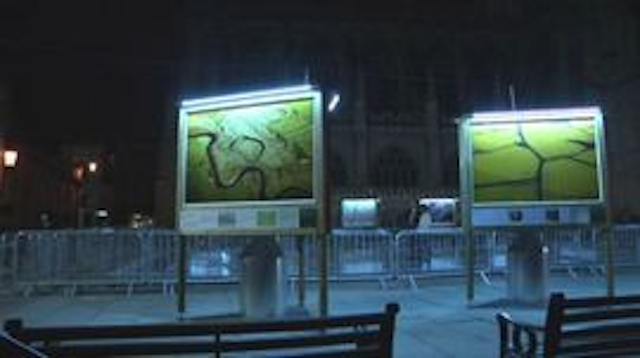 Date Announced: 09 Dec 2010
Britain from the Air illuminated by Bright Green LEDs
On display in Bath City Centre until the end of February 2011, 'Britain from the Air' is a stunning collection of over 100 large-scale images by Britain's foremost aerial photographers, developed jointly by Wecommunic8 and the Royal Geographical Society (with IBG).
Wecommunic8 are experts at creating street galleries and are the brains behind this exciting project. The large images, over a 1m square, are available for viewing 24/7 close to the Abbey in Bath.
Illuminating the displays at night with fluorescent tubes has also ways been problematical; therefore Project Director Chris Bridge from Wecommunic8 wanted something more practical, friendlier to the planet and more in keeping with the environmental theme which runs through this exhibition.
Chris contacted Bright Green Technology looking for a solution and following trials selected Bright Green Matrix LED system to down light the graphics.
Chris commented, "When we started out this technology was not available we used to use 150 watt power floods! Now with the team at Bright Green Technology we have a great solution that gives excellent light quality for our photos. In addition during daytime their sleek design blends into our display and they need less maintenance".
An 1810mm Bright Green Matrix 'stick' is used to light each of the 100 displays illuminating the graphic and the pavement below. Each 'stick' consumes only 15W in comparison to the 70W consumed by a typical 6' tube. Practical benefits mean they can easily be stored for subsequent exhibitions as the robust design prevents damage.
The outdoor exhibition was opened with the enthusiastic support of Michael Palin who is the President of the Geographical Society and it will remain in situ for public viewing until the end of February 2011.
This was the second project so far where Wecommunic8 have installed Bright Green Matrix. An outdoor exhibition for Care International in the summer was successful created outside the Tate Modern on London's Southbank where thousands of visitors could enjoy the display throughout the day and night.
Contact
terry.cattle@brightgreentechnology.com
E-mail:sales@brightgreentechnology.com
Web Site:www.brightgreentechnology.com